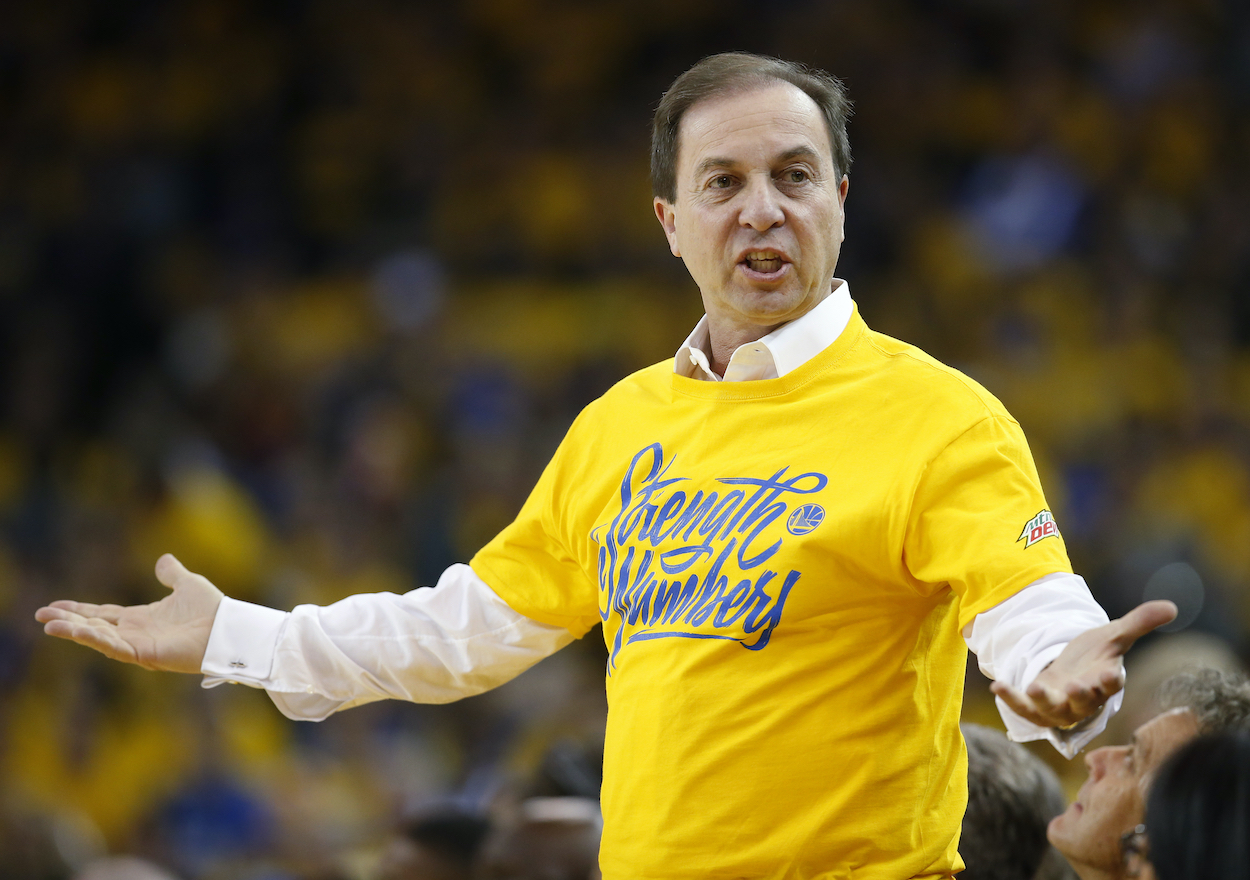 Warriors Owner Joe Lacob Just Watched $50,000 Vanish From His Bank Account Thanks to Ben Simmons
Joe Lacob has been fined $50,000 for tampering with 76ers star Ben Simmons.
Golden State Warriors owner Joe Lacob just can't seem to escape the Ben Simmons trade rumors. The disgruntled Philadelphia 76ers star has been on the trading block for much of the last few months, and Golden State is one of the teams rumored to be interested in making a deal.
Lacob has been trying to avoid speaking publicly about trade talks all summer, but he recently slipped up with some not-so-subtle comments on the record. A day later, he saw $50,000 vanish from his bank account thanks to Simmons and the NBA's anti-tampering rule.
Warriors owner Joe Lacob makes not-so-subtle comments about Ben Simmons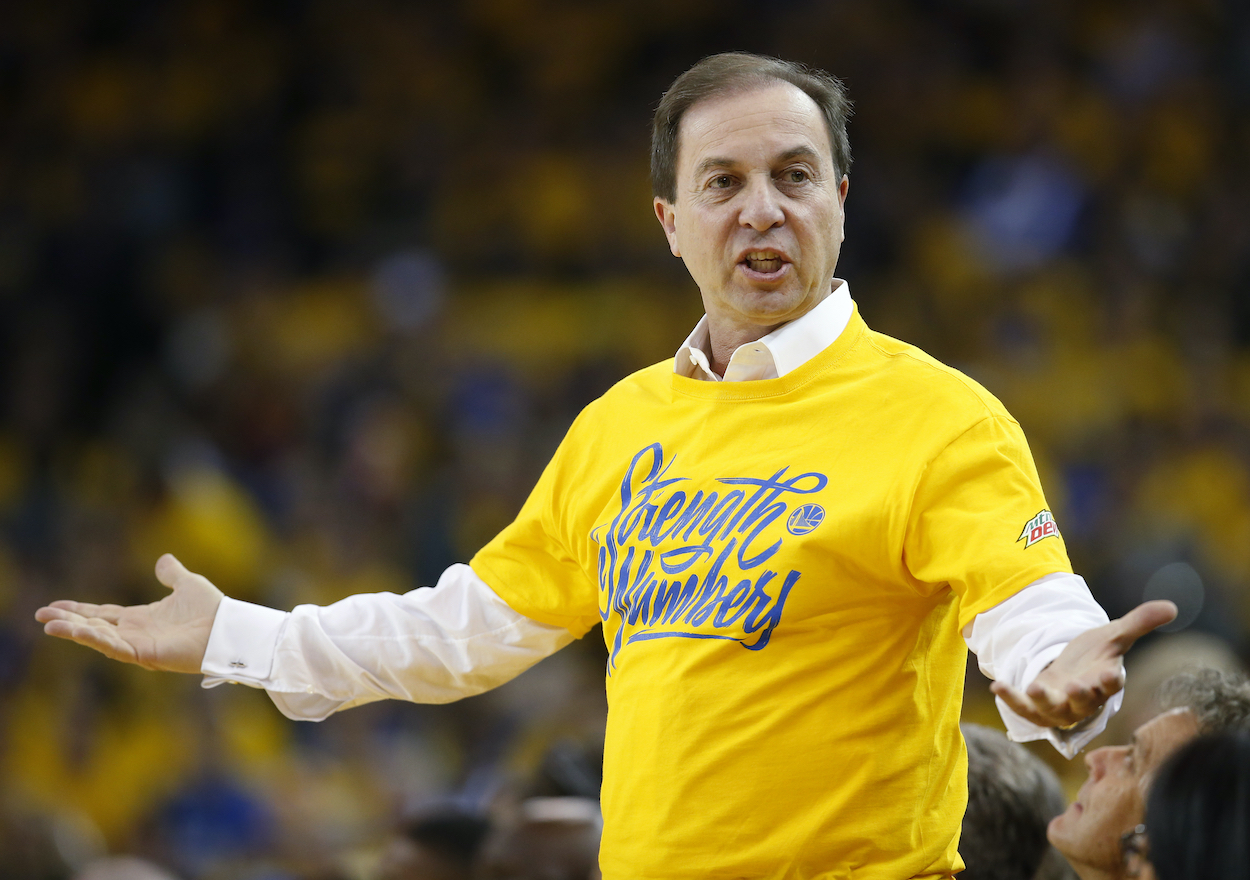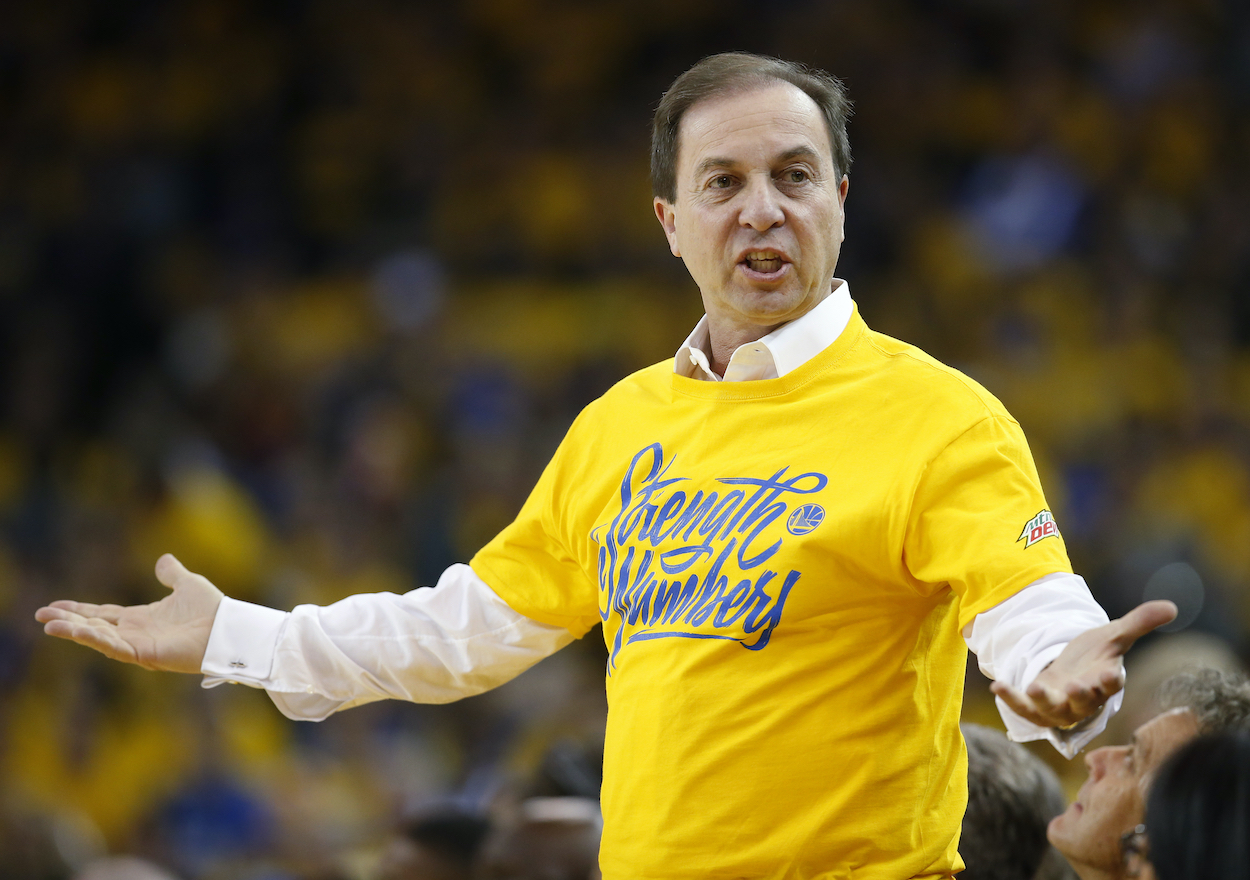 Simmons trade rumors have been the talk of the NBA over the last few weeks. The All-Star point guard wants out of Philadelphia, and he's firmly stated that he doesn't intend to show up for training camp next week.
With the start of the 2021-22 season just three weeks away, time is running out for interested teams to make an offer for Simmons. The Warriors have been right in the center of Simmons trade rumors this offseason, and Lacob was asked about those talks earlier this week.
In an interview with Rusty Simmons of the San Francisco Chronicle, Lacob tried to shield Simmons' name to no avail.
The Warriors owner mentioned a certain "Defensive Player of the Year candidate in Philadelphia" might still be on the team's radar. "I think we are always looking at everything to see if we can improve our team. We would always look," Lacob told The Chronicle.
"In some ways, it doesn't really fit what we're doing. He makes a lot of money. And, can he finish games? I don't know," Lacob continued. "He's very talented. The problem is: We have Draymond. Draymond and him are very similar in the sense that neither one really shoots and they do a lot of the playmaking. That's one issue. The salary structure is another."
Nice job keeping the name a secret there, Joe. Unsurprisingly, the NBA cracked his code.
Lacob fined $50,000 for tampering with Simmons
Lacob didn't mention Simmons by name in his interview because he didn't want to get hit with a tampering fine. Well, apparently "Defensive Player of the Year candidate in Philadelphia" wasn't vague enough, and the NBA caught on to his message fairly easily.
On Wednesday night, the NBA announced in a tweet that Lacob has been fined $50,000 for tampering with Simmons.
"The NBA announced today that it has fined Golden State Warriors Governor Joe Lacob $50,000 for violating the league's anti-tampering rule," the statement read. "The fine is in response to comments by Lacob in a September 21 news article regarding the Philadelphia 76ers' Ben Simmons."
Lacob shouldn't be too worked up about it, though.
Barely a dent to Joe Lacob's $1.2 billion net worth
A fine of $50,000 would be devastating for most Americans, but not for Lacob.
The Warriors owner has a $1.2 billion net worth as of 2021, according to Forbes, so the tampering fine represents just 0.00004% of that figure.
Whether Lacob lands Simmons in a trade or not, he won't be too upset about his tampering comments costing him a few bucks in petty cash.
Like Sportscasting on Facebook. Follow us on Twitter @sportscasting19.