Golden State Warriors CEO Joe Lacob Fires Shots at LaMelo Ball and Anthony Edwards
Golden State Warriors governor and CEO Joe Lacob is known for putting his foot in his mouth, as shown with his 2016 "light-years ahead" comments. This time, he insulted top rookies LaMelo Ball and Anthony Edwards while trying to stick up for the Golden State Warriors first-round pick, James Wiseman.
The No. 1 and No. 2 pick of the 2020 NBA Draft finished the season as the top two rookies in the NBA this season. The No. 2 pick, Golden State Warrior James Wiseman, didn't fare as well. Now, the Warriors CEO, Joe Lacob, is sticking up for his guy. 
However, Lacob stuck his foot in his mouth while doing this. In defending Wiseman, he offered LaMelo Ball and Anthony Edwards backhanded compliments, which may not sit well with Charlotte Hornets and Minnesota Timberwolves fans. 
LaMelo Ball and Anthony Edwards put up big numbers in their rookie season
Edwards and Ball both had fantastic statistical seasons in their rookie campaigns. Edwards put up 19.3 points, 4.7 rebounds, 2.9 assists, and 1.1 steals while playing in all 72 games. Ball missed 21 games, mostly due to a fractured right wrist but still produced a season stat line that included 15.7 points, 5.9 rebounds, 6.1 assists, and 1.6 steals. 
Both players benefitted from being featured in their team's offense. Ball took 13.2 field goal attempts per game and had a 26.1% usage rate. Edwards averaged 16.8 field goal attempts (6.2 less than league leader Bradley Beal) and recorded a 27% usage rate (9% less than league leader Luka Doncic).   
While Edwards' numbers only helped propel the Timberwolves to a 23-49 record (sixth-worst in the league), Ball helped guide his team to a respectable 33-39 mark, which got the Hornets the No. 10 seed in the East and a spot in the play-in tournament. 
Ball and Edwards finished first and second in the NBA's Kia Rookie of the Year voting with 465 and 309 points, respectively. The Sacramento Kings No. 12 overall pick, Tyrese Haliburton, finished third with 114 points, per NBA.com.
The Warriors' Wiseman, who averaged 11.5 points and 5.8 boards in 39 games, was not in the ROY conversation. 
Golden State Warriors Owner Joe Lacob defended James Wiseman but shaded Ball and Edwards in the process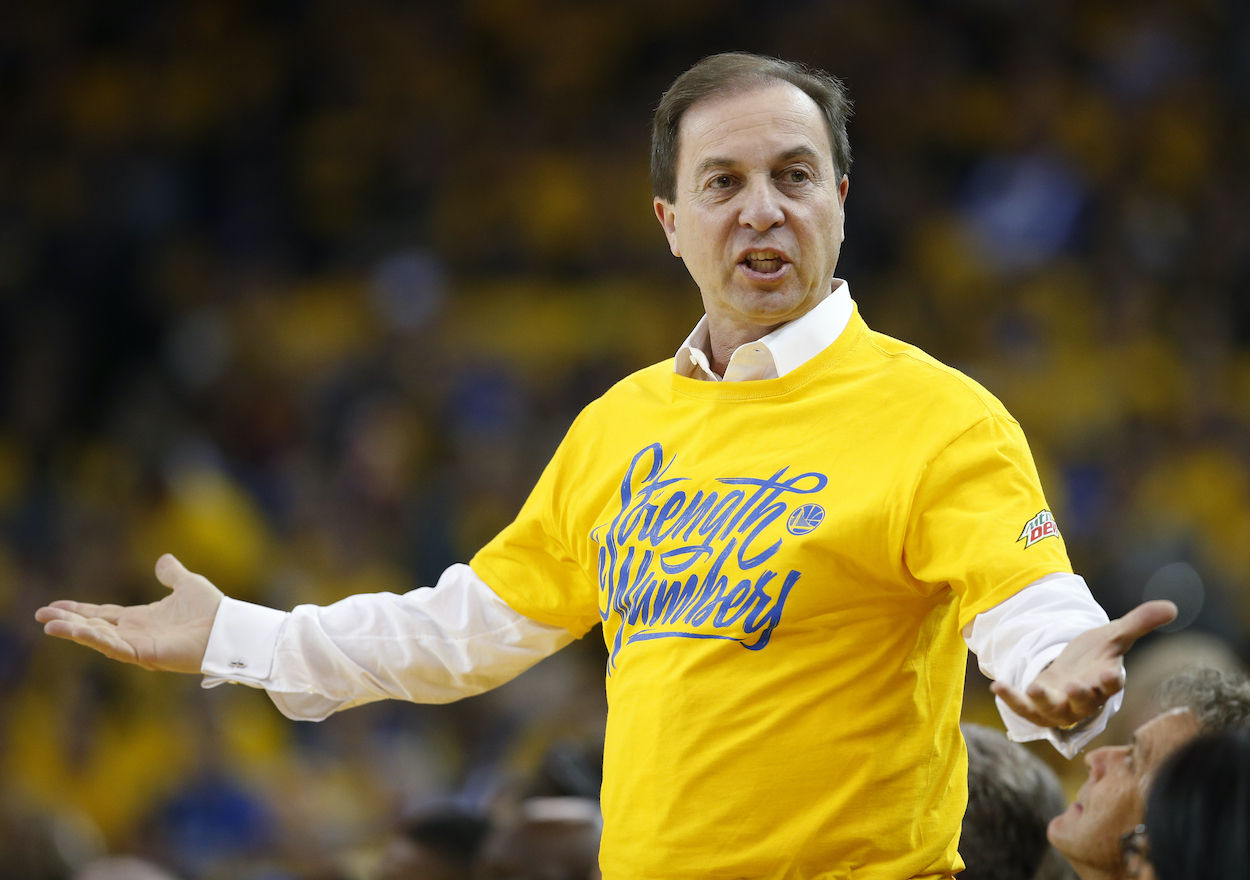 The fact that the No. 2 pick did not have the season No. 1, No. 3, or even No. 12 did lead to some criticsm of the former Memphis big man. Lacob doesn't like that and stood up for his guy during an appearance on The Athletic's The TK Show podcast, hosted by Tim Kawakami. 
Lacob told Kawakami, "I'm so flabergasted by what I read about James Wiseman. I don't know what these people are watching. I am excited — excited — about what I saw this year." 
The CEO went on to say that since Wiseman had a limited college career due to eligibility issues and a rookie season marred by COVID-19 and a meniscus injury, he thought he did well. He also compared Wiseman to Joel Embiid, who struggled with injuries and conditioning issues in his first several seasons before becoming an MVP candidate. 
All Lacob's comments were a fine defense of his player but then, he turned his attention to Ball and Edwards:
Where you go matters. The guy in Charlotte, LaMelo Ball, excellent player, had a great year. Probably deserves Rookie of the Year, but I could argue Anthony Edwards, too. We thought those were great players, too. Would they have the same years with us? Situation matters. I don't know. Would you have the same opportunity to just chuck it like Anthony Edwards? I don't know. I don't think so. That matters.
Lacob wrapped up his diatribe against the two more successful rookies by saying that, while "they put up numbers," he's "looking at three, four years down the line." The implication being that his organization still drafted the better player. 
Lacob has got in hot water with comments before 
Needlessly attacking two other rookies to defend his guy is not a good look for the Golden State CEO. It isn't all that surprising, though. 
Lacob is a venture capitalist who purchased the Warriors for $450 million in 2010 after five years as a minority investor in the Boston Celtics, according to NBA.com. Under the Massachusetts-native's stewardship, the team has won three NBA Championships and relocated the team from Oakland to San Francisco's Mission Bay neighborhood. 
In 2016, as the Warriors started their run of dominance, Lacob gave a now-infamous interview with the New York Times. In the piece, Lacob told writer Bruce Schoenfeld: 
We're light-years ahead of probably every other team in structure, in planning, in how we're going to go about things. We're going to be a handful for the rest of the N.B.A. to deal with for a long time.
This quote did not sit well with other NBA executives. It has painted Lacob as arrogant in NBA circles and the media and been used to clown the Warriors and its CEO when they lose. 
Just like the "light-years ahead' quote, Joe Lacob's "situation matters" sound bite could come back to haunt him down the line as well. 
All stats courtesy of Basketball Reference