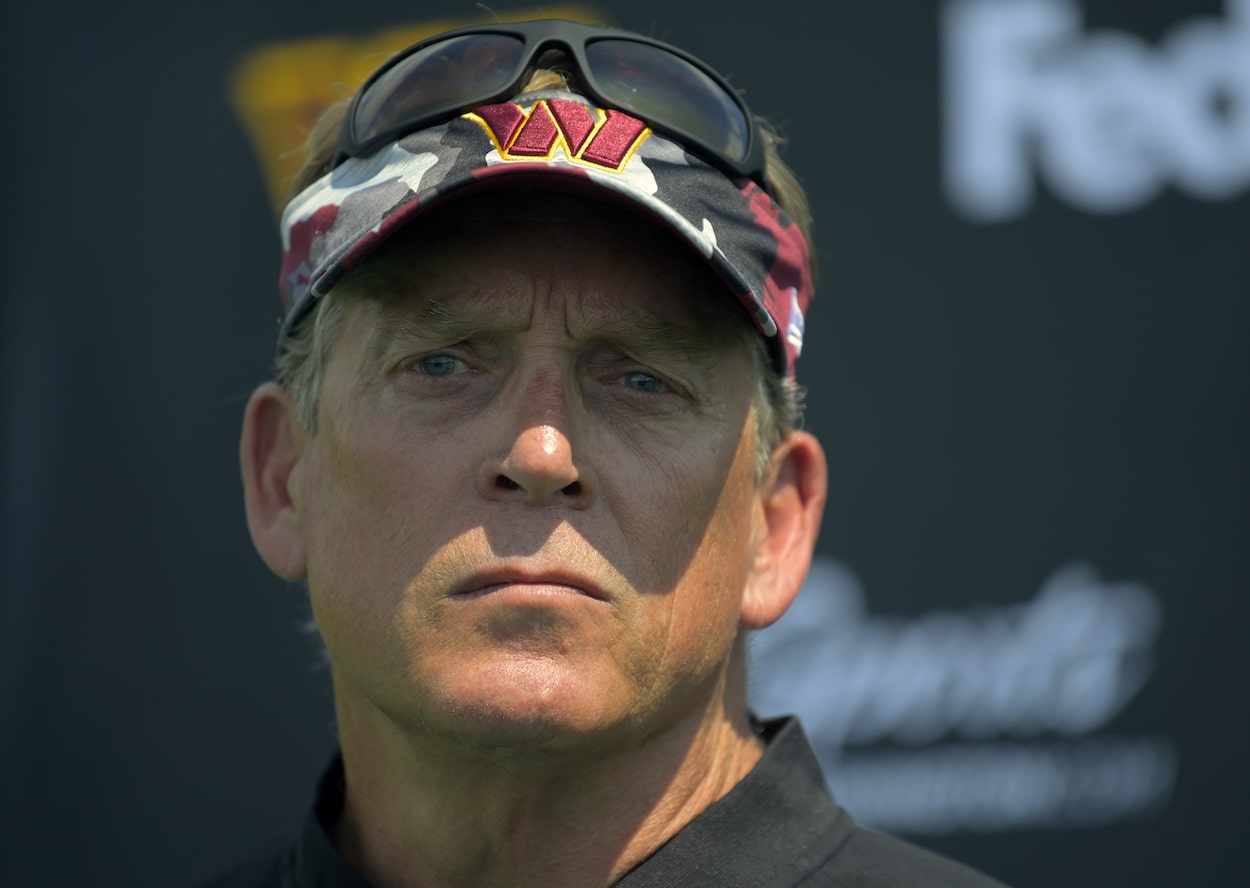 Washington Commanders DC Jack Del Rio Immediately Apologies for January 6 'Dust-Up' Comment
Washington Commanders defensive coordinator Jack Del Rio stirred-up controversy using two words to describe the events of January 6.
If there is one NFL team that doesn't need any more controversy, it's the Washington Commanders. At the same time, if there is one team you'd guess could get wrapped up in the January 6 controversy, it would be the Washington Commanders. And, believe it or not, you'd be absolutely right! Commanders defensive coordinator Jack Del Rio waded right into the January 6 debate this week. Then, he immediately decided to (was forced to?) apologize on social media for his comments.
Washington Commanders DC Jack Del Rio shared his thoughts on the January 6 U.S. Capitol Riot
Washington Commanders defensive coordinator Jack Del Rio was Pro Bowl linebacker in the NFL. He was a decent head coach with the Jacksonville Jaguars (nine seasons, 68-71) and pretty good with the Oakland Raiders (three seasons, 25-23). Del Rio also coordinated three top-five defenses for the Denver Broncos from 2012-14.
Despite the fact he now works in the nation's capital, Del Rio isn't known for his political punditry. That didn't stop him from weighing in on the January 6 Capitol Riot, though.  
Del Rio regularly espouses conservative views and quote-tweets prominent conservative pundits to his 90.9k followers on Twitter.
On Monday, June 6, Del Rio commented on an article about the congressional January 6 hearings. The D.C. DC tweeted, "Would love to understand "the whole story "about why the summer of riots, looting, burning and the destruction of personal property is never discussed but this is ??? #CommonSense."
Two days later, at Commanders minicamp, Del Rio took questions from reporters, and the tweet came up. Del Rio fiercely defended his point of view, saying:
What did I ask? A simple question. Why are we not looking into those things — if we're going to talk about it — why are we not looking into those things? … I see images on the TV, people's livelihoods are being destroyed, businesses are being burned down, no problem. And then we have a dust-up at the Capitol, nothing burned down, and we're going to make that a major deal. I just think it's kind of two standards. And if we apply the same standard and we're going to be reasonable with each other, let's have a discussion. That's all it was. Let's have a discussion.

Jack Del Rio on January 6
Del Rio's comments quickly went viral. Shortly after they did, the long-time NFL player and coach took to Twitter to issue an apology for two specific words in his statement.
Del Rio apologized on social media for his 'dust-up' comment
While 45-seconds of Del Rio's comments went viral, he did preface his remarks by saying he believes all Americans have the right to express themselves, especially if you're being respectful."
He also ended his comments by saying he was just trying to "have a discussion" with his tweet. Also, in the end, he said "it's about love and respect" for him.
Del Rio may have said all the right things before and after his viral comments. But plenty of people took issue with the middle.
There was a lot of adverse reaction online to Del Rio's conflating the actions of Black Lives Matter supporters in the summer of 2020 in the wake of George Floyd's death to the actions of the people who stormed the Capitol on January 6, 2021.
However, more than that, two words angered people more than anything. Del Rio calling the U.S. Capitol Riots a "dust-up" is what drew the most attention and what the defensive coordinator ultimately apologized for.  
In a statement on Twitter shortly after Del Rio's comments went viral, the Washington Commanders DC wrote:
I made comments earlier today in referencing the attack that took place on the United States Capitol on January 6, 2021. Referencing that situation as a dust-up was irresponsible and negligent and I am sorry.

Jack Del Rio apology
Del Rio's poor choice of words notwithstanding, there are likely as many people who agree with the coach's sentiment as disagree. What everyone can agree on, though, is that more controversy is the last thing the Washington Commanders need.
The Washington Commanders organization is mired in controversy
Jack Del Rio's "dust-up" comments are causing a firestorm right now, but in the grand scheme of Washington Commanders controversies, this barely registers.
The biggest problem with the organization is owner Daniel Snyder. The communications billionaire bought his boyhood-favorite football team ahead of the 1999 season. Since then, the organization has become one of the worst in the NFL, both on and off the field.
In the 22 NFL seasons this century, the Washington team has made just five playoff appearances and won one playoff game. The franchise has only won 10 games in a season twice in this time.
Until 2019, Snyder refused to change the team's problematic moniker until he needed a distraction from other controversies.
The Washington Post has reported widespread sexual harassment and a hostile work environment throughout the Commanders organization that allegedly goes all the way up to Snyder.
During the subsequent investigation, emails between team President Bruce Allen and Jon Gruden came out, exposing the latter for using racist, homophobic, and misogynistic language.
It also recently came out that the Commanders' front office allegedly has two sets of books designed to hide NFL ticket sales and circumvent league revenue-sharing rules. The United States Congress is now investigating.
Like Sportscasting on Facebook. Follow us on Twitter @sportscasting19 and subscribe to our YouTube channel.