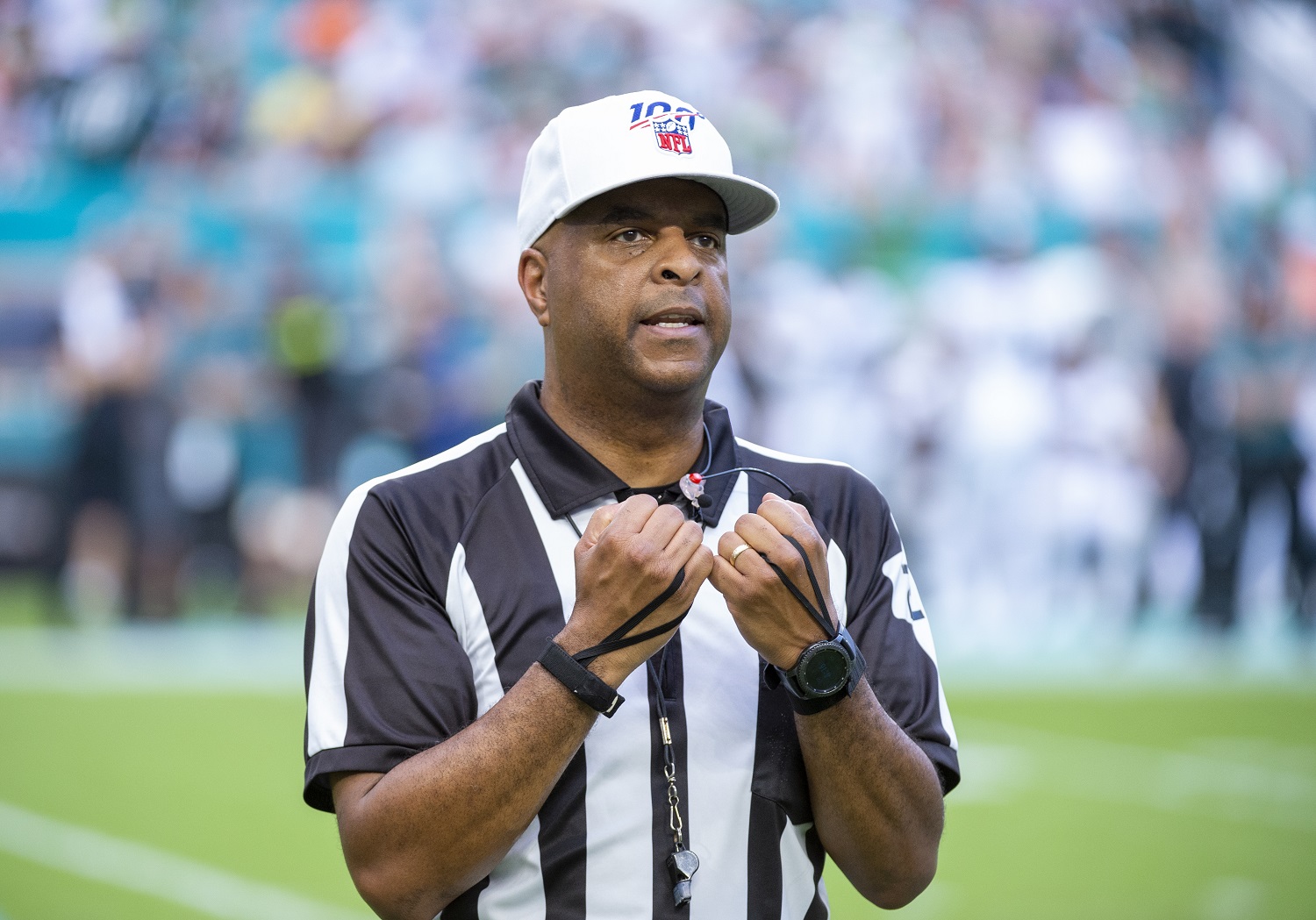 What Do NFL Referees Do the Other Six Days of the Week?
Adrian Hill, who is entering his second season as an NFL referee, has an even more complicated job Monday through Friday.
Football fans upset over a blown call may spout off on social media about how "that ref's no rocket scientist." They need to be careful these days since Adrian Hill is going into his second season as an NFL referee on Sundays — and he pretty much is a rocket scientist the other six days of the week.
Hill, 55, is a software engineer for the Johns Hopkins Applied Physics Laboratory Space Exploration Sector. He is directly involved in software used by NASA and a great example of the serious work that many officials do when they're not on NFL fields.
NFL referee Adrian Hill is as close to a rocket scientist as it gets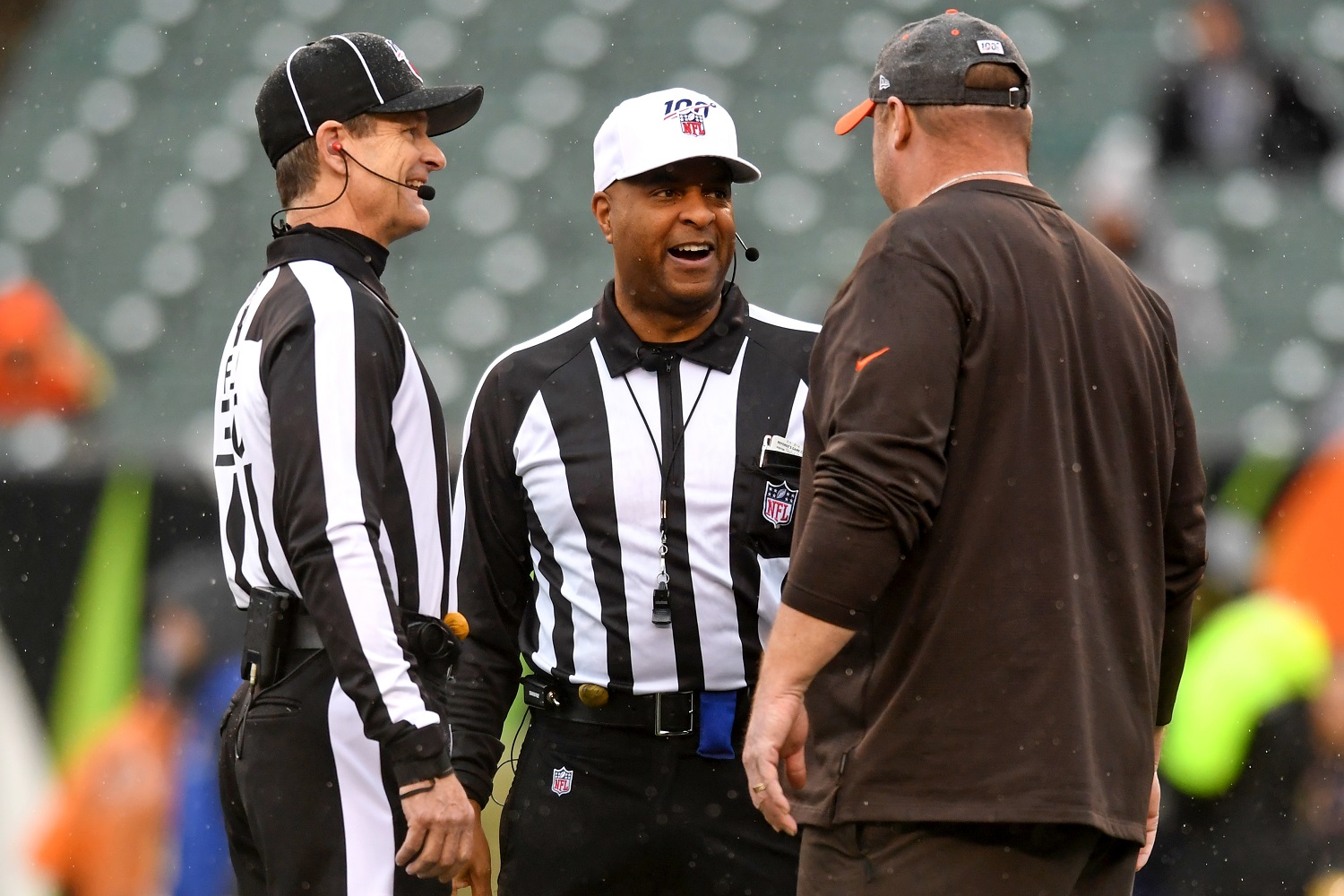 Adrian Hill, 55, has worked nearly 600 football games over the years at various levels and broke into the NFL as a line judge and side judge in 2010. He moved up to referee, the top position on a crew, at the start of the 2019 season. It's a lot of responsibility, but not nearly the complex business of his "real" job.
Hill, who graduated from the State University of New York at Buffalo with degrees in electrical and software engineering and computer science, was hired by the Applied Physics Lab in 2000. One of his biggest projects has been the New Horizons mission in which a probe headed to Pluto, which is never less than 2.66 billion miles from Earth, and then went beyond.
"It can take us 6 1/2 hours to get a command up to the spacecraft and another 6 1/2 hours before we get a response back because it's out well beyond Pluto," Helene Winters, the project manager for New Horizons, told The Athletic. "If there's anything wrong, we have to take steps ahead of time so that a spacecraft can handle it on its own autonomously."
Six and a half hours is an eternity for an NFL game official, who has to make split-second decisions on the field.
"I like having two different jobs," Hill said. "One of the things that I find fascinating is this is my day job and everything we do is very calculated. We don't make snap decisions. We plan, analyze, we meet, we sit around roundtables and kind of analyze again. We get approvals and so on. It's very different from football officiating, where you see something once and you're making a snap decision."
The workweek is a long one during the NFL season
Second-year NFL referee Adrian Hill's job in Maryland as a software engineer is largely a 9-to-5 position on weekdays. He's typical of many NFL game officials in that respect. The league gravitates toward officials with desk jobs or those who own businesses and have scheduling flexibility from August to February.
The football workweek involves more than just showing up on Sunday. Crews arrive a day ahead of time. A portion of that day is spent reviewing video from their most recent game and discussing new directives or information coming down from the league office.
The crews typically have dinner together the night before the game, and the referee is often the first of the group to arrive at the stadium the next day to coordinate with stadium and league officials if there are any issues that might pose a problem.
The game takes approximately three hours, and it can usually be graded as a success if every fan leaves the stadium having no recollection of anything that the officials did on the field.
"You're out there and there are millions of people watching and you're making these snap decisions, trying to make crisp announcements, talking to television, talking to people in the stadium, announcers," said Hill, who worked his way up through the ranks in Conference USA and NFL Europe.
Referees leave the stadium with a copy of the game video on a thumb drive, giving Hill something to watch on the flight home to Maryland. That gives referees a head-start if the head of officials wants a clarification about a call.
More likely, Hill gets questions or observations from co-workers stopping by his desk on Monday mornings.
Some of the best-known refs have weighty day jobs
Adrian Hill is typical of NFL referees in that he has a well-paying "regular" job, which the league believes diminishes concerns about officials being compromised by gamblers or criminals.
The men who've taken the field as referees for recent Super Bowls have similar resumes:
Jerome Boger, the referee for Super Bowl XLVII, works as an insurance underwriter in Atlanta.
Clete Blakeman, who headed up the field crew in Super Bowl 50, is a partner in an Omaha, Nebraska, law firm.
Bill Vinovich, the ref in Super Bowl XLIX and LIV, works as a certified public accountant.
Carl Cheffers, the referee for Super Bowl LI, is a sales manager.