What Happened to Former NBA Player and Streetball Legend Rafer Alston?
Rafer Alston, also known as 'Skip to my Lou,' was a streetball legend and became an NBA player.
Though Rafer Alston may have averaged just 10.1 points, 2.8 rebounds, and 4.8 assists during his decade in the NBA, he's still widely known throughout the world of streetball. Going by the name "Skip 2 My Lou," he established himself as a playground legend.
Alston suited up in the NBA for six different teams from 1999-2010, but that isn't the most notable part of his legacy.
Rafer Alston was a streetball legend
Rafer Alston grew up in Queens, New York, where streetball is quite popular. During his younger years, he played at different courts throughout the borough, establishing himself as a premier talent at an early age.
The up-and-comer attended Benjamin N. Cardozo High School and graduated in 1994. After high school, he played basketball at Ventura College in California, transferred to Fresno City College, and finished his collegiate basketball career at Fresno State University.
Alston continued pursuing a career in the sport after college. He joined the AND1 Mixtape Tour, a basketball competition in which a group of streetball players would travel across the country and play against people from different cities. But it wasn't like any other traveling competition; the flashy skills possessed by the players made it stand out, and it quickly gained attention across the country.
The New York product became one of the tour's most popular players, dazzling fans with his ball-handling acumen. One of his go-to moves was a skip while dribbling — hence the nickname "Skip 2 My Lou."
AND1 became a summer basketball tradition and was even televised on ESPN2. Alston turned that exposure into household-name status, and that gave him a chance to fulfill his NBA dream.
Rafer Alston got the chance to play in the NBA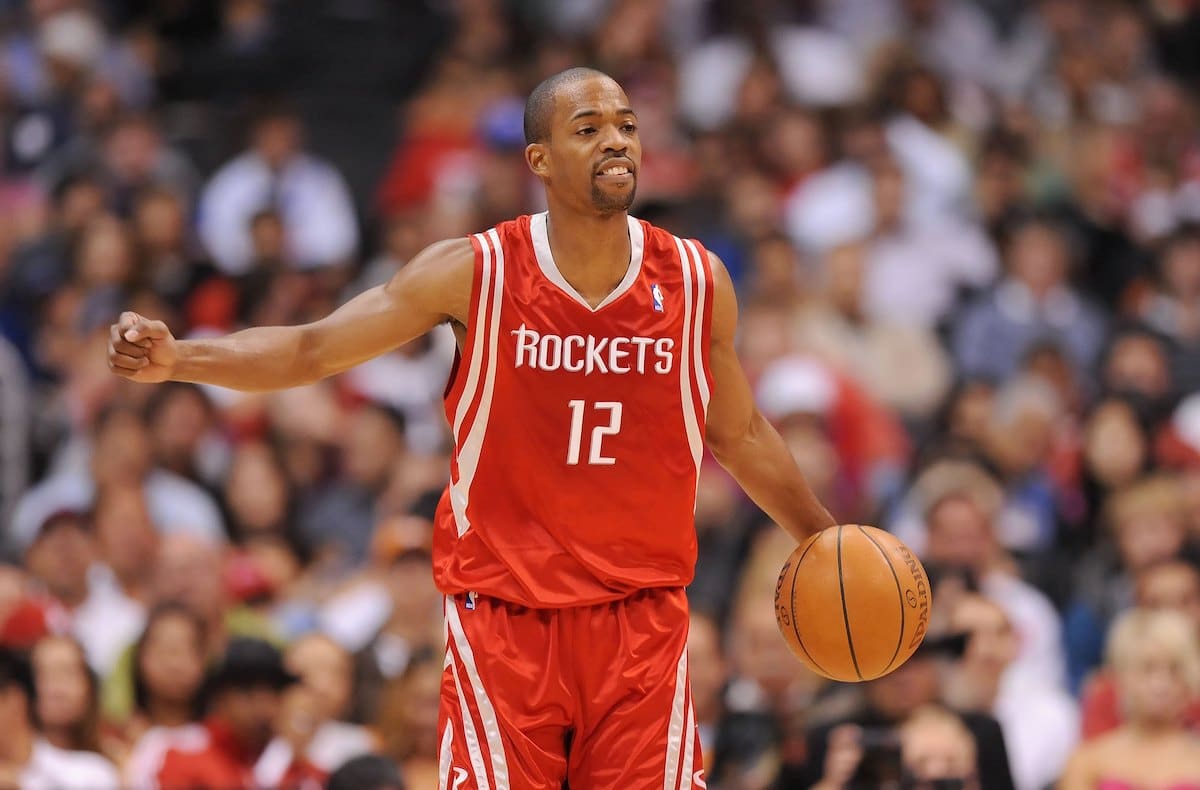 Videos of Rafer Alston playing in the AND1 Mixtape Tour reached the NBA level. In 1998, he signed with the Idaho Stampede (now the Salt Lake City Stars), a G League affiliate of the Utah Jazz.
After playing a year with the Stampede, he got his shot in the NBA. The 6-foot-2 guard joined the Milwaukee Bucks and remained on the roster from 1999-2002.
Alson was able to transition from streetball to the NBA game, but he did struggle early on. He mainly came off the bench with the Bucks and averaged just 11.0 minutes per game during his first three seasons. The Toronto Raptors and Miami Heat gave him a bit more run as a rotation player in 2002-03 and 2003-04, respectively, but he wasn't a full-time starter until he joined the Toronto Raptors in 2004-05.
That season, Alston averaged a career-high 14.2 points per game, and his success carried over to the Houston Rockets the next campaign. Playing alongside future Hall of Famer Tracy McGrady, the 1-guard averaged 12.6 points, 3.5 rebounds, and 5.7 assists over 267 games with the Rockets before finishing out his career with shorter stints for the Orlando Magic, New Jersey Nets, and Miami Heat.
Throughout his NBA career, he averaged 10.1 points, 4.8 assists, and 2.8 rebounds while shooting 38.3% from the field and 35.4% from beyond the three-point arc.
Where is Rafer Alston now?
After spending 2011 with the Chinese Basketball Association's Zhejiang Lions and 2012 with the G League's Los Angeles D-Fenders, Rafer Alston ended his playing career.
In 2019, he became a scout for the Minnesota Timberwolves. Though that might seem like a strange transition given his AND1 Mixtape Tour-to-NBA path, it was a natural fit.
"Growing up, I always studied basketball. I always was watching the game," Alston told Jon Krawczynski of The Athletic in a 2019 interview. "I went outside and worked on my game. When I was a kid, I would go outside and play ball. I made sure my mother taped the game and told about what happened. I always was a student of the game, so playing the point-guard position was natural for me. We had so many point guards we could learn from in our city."
Of his scouting philosophy, he explained: "You want to get the best read on their psyche and attitudes when things are going good and bad for 'em. To me, that's the intriguing part about it. You're almost delving into the minds of players."
He's now using that knowledge and experience to coach youth basketball and run camps for young guard talents.