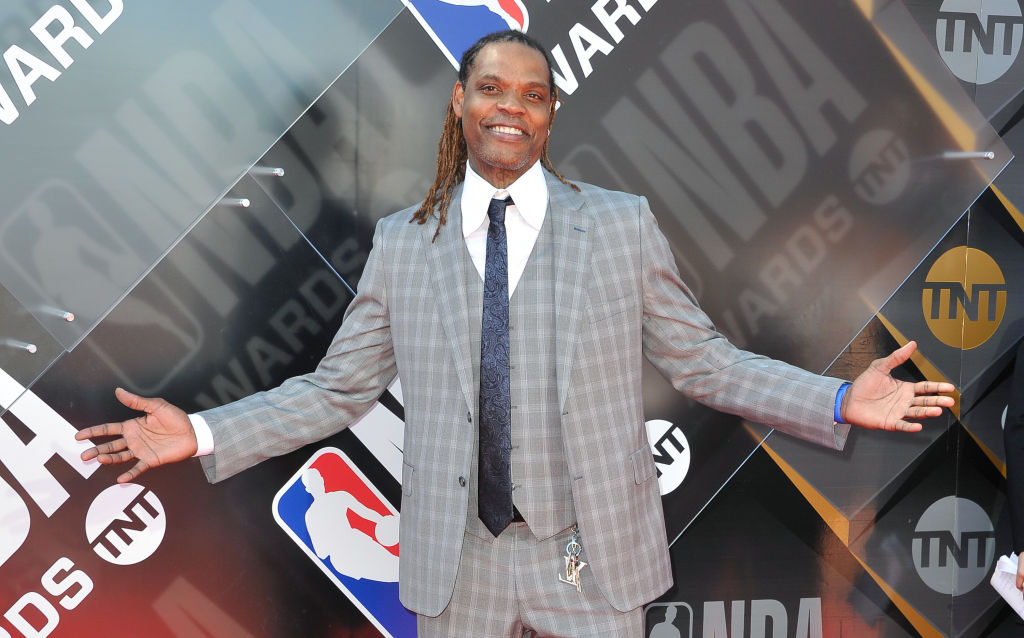 What Happened to Former NBA Star Latrell Sprewell?
A look at the career and post-basketball life of Latrell Sprewell, who played 13 seasons in the NBA with the Warriors, Knicks, and Timberwolves.
Latrell Sprewell was once one of the best players in the NBA.
Unfortunately, while Sprewell possessed an array of abilities on the court, it was his actions off the court that would often make headlines. One such instance cost him 68 games at the height of his career. Another horrible decision cost him his career completely, a decision that immensely affected his life after basketball.
What happened to Latrell Sprewell?
The on-court career of Latrell Sprewell
Following a stellar career at Alabama, Latrell Sprewell was taken with the 24th overall pick in the 1992 NBA draft by the Golden State Warriors and he made an immediate impact. As the third option behind Chris Mullin and Tim Hardaway, Sprewell averaged 15.4 points and was named to the All-Rookie Second Team. He took on more of the scoring load in his second season, averaging 21 points and was an All-NBA First Team selection. He made the All-Star team in 1994, 1995, and 1997. In six years in Golden State, Sprewell averaged 20.1 points per game.
Latrell Sprewell joined the New York Knicks ahead of the lockout-shortened 1998-1999 NBA season, coming off the bench and averaging 16.4 points, helping the team to the NBA Finals. Sprewell moved into the starting lineup the following season and played in New York until 2003. In five years in the Big Apple, Sprewell averaged 17.9 points per game and made one All-Star Game appearance in 2001.
Sprewell finished his NBA career with the Minnesota Timberwolves, playing two years alongside Kevin Garnett. In 2003-2004, the Wolves made it to the Western Conference Finals, losing to the Los Angeles Lakers. Sprewell averaged 16.8 points that season and 12.8 the following year, which would turn out to be his last in the NBA.
Sprewell lost 68 games of his career and millions of dollars for choking his coach, P.J. Carlesimo
At the pinnacle of his career, Latrell Sprewell nearly lost everything. He had made three All-Star Game appearances for Golden State in four years but clashed with Warriors head coach P.J. Carlesimo. On December 1, 1997, things reached a boiling point at practice. After Sprewell was yelled at by Carlesimo about his passing, he snapped. Sprewell charged his head coach and grabbed him by the throat, dragging him until he was pulled off by teammates. 20 minutes later, Sprewell still hadn't calmed down and once again assaulted Carlesimo, punching him in the face and once again had to be pulled off his head coach.
As a result of the incident, Sprewell was suspended for the rest of the season without pay, which amounted to 68 games, and the Warriors voided the remaining three years and $23.7 million of his contract.
Sprewell's refusal to sign a new contract with the Timberwolves cost him his career
After getting a second chance in the league with the New York Knicks, Latrell Sprewell joined the Minnesota Timberwolves in 2003. When offered a three-year/$21 million extension ahead of the 2004-2005 season, Sprewell swiftly turned it down, offering up what many think was one of the most ridiculous and insulting explanations in NBA history.
"Why would I want to help them win a title? They're not doing anything for me. I'm at risk. I have a lot of risk here. I got my family to feed."

Latrell Sprewell
It was a decision that would ultimately cost Latrell Sprewell his career. He had the worst year of his career and would never play in the NBA again.
In the years that followed, things only got worse for Sprewell. He was sued for $200 million by an ex-girlfriend. His yacht was repossessed. He defaulted on his $1.5 million mortgage and the state of Wisconsin went after him for more than $3 million in back taxes. He had another home repossessed and is reportedly worth only about $50,000 today.
Latrell Sprewell made more than $100 million during his NBA career.