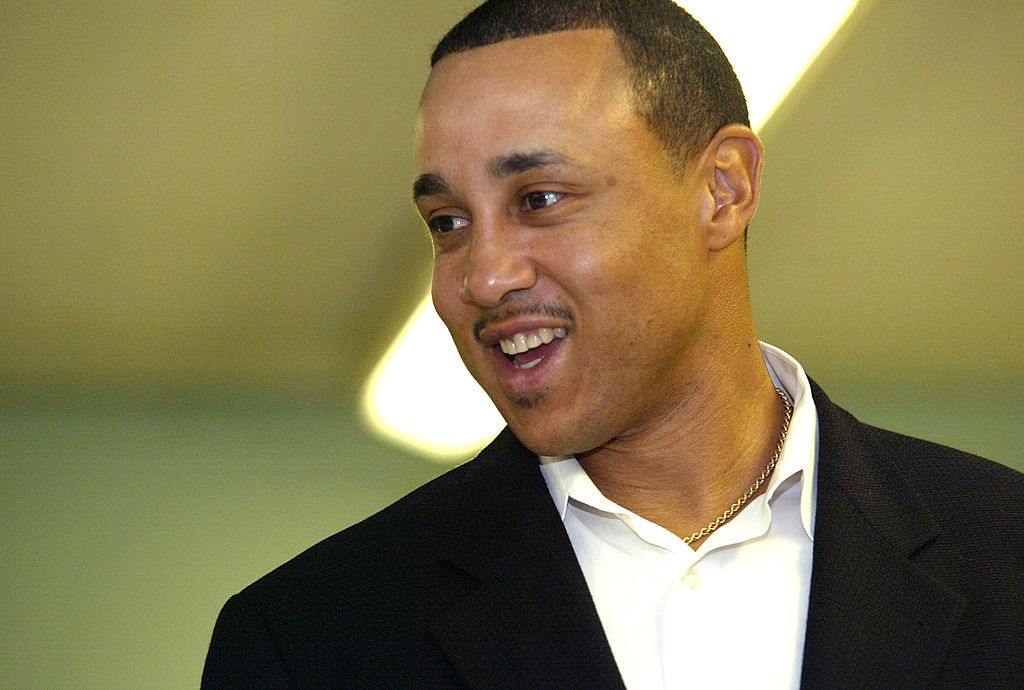 What Happened to Former New York Knicks Star John Starks?
A look back on the career of former New York Knicks star John Starks and where the one-time NBA All-Star is today.
To this very day, John Starks remains one of the most popular and successful players in New York Knicks history. Starks was the definition of an overachiever, going from a virtual unknown to one of the main pieces of one of the biggest franchises in sports in a very short amount of time.
Alongside the likes of Patrick Ewing and Charles Oakley, Starks was a key member of a physical Knicks squad in the 1990s that constantly gave Michael Jordan and the Chicago Bulls all they could handle. While New York was never able to win a title during that era, they certainly have their place in NBA history, as does John Starks himself. He certainly didn't take the usual road to the NBA but he grew to become a beloved figure in the Big Apple and still is to this day.
John Starks attended four colleges in four years
After playing just one year of basketball at Tulsa (OK) Central High School, colleges obviously weren't very interested in John Starks in the mid-1980s. He enrolled at Rogers State College in 1984 but never played a game there as he was kicked out for stealing another student's stereo equipment, for which he spent five days in jail. In 1985, he enrolled at Northern Oklahoma and averaged 11 points per game but was soon gone from there after he was caught smoking weed.
He then played intramural ball at Tulsa Junior College in 1986 and caught the attention of former Oral Roberts coach Ken Trickey, who was starting an actual basketball program there. He played one season and then received a scholarship offer to Oklahoma State, where he finished his collegiate career, averaging 15.4 points for the Cowboys in 1987-1988.
He wasn't drafted into the NBA and had to fight and claw his way into the league
Of the 75 players selected in the 1988 NBA draft, John Starks was not one of them. He did sign a contract with the Warriors but played in just 36 games for Golden State, averaging 4.1 points in just under nine minutes per game. He was not offered a contract the following year and spent time in the CBA and WBL in 1989 and 1990 before joining the New York Knicks. And had it not been for a freak accident, he may never have made it past that first season.
In late 1990, Starks tried to dunk on Patrick Ewing in practice, which did not go well. Starks injured his knee and the team was not allowed to release him while he was hurt. If he hadn't healed before the end of December 1990, New York had to keep him, which is exactly what happened. The rest, as they say, is history. Starks eventually found his way into the starting lineup for the Knicks in 1992-1993 and thrived. The following season, John Starks earned his first and only NBA All-Star selection, averaging a career-high 19 points per game. He was a tough player and Knicks fans loved him for it.
The Knicks could never beat Michael Jordan
Unfortunately, John Starks and the Knicks could never get past Michael Jordan. Chicago beat New York in the playoffs every season of their first three-peat from 1991-1993. When Jordan retired to play baseball, Starks & Co. finally got over the hump, beating Scottie Pippen's Bulls in the Eastern Conference semis in 1994. They faced the Houston Rockets in the 1994 NBA Finals but lost in seven games. Starks had one of the worst games in Finals history in Game 7, shooting an abysmal 2-for-18 in the loss.
Starks never made it back to the NBA Finals. Jordan returned to the NBA the following year and later led the Bulls to three more titles, the last coming in 1997-1998, John Starks' final season in New York. The Knicks returned to the Finals in the lockout-shortened 1999 campaign but Starks was back in Golden State. He remained with the Warriors until February 2000 and then actually played four games for the Bulls that season. He spent the final two years of his career with the Utah Jazz.
In 866 career games in the NBA, John Starks averaged 12.5 points per game. He also still holds the New York Knicks record for most three-pointers made with 982 and was the first player in NBA history to make 200 threes in a season. Not bad for someone who was never supposed to be in the league in the first place.
Where is John Starks today?
Since retiring from the NBA in 2002, John Starks has certainly kept busy, getting himself involved in numerous business ventures over the years. In addition to rejoining the New York Knicks as the Alumni and Fan Development Advisor while also serving as an analyst on the MSG Network. He opened pizza shops in Harlem and Washington, D.C. He partnered on an athletic apparel company. He was involved in a sports equipment startup.
He's also taken the knowledge he's learned in the business world and passed it on to students in underprivileged communities as part of the BUILD program, a partnership between the Knicks and Chase Bank. There's also the John Starks Foundation, a nonprofit that helps to provide financial assistance to high school seniors for college.
He has taken the determination he used to get to the NBA to succeed in life after it. And he's helping others while doing so. You never had to like John Starks. But you always had to respect him.