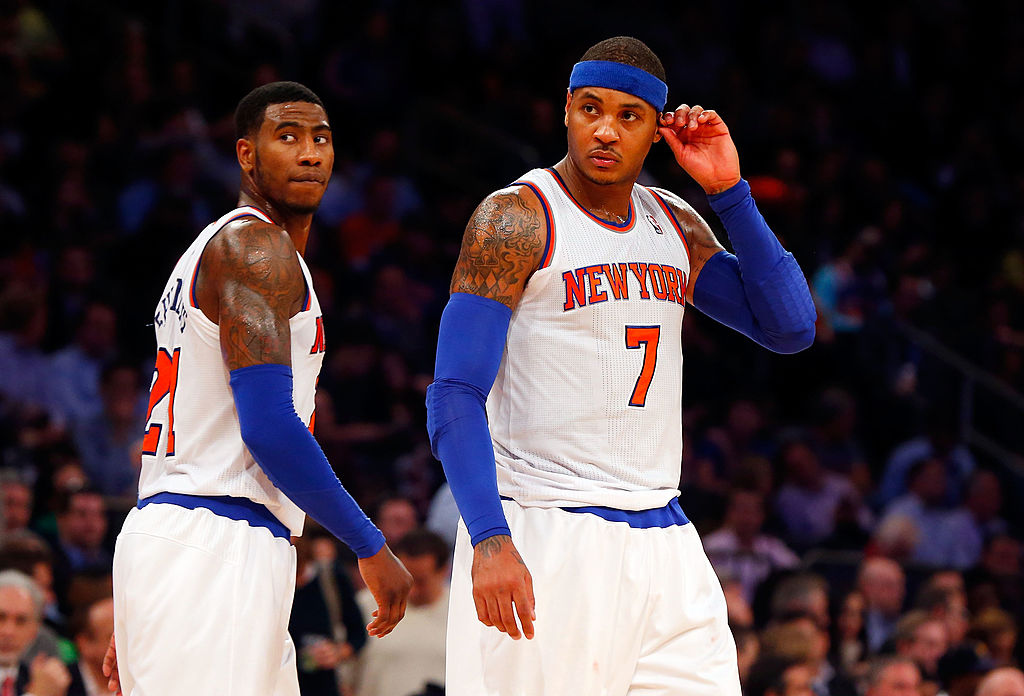 Iman Shumpert Confirms That Carmelo Anthony Was a True Leader on the New York Knicks
Carmelo Anthony doesn't have the best reputation, but Iman Shumpert recently confirmed the veteran forward was a true leader.
When we're analyzing professional athletes, there's a limit to what we can know. It's easy, for example, to see who's a dominant scorer or a physical force; intangibles like leadership, though, can be less apparent. Former New York Knicks guard Iman Shumpert, however, wants everyone to know that Carmelo Anthony stepped up behind the scenes.
While the veteran forward has had his share of detractors, Shumpert isn't one of them. In his eyes, Carmelo Anthony showed real leadership during his time in New York.
Carmelo Anthony's NBA career
Before the NBA season was suspended, Carmelo Anthony was posting solid, if unremarkable numbers in Portland. During his prime, however, the forward was a legitimate star.
As the third-overall pick in the 2003 NBA draft, Anthony landed with the Denver Nuggets. At the time, the franchise hadn't made the playoffs in eight years; Carmelo, however, averaged 21 points per game as a rookie and willed the Nuggets into the playoffs.
Anthony kept improving, and the Nuggets kept making reaching the postseason, but most of those runs ended in the first round. Eventually, something had to give; the forward requested a trade and headed east to join the New York Knicks.
While things initially looked bright in the Big Apple, things eventually went south for Anthony again. Although he and Amar'e Stoudemire formed a formidable one-two punch, the Knicks couldn't get over the hump. Carmelo kept producing, but fell out with Phil Jackson; he joined the Oklahoma City Thunder in 2017 and then spent an ill-fated spell with the Houston Rockets. He was staring down the prospects of retirement before finding a role with the Trail Blazers this season.
Showing leadership with the New York Knicks
Throughout his playing career, Carmelo Anthony has been maligned as both moody in the locker room and as a ball-stopper on offense. In the eyes of Iman Shumpert, who played alongside the forward in New York, embodied another role: a leader who was willing to put himself on the line.
"He won't lie and he won't blame," Shumpert explained in a recent VLADTV interview. "And there's time I literally have told him 'bro, why you ain't just, why you ain't?' 'It's not my job to take food out of another man's mouth, I'll take the blame. Even if it's coach's fault, they'll fire him. They ain't gonna fire me. Imma trust in my work ethic that I can fix this."
"I respected that, like somebody that could man up, still not missing under his son's games, picking him up from school, still walk around, like walking around in the Eastside," Shumpert continued. "I couldn't have a better example as far as like work ethic."
Shumpert isn't the only player with respect for Carmelo Anthony
While Iman Shumpert had plenty of personal experience Carmelo Anthony, he's not the only one who thinks highly of the forward. Earlier this year, Kawhi Leonard explained that he was glad the veteran was getting another shot to strut his stuff.
I'm happy for him. He wanted to get back and play, he was able to get the opportunity, get a chance to go out there and pretty much be himself. I'm just happy for him that he was able to get back in the NBA. It was well-deserved," Leonard told Tomer Azarly of ClutchPoints. "I don't think he was treated the right way, how they left him out there, being a future Hall of Famer. As you can see, he can still run it up and down the floor. He's still got a lot of basketball left, it's just going to be a fun matchup for us and a competitive game."
From a fan's perspective, it's been easy to knock Carmelo Anthony. Iman Shumpert and Kawhi Leonard, however, remind us that there's more to an NBA player than what we see on the court every few nights.