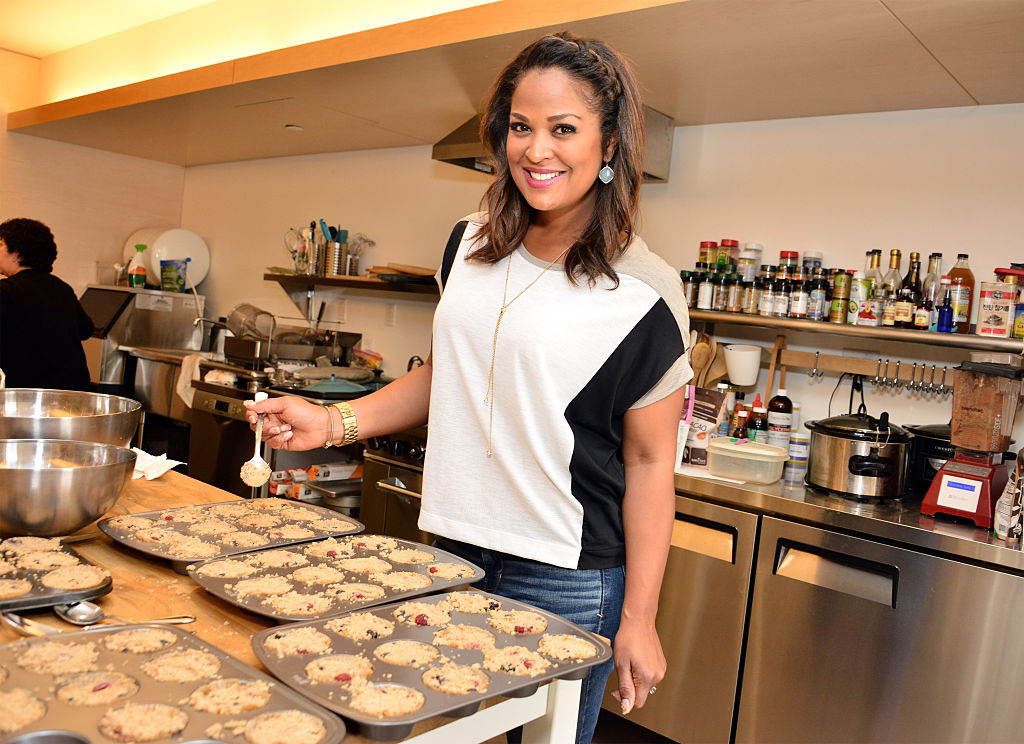 What Happened to Laila Ali and What Is Her Net Worth?
Laila Ali followed in her famous father's footsteps, despite his protest against it. After a 24-0 boxing record, where is Laila Ali today and what is her net worth?
In the world of boxing, the name Ali is revered. Many consider Muhammad Ali the greatest boxer of all time. So when daughter Laila Ali decided to take up the sport in 1999, she did so with great trepidation. Expectations were sky-high on the name alone. 
Ali lived up to the billing going undefeated with a 24-0 record over her seven-plus year career. Since retiring in 2007, Ali has found success outside of the ring in multiple business ventures. What is Laila Ali doing today, and what is her net worth?
Laila Ali follows in her famous father's footsteps
When Laila Ali told her father Muhammad she wanted to pursue a career in boxing, she didn't exactly receive the kind of response she wanted. The elder Ali expressed his unhappiness with her decision telling her it was a "dangerous profession."
Undeterred, she moved forward with her plan. On October 8, 1999, a 21-year-old Laila Ali made her professional debut as a 5-foot-10-inch boxer weighing in at 166 pounds. In front of a large crowd at the Turning Stone Resort and Casino in Verona, New York, including numerous journalists, Ali knocked out April Fowler in the first round. It was an impressive start to say the least. 
A month later, Ali won her second bout by TKO in the fourth round and was well on her way. In June 2001, Ali had her biggest fight to date when she faced Jacqui Frazier-Lyde, Joe Frazier's daughter. It was billed as Ali-Frazier IV and was the first-ever pay-per-view boxing card headlined by women.
In that hard-fought battle, Ali won by a majority judges' decision in eight rounds but paid a heavy price suffering a bloodied nose and fractured left collarbone. Despite her injuries, Ali's confidence continued to grow.
Ali starts adding title belts 
A year after her fight with Frazier-Lyde, Ali won her first belt, the IBA Super Middleweight title, in August 2002. She followed that up three months later, adding the WIBA and IBWF titles to her resume. 
On August 8, 2003, in front of a record crowd for women's boxing of 9,888, Laila Ali had what she considered to be one of the biggest fights of her career. Her opponent was female boxing legend and the fighter who inspired her to pursue the sport, Christy Martin. It was never a contest. The 25-year-old Ali overwhelmed the 35-year-old legend from the opening bell, finally finishing her off with a flurry of punches, and a knockout in the fourth round.
For the next four years, Ali fought and defeated every challenger that stepped into the ring opposing her. Critics charge she never faced what many considered to be her toughest potential opponent, Anne Wolfe, who Ali told Stephen A. Smith in an interview in 2006 she planned on fighting. It never happened.
In 2007, Ali retired from boxing with a 24-0 perfect record and had earned four title belts. 
Life after boxing and her net worth 
Since she retired from boxing, Laila Ali married former NFL player Curtis Conway, and pursued various business opportunities, many of them on television. In 2008, she co-hosted an American Gladiators reboot with Hulk Hogan. That same year she also joined CBS and worked as a contributing correspondent for The Early Show. 
Ali, who has a net worth of $10 million according to Celebrity Net Worth, has appeared in numerous other shows in recent years, including Celebrity Wife Swap, The Celebrity Apprentice, and her most recent appearance in 2019 on The Masked Singer.
While she faced a lot of pressure when she decided to take up boxing, Ali excelled at the sport, doing her name and father proud. Impressively, Ali has transferred her success in the ring to life after boxing and doesn't appear to be stopping anytime soon.