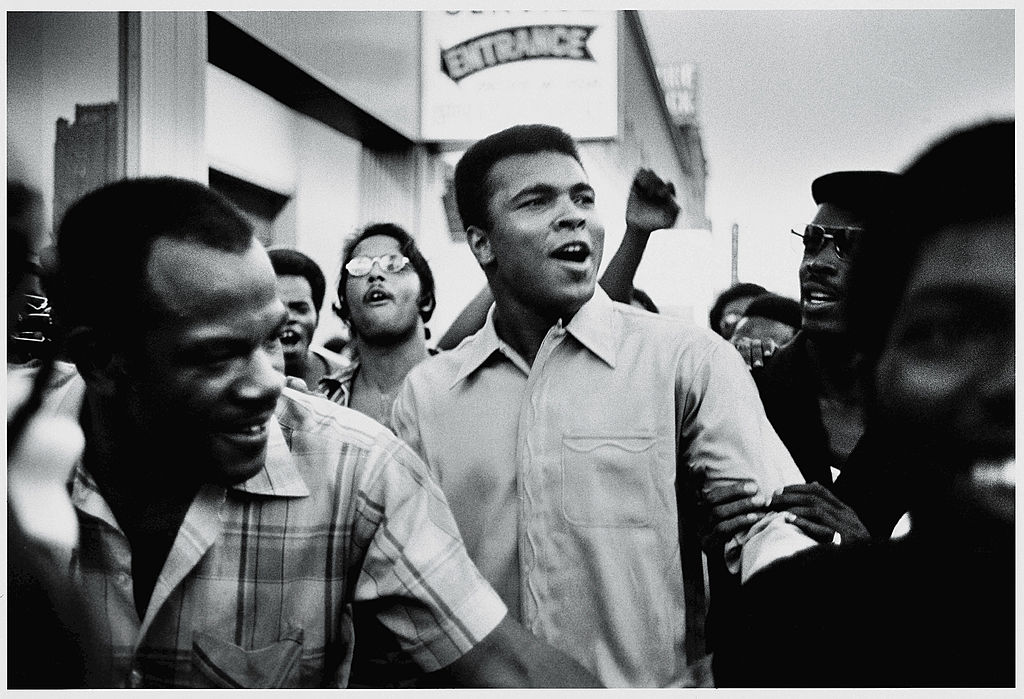 Muhammad Ali's Boxing Ban Cost Him More Than You Think
Muhammad Ali was stripped of his boxing license from ages 25-28, but that wasn't the only thing his 1967 boxing ban cost him.
Muhammad Ali is arguably the greatest boxer of all-time, but he also had a dust-up with the law outside of the ring in 1967. In the prime of his boxing career, Ali was arrested and sentenced to five years in prison. He was also banned from boxing for three years.
Ali was just 25 years old at the time. He had already cemented himself as one of the best pound-for-pound fighters in the world. He was even the world heavyweight champion, but his crime knocked three years off his boxing career and stripped him of his heavyweight title. Ali would return to the ring in 1970 to continue building his legendary resume, but he could never get those three years back. So, what crime did Ali commit and what did it cost him?
Muhammad Ali refused to join the Vietnam War in 1967
In 1967, Muhammad Ali was called to join the Vietnam draft. He was an undefeated heavyweight champion at the time, so he understandably refused to join the U.S. Army. As a Muslim, Ali also didn't support the war. After getting drafted, he famously said, "I ain't got no quarrel with those Vietcong."
Ali refused to step forward for the draft on April 28, 1967. He was arrested that same day. Before he was even convicted, The New York State Athletic Commission revoked Ali's boxing license. A few months later, Ali was convicted of draft evasion. He was sentenced to five years in prison and banned from boxing for three years.
Ali's boxing ban cost him more than just time in the ring
Muhammad Ali was stripped of his growing boxing career in the blink of an eye. One moment he was the undefeated heavyweight champion of the world, and the next he was unemployed. The conviction brought with it a $10,000 fine, so Ali had to travel to speak at various colleges just to make ends meet for three years.
Ali never had to serve any of his five-year prison sentence, but the conviction still lingered with him for years. Once you're a convicted criminal — no matter how petty the charge — there's no returning to your innocent life beforehand. A criminal conviction was a tattoo Ali couldn't remove at the time.
Along with his loss of innocence, Ali also lost his heavyweight title. Ali defeated Sonny Liston a few years prior to claim the belt, but it was as if the fight never even happened.
Muhammad Ali was no longer the heavyweight champ. In fact, he wasn't even a professional boxer anymore. He had a long road ahead just to be able to return to the sport he loved and regain his seat on the heavyweight throne.
The champ returned to the ring and reclaimed his heavyweight crown
It was a long and hard three years for Ali away from boxing, but his ban was finally lifted in 1970. Ali returned in October of that year and picked up where he left off. He knocked out Jerry Quarry in the third round and proved to the boxing world he hadn't lost a step.
Ali lost to Joe Frazier in 1971 in what was his first loss as professional, but he got revenge a few years later. He defeated Frazier in their rematch in 1974. He also beat George Forman later that year to reclaim the heavyweight title.
The Supreme Court reversed Ali's draft evasion conviction in 1971. It was a huge weight off Ali's shoulders, but he sure would've rather the conviction never come about in the first place. He wouldn't have missed three years of competing in the ring or lost $10,000.
Ali retired from boxing in 1981 with a career record of 56-5. He is still the only boxer to claim the heavyweight title three times. "The Greatest" received his nickname for a good reason, but we'll never know how much greater Ali could've been had he not missed three years of his boxing prime.