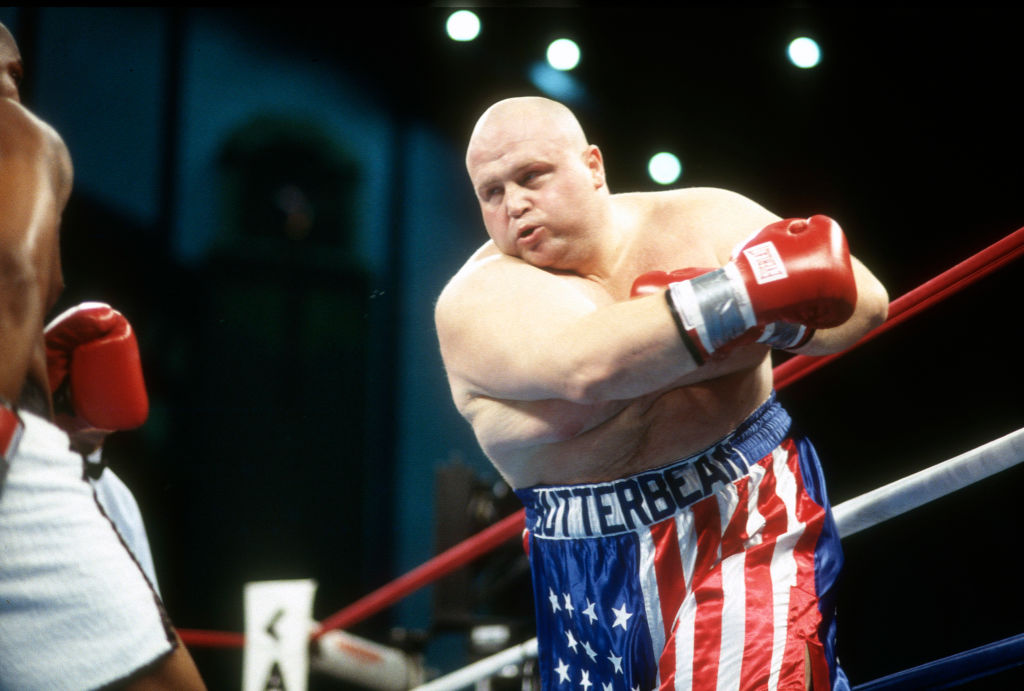 What Happened to Former Pro Boxer Butterbean?
A look at the career and life after the ring of former professional boxer Eric Esch, better known to the world as Butterbean.
Former professional boxer Eric Esch, better known to the world as Butterbean, was once one of the most recognizable fighters on the planet. Weighing in at more than 400 pounds with a personality that matched his size, Butterbean became a popular attraction despite never being considered a top heavyweight contender.
Throughout his career, you could find Butterbean everywhere. He made his name in Toughman contests, moved into pro boxing and became a star. He once appeared at WWE WrestleMania. He appeared on The Tonight Show a number of times. He was featured in 15 different video games. He appeared in one of the Jackass films alongside Johnny Knoxville. If the paycheck was right, Butterbean was always ready to cash in. So what's Eric Esch up to these days?
How did Eric Esch get the nickname 'Butterbean'?
The legend of Eric Esch began in the early 1990s in Alabama. He was working at a manufacturing plant and his co-workers dared him to enter a Toughman contest, which he did and won. However, there was a weight limit of 400 pounds and Esch had to go on a strict diet of mostly chicken and butterbeans to drop some extra pounds. Hence, the legend of Butterbean was born.
Butterbean would go on to win five World Toughman Heavyweight Championships and transitioned into the world of professional boxing in 1994.
Butterbean was the king of four-round fights
It didn't take long for Butterbean to get noticed in the boxing world. While it usually takes a while to get a nationally-televised bout, Esch's second pro fight aired on a Jed Hearns undercard, a second-round TKO of Doug Norris. Competing in mostly four-round fights, Esch won his first 15 bouts before losing to Mitchell Rose at Madison Square Garden in December 1995. He wouldn't lose again until 2001, racking up a 63-1-3 record before losing to Billy Zumbrun. His third loss came in a highly-publicized fight with Larry Holmes in July 2002, the only fight of his career that was scheduled for at least 10 rounds. Butterbean finally retired from boxing in 2013 with a career record of 77-10-4. Unfortunately, Esch never got the fight he wanted the most, a dream fight with Mike Tyson, although he once stated his case that he deserved it a little more than some of the other guys Iron Mike fought during his comeback after being released from prison.
"I was certainly no worse than most of the guys Tyson fought during that particular comeback, including Peter McNeeley, who I knocked out with no problem a couple years later. And my very good friend Buster Mathis Jr., who had amazing, Olympic-level boxing abilities but small hands that prevented him from hitting hard enough to break an egg, showed that you could give Tyson trouble by rushing him and making him fight you on the inside. I probably could've crowded Tyson too, since he wasn't any taller than I was, and one of us would've knocked the other out."

Butterbean on the prospect of fighting Mike Tyson
In 2003, Butterbean also joined the world of MMA and fought in various promotions, including K-1 and Pride. From 2003 to 2011, Esch fought 28 times and retired with a career record of 17-10-1.
What's he up to these days?
Toward the end of his fight career, Esch got his own reality show, Big Law: Deputy Butterbean on Investigation Discovery, which followed him as a reserve deputy sheriff in Jasper, Alabama.
Esch continued to make public appearances once his days in the ring were done and has helped his two sons, Brandon and Caleb, make their way into the MMA world. Esch also has a daughter, Grace. These days, you can find Butterbean cooking at Mr. Bean's BBQ in Jasper, a restaurant he's owned and operated for years.
Butterbean was never going to be the best fighter in the world but he was certainly one of the most entertaining.