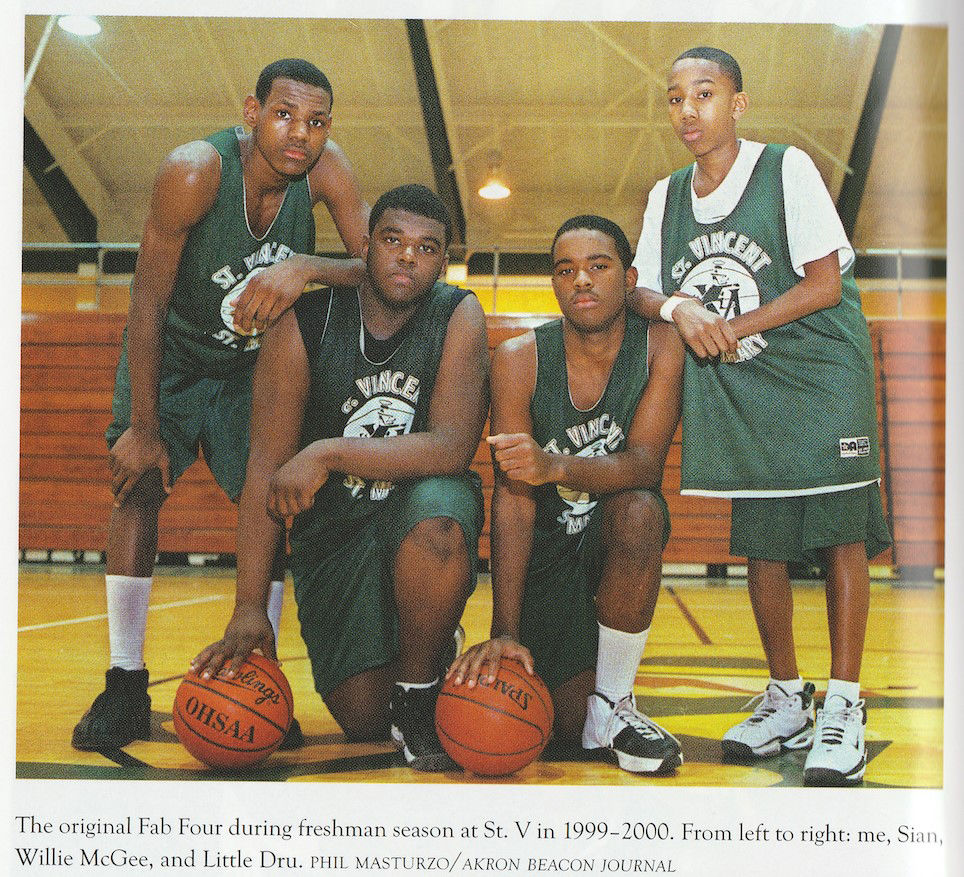 What Happened to the Other Members of Lebron James' 'Fab Five'?
The 'Fab Five' was a group of LeBron James' high school teammates. Did any of them besides LeBron make it in basketball?
LeBron James is almost unanimously accepted as the greatest basketball player in the NBA. With each passing season, he also comes a little closer to claiming Michael Jordan's title as the greatest of all time. Yet James' history of excellence extends all the back to his pre-NBA days, when he won the 2003 Ohio state championship with St. Vincent-St. Mary. LeBron James and some of his teammates were known as the 'Fab Five'.
While none of James' St. Vincent-St. Mary teammates made it to the NBA, all of them have enjoyed success in their life paths. Here we take a closer look at what has happened to each of them since their high school days.
Dru Joyce III
Dru Joyce III was St. Vincent-St. Mary's starting point guard in 2003. His father, Dru Joyce Jr., was the team's coach. After high school, Joyce III spent four years attending the University of Akron in Akron, Ohio. There, playing basketball with the Akron Zips, Joyce III set the school's all-time record for assists.
Following college, Joyce III went on to enjoy a long professional basketball career playing in Europe — specifically in the German league. Over the course of his 12-year career, Joyce III also broke the record for all-time assists in Germany. He finally retired in 2019 and took an assistant coaching position at Cleveland State University.
Sian Cotton
Sian Cotton was one of St. Vincent-St. Mary's big men, as well as a key defensive stalwart. After high school, Cotton was recruited to play football at Ohio State University. However, he only played four games as a defensive tackle for OSU before deciding that the football career path was not for him.
Since then, Cotton turned his focus to another passion: rap music. Cotton's big break came in 2013 when he submitted a track for inclusion on the NBA 2K14 video game. LeBron James just so happened to be one of the curators for the game, and he moved quickly to ensure that Cotton's track was included. In 2015, James also teamed up with Cotton to record a song together.
Willie McGee
Willie McGee was another core member of the LeBron James 'Fab Five', playing an indispensable role in all three of their state titles. Since high school, McGee has pursued a successful coaching career. He had stints as assistant coaches St. Vincent-St. Mary, the University of Akron, and Chowan University.
In 2015, McGee took over as the boys basketball coach of Akron East, a public high school in Akron, Ohio. At the same time, McGee also accepted a position a St. Vincent-St. Mary's athletic director.
Romeo Travis
Following the Fab Five days, Romeo Travis followed a similar career path as Dru Joyce III. Both men attended the University of Akron before pursues professional careers overseas.
Travis has played in almost too many countries to list, including Spain, Germany, Italy, Ukraine, and Israel. Even more impressively, he earned MVP honors in at least two of those leagues. As recently as 2018, Travis won the French League Finals MVP.
Travis has also enjoyed entrepreneurial success, most notably in designing t-shirts and other clothing items that he sold through his personal website.
In this regard, he is perhaps best known for his "23 > 23" t-shirt, whose Cleveland Cavaliers and Chicago Bulls color combinations would seem to claim that LeBron James is greater than Michael Jordan
Along with Joyce III, Travis also founded the Give'N Go Basketball Camps. The camps, which take place Akron, function as a way for the two Fab Five alumni to give back to the community where they enjoyed what was arguably their greatest success