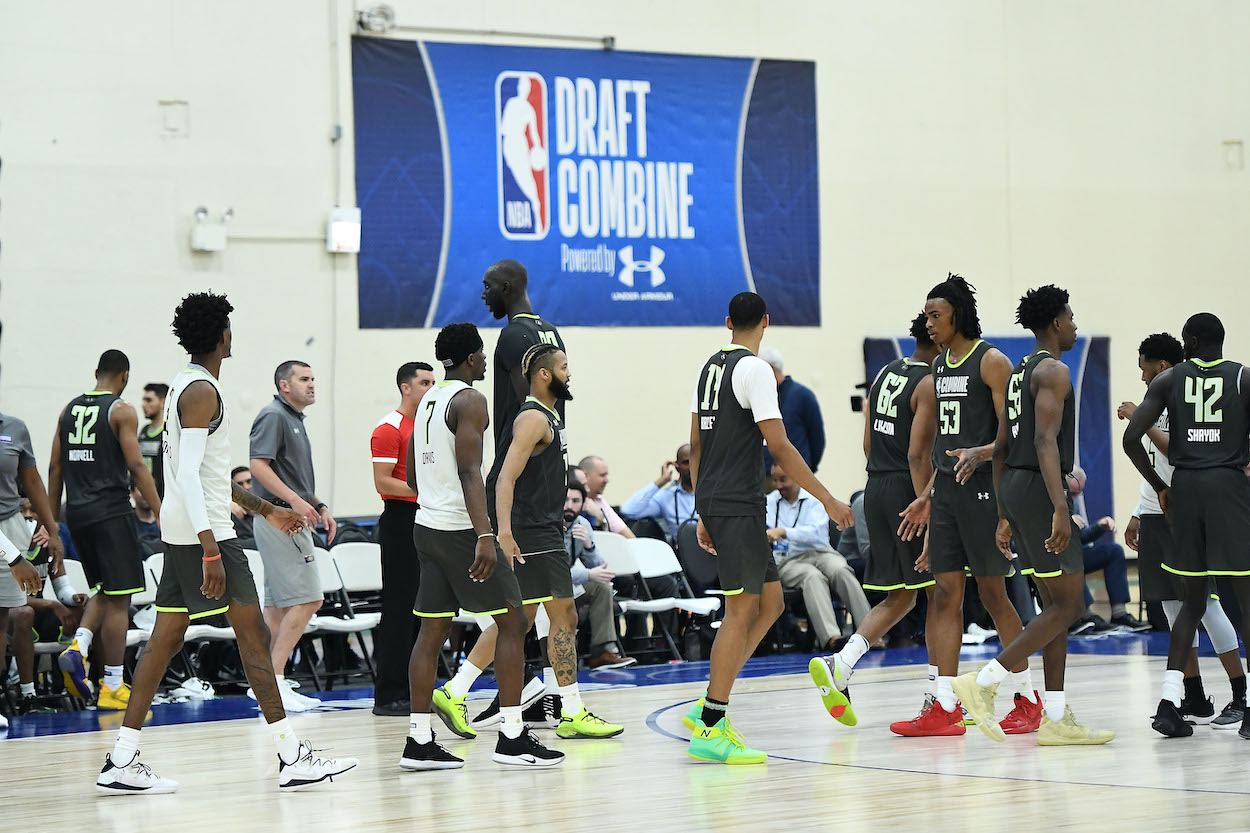 What You Need to Know About the 2021 NBA Draft Combine
The NBA draft combine 2021 starts on June 22. It features 69 of the best draft prospects looking for a spot in the 2021 NBA Draft. Here's everything you need to know including how it differs from the NFL version, when it happens, where to watch it, and which future NBA stars are participating.
Most sports fans are familiar with the NFL draft combine. Thie annual event involves football prospects converging on Indianapolis, Indiana. Front office personnel then poke, prod, measure, test, and interview the prospects. The NBA Draft Combine in 2021 is a similar event that involves NBA players heading to Chicago, Illinois.
This year's version of the NBA combine is here and can help determine where these young basketball stars end up in the upcoming draft. Here is what you need to know about the 2021 NBA draft combine, including how it differs from the NFL version, when it happens, where to watch it, and which future NBA stars are participating.
What is the NBA Draft Combine, and how is it different than the NFL draft combine? 
The main thrust of the NFL and NBA combines are the same. The league gathers team officials and invited draft prospects in a central location to look at the players and get official measurements and medical evaluations.
The NBA draft only has two rounds as opposed to the NFL's seven and smaller rosters. This means that the NBA version usually invites fewer than 100 players (2021 will have 69 attendees), while the NFL combine generally has over 300 prospects.
The other big difference between the two combines is that, in the NFL combine, the players' activity is limited to drills and athletic testing. In the NBA, they also do this but add five-on-five scrimmages as well.
The addition of real basketball makes the NBA combine much more compelling television than its football counterpart.
2021 NBA Draft Combine dates, times, and TV channel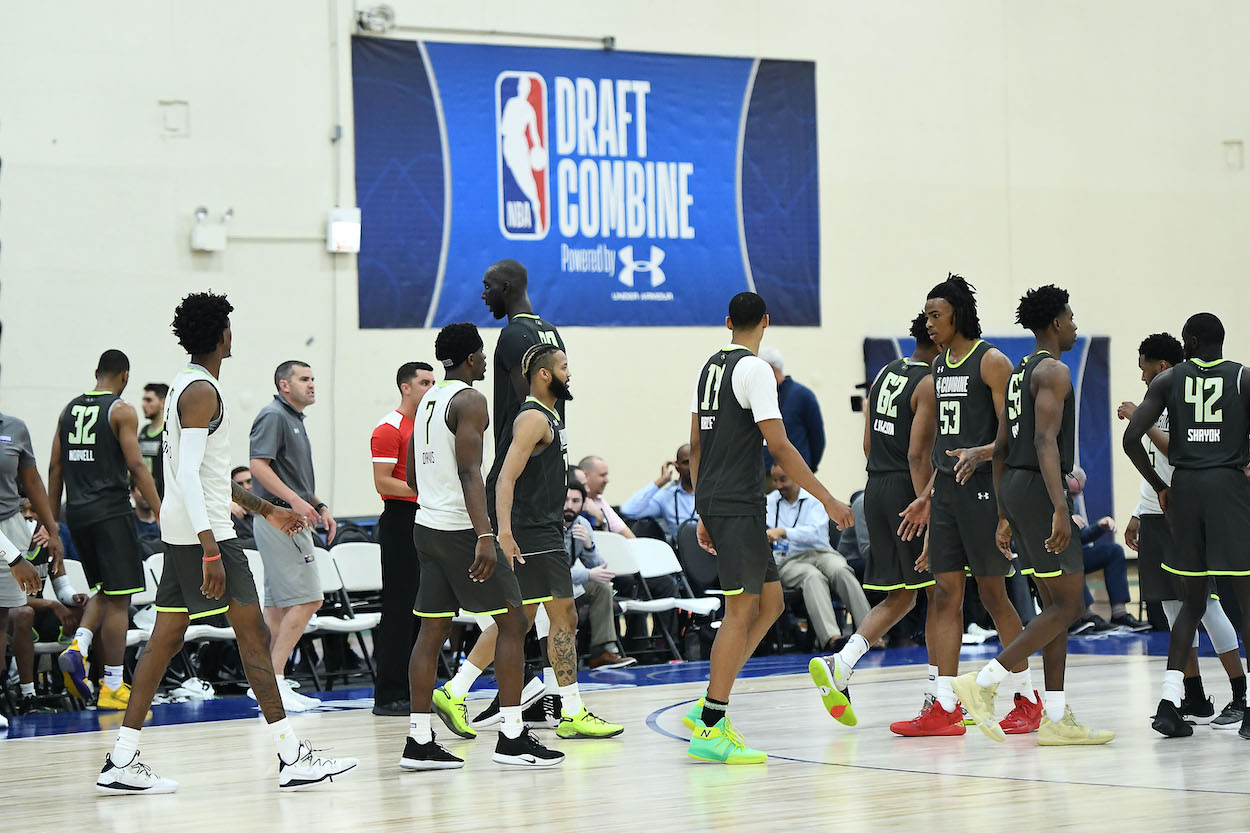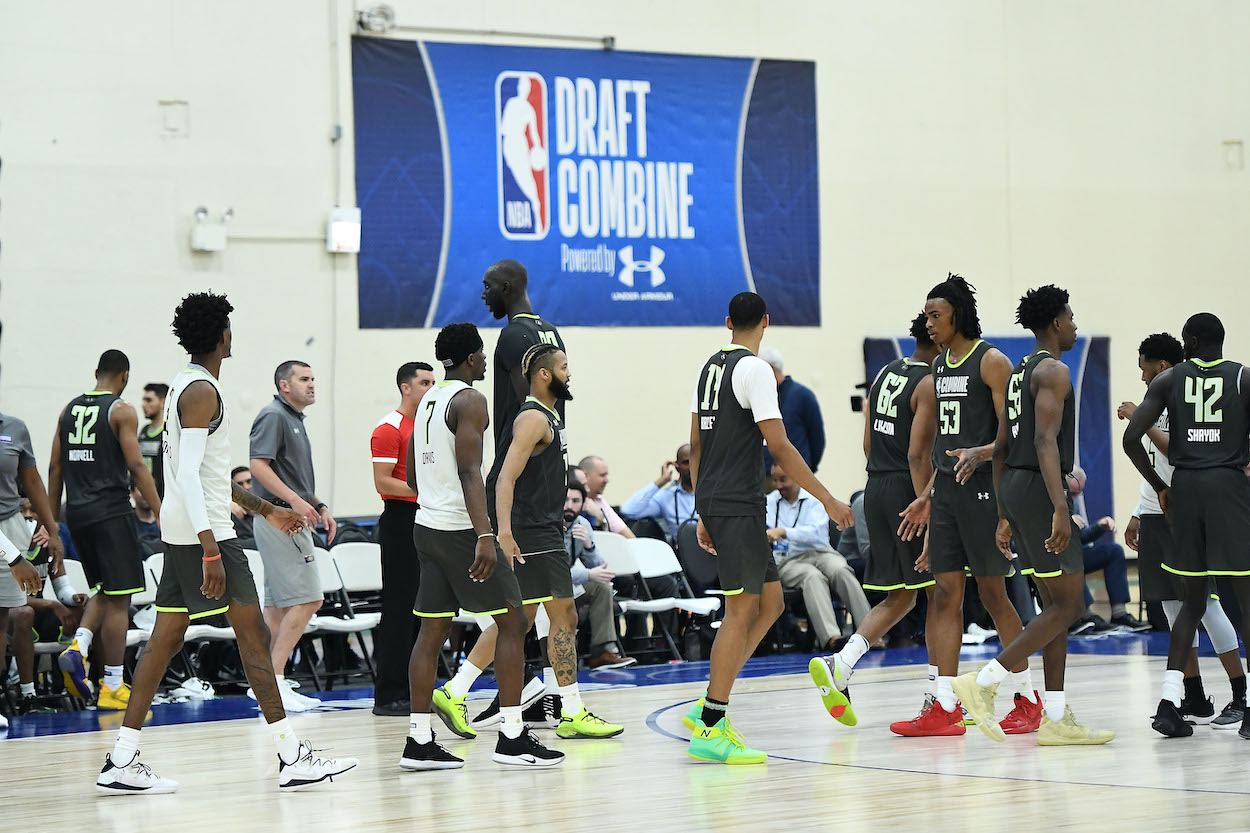 The Microsoft Surface NBA Draft Combine 2021 starts Monday, June 21, and runs through Sunday, June 27, at Windtrust Arena in Chicago. 
Viewers will see a good amount of the combine live on TV this year, thanks to ESPN and its various platforms. According to NBA.com, ESPN 2 will show the five-on-five games on June 24, and they will be on ESPNU on June 25. The games will be on television between 3 p.m. and 7 p.m. EST each day.
The 2021 NBA Draft Lottery will happen during the combine as well. It takes place at 8:30 p.m. EST on June 22. 
Who is at the NBA draft combine 2021?
This year's NBA combine will feature 69 top NBA prospects. There are several top U.S.-born and international players skipping this year's event, though. Some of the expected top picks – specifically ones represented by CAA, Klutch, and Wasserman – are skipping this year's event in favor of holding their own Pro Days, per ESPN. For some international prospects, COVID-19 restrictions prevent them from being at the event.
Expected number one draft pick Cade Cuningham will not be at the combine, nor will another top prospect, Jalen Suggs. Jalen Green, Jonathan Kuminga, Evan Mobley, and Scottie Barnes, who should round out the top six picks, will all be there but may not participate in the scrimmages.
There will be plenty of other well-known names to college basketball fans at the combine. This list includes Mobley's brother Isaiah, Gonzaga's Corey Kispert, UCLA's Johnny Juzang, Duke's Jalen Johnson, Michigan's Isaiah Livers, Iowa's Luka Garza, and Davion Mitchell from Baylor.
Watching all the scrimmage runs during NBA draft combine 2021 is not for every fan. For diehards, though, watching the league's future stars go head-to-head in the late afternoon and evening is the perfect appetizer for the playoff games that will follow.
Like Sportscasting on Facebook. Follow us on Twitter @sportscasting19