Cade Cunningham No Longer Compares Himself to Luka Doncic: 'It's Weird Now'
Comparing a current NBA player to an NBA draft prospect is something people do all the time. The prospects themselves even have to do it on occasion. Until recently, top prospect Cade Cunningham compared himself to Dallas Mavericks star Luka Doncic.
Now, with the draft quickly approaching and Cunningham on the verge of becoming an NBA player, he no longer likes that comparison.
Cade Cunningham and Luka Doncic have a lot of similarities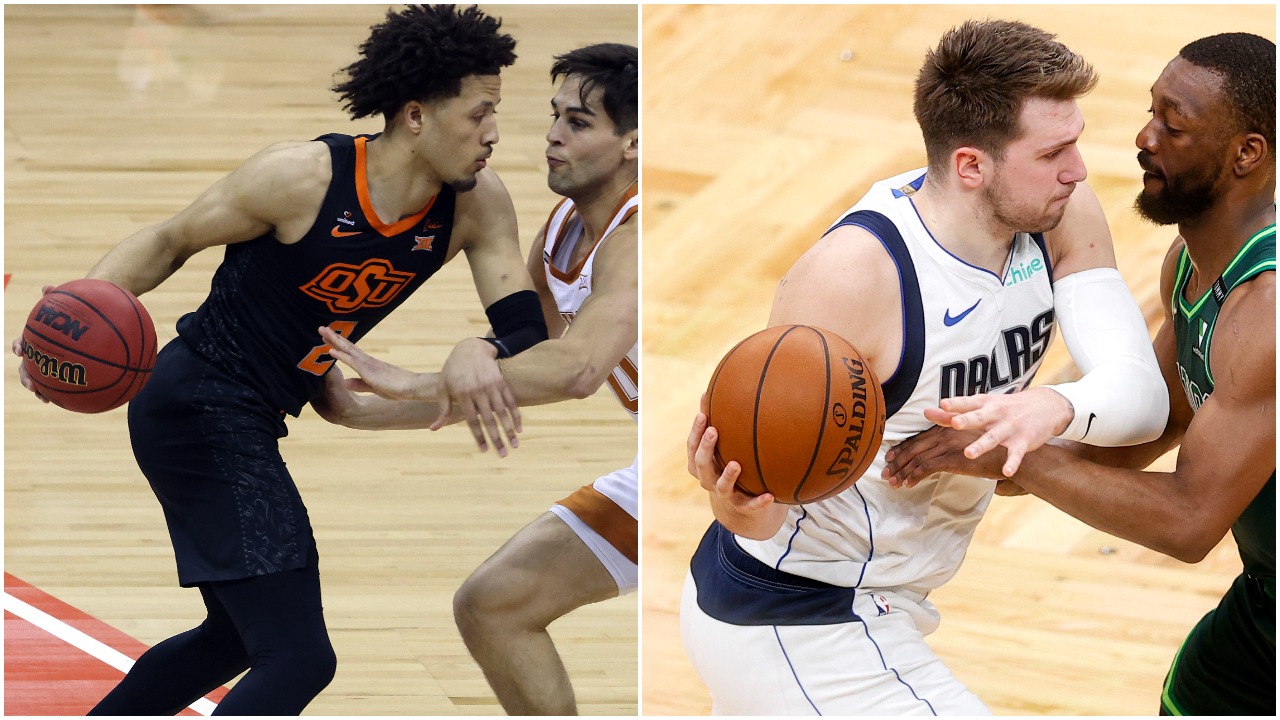 The first and most obvious reason for the Cunningham/Doncic comparisons is each player's size and skill level. Cunningham is 6-foot-8 220 pounds, and Doncic measures 6-foot-7 and weighs in at 230 pounds.
From a skills perspective, they are both basically a modern Magic Johnson and can fill up every column of the stat sheet, just like the Lakers legend.
Doncic averages 25.7 points, 7.7 assists, and 8.4 rebounds a game in the NBA. Cunningham put up 20.1 points, 3.5 assists, and 6.2 rebounds in his one season as an Oklahoma State Cowboy.
Like Doncic, Cunningham also thrives with the ball in his hands. In Doncic's first season with the Mavs, his usage rate was 30.0%. That rate ballooned to a league-leading 36.0% in 2020-21.
In his season at Oklahoma State, Cunningham had a 29.1% usage rate which is close to Doncic's rookie number and would put him in the top 25 usage leaders in the NBA if that number carries over to the pros.
Now that Cunningham is entering the NBA, he no longer wants to compare himself to a peer
On an episode of The Old Man & The Three podcast, host and NBA player JJ Redick asked the young star why he compares himself to Redick's Mavericks teammate.
"I [compared myself to] Luka a bunch early on because I feel like our body types probably resemble each other the most as far as who I look like in the NBA," Cunningham told Reddick. "And his role, he's a primary ball-handler. He's the one kind of making the plays."
He also explained why he no longer likes to make that comparison:
It's weird now because me and Luka are so close in age, and I've never just been the type of guy to be like, 'yeah, that's the guy I'm like.' Now I feel like it's kinda got blown out of something that I've wanted it to be because soon I'm going to be playing against Luka.
Even after saying that he's no longer a fan of the Doncic comparisons, Cunningham couldn't help but make one more. He also said that "shooting the deep three" is one more ability they share.
Cunningham is the consensus No. 1 overall pick in the 2021 NBA draft
Cunningham headlines a top-heavy 2021 NBA draft that has five, or possibly six, sure-fire top picks.
In addition to the Oklahoma State star, there's USC center Evan Mobley, Gonzaga guard Jalen Suggs, and two prospects who spent their post-high school year with G League Ignite, guard Jalen Green and forward Jonathan Kuminga. Florida State freshman Scottie Barnes is the sixth prospect that some believe is also in this first tier.
If a player were to edge out Cunningham for the No. 1 spot, it would be Mobley. Suggs and Green are similar positon-wise to the expected No. 1, and Cunningham has more potential. Kuminga and Barnes are much rawer prospects.
Mobley is a 7-foot center, and NBA teams have historically had trouble passing on this type of player at No. 1. The Cleveland Cavaliers with Darius Garland and Collin Sexton and the Sacramento Kings with Tyrese Haliburton and De'Aaron Fox are the two teams most likely to consider Mobley if they win the lottery.
Outside of those two teams – which have historically whiffed on high picks (Anthony Bennett, Marvin Bagley III) – every other lottery team would likely take "the next Luka Doncic," even if the original Cade Cunningham himself is no longer a fan of that comparison.
All stats courtesy of Basketball Reference and Sports Reference