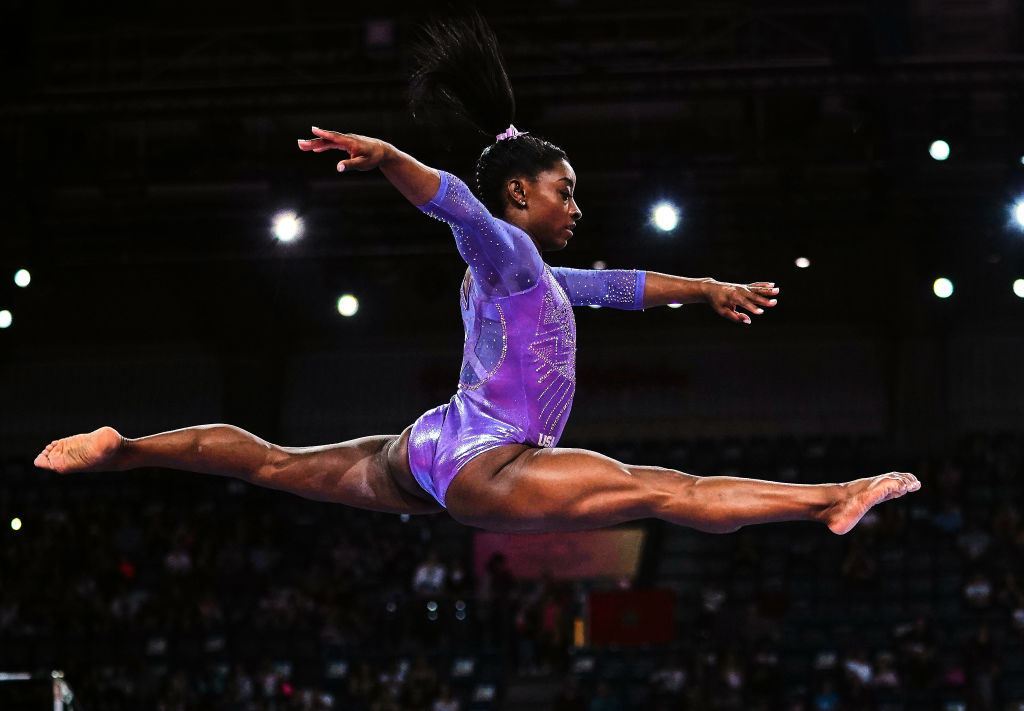 What New Sport Has Simone Biles Conquered?
World and Olympic champion Simone Biles went on Twitter to demonstrate that she is a quick learner in sports besides gymnastics.
Simone Biles may not be in a class by herself as an athlete, but the class she is in has a very short roll call. Biles is already one of the world's most highly accomplished international athletes this century and the star gymnast has now added a new talent to her resume.
Simone Biles can wield an ax with the best of them
Don't bet against Simone Biles. It's a losing proposition along the lines of challenging Stephen Curry to a game of horse, even when challenged to compete in a discipline that's likely new to her.
Biles went onto Twitter on Thursday to share a video with her 1.1 million followers. It shows her at a club where patrons pay to throw axes at a target. The brief clip shows Biles displaying perfect two-hands-above-the-head form and delivering the ax dead-center for a bull's-eye.
The throw is followed by a celebration with friends and Biles announcing, "I'm done!" She's presumably now looking at maps of Nepal and figuring out a timetable for climbing Mount Everest.
A long list of accomplishments for just 22 years old
American gymnast Simone Biles has already done nearly everything imaginable in her sport, including capturing the all-around title in the World Championships five times in seven years beginning in 2013. Those first-place finishes are part of a collection of 30 World Championship or Olympic medals, making her the most decorated American gymnast ever and third internationally.
The first American gymnast to win a World Championship medal in every event roared onto the international scene in 2013 at age 16 by becoming the seventh American woman and first African American to win the World Championships all-around competition. She also took a gold, silver, and bronze medal in the individual events, narrowly missing another by placing fourth on the uneven parallel bars.
Two years later she would become the first woman to win three straight all-around competitions at the World Championships, setting the stage for a triumphant debut in the Olympics the following year in Brazil.
Will Simone Biles compete in the 2020 Olympics?
Biles was dominant at the 2016 Olympics in Rio de Janeiro. After leading the United States to the team gold, she qualified in all four individual disciplines.
Biles and teammate Aly Raisman posted a one-two finish in the all-around, and Biles became must-see viewing on American TV with golds in the vault and floor exercise to go with a bronze on the balance beam.
There is so little left to achieve and nothing left to prove for Simone Biles, which is why there was speculation that the 2020 Olympics scheduled for Tokyo might not be in her plans.
The most obvious reason for her to try to qualify would be that her 30 Olympic and World Championship medals leave her within striking distance of Vitaly Scherbo (33) from Belarus and Larisa Latynina (32) of Russia, but Biles' record five all-around titles by a woman might already outweigh any other accomplishment.
Biles ended the suspense in April 2019 by announcing she was back in the gym and intends to take a run at qualifying for Tokyo.