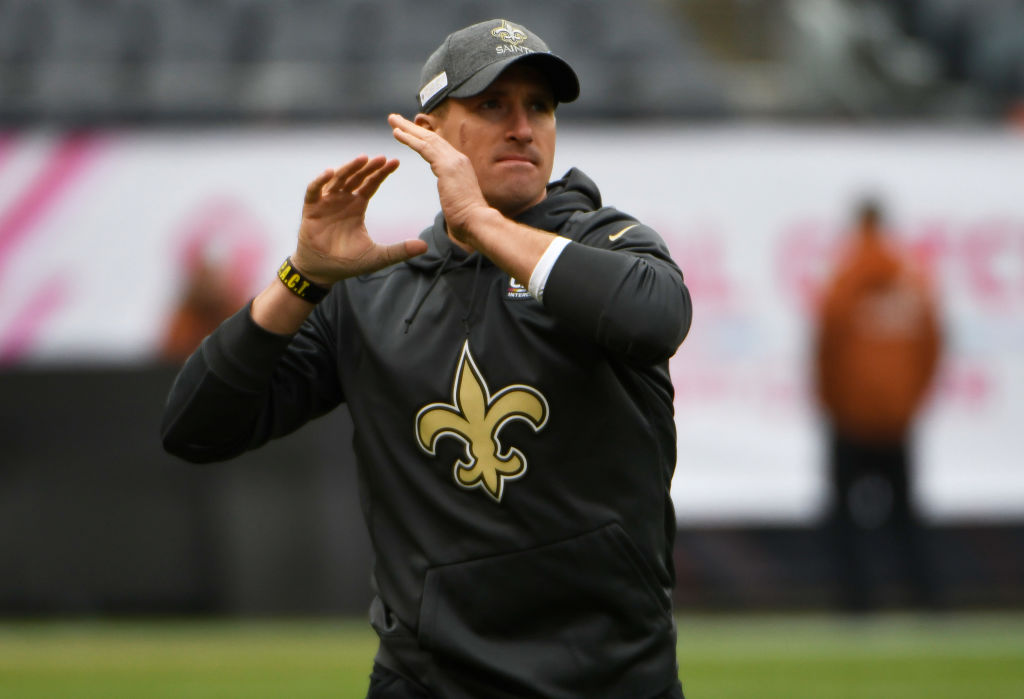 When Will Drew Brees Return to NFL Action With the New Orleans Saints?
Teddy Bridgewater has played well for the New Orleans Saints, but Drew Brees is on the road to recovery. When can he return to NFL action?
For most NFL teams, everything starts with their quarterback. The man under center is like another coach on the field; he's quite literally responsible for the success or failure of each offensive play. On the New Orleans Saints, quarterback Drew Brees is the one running the show, but he's been sidelined for most of the season with a thumb injury.
Teddy Bridgewater has taken over the starting job and led the Saints on a winning streak, but his days under center could be numbered; it appears that Brees is getting closer to returning to action in New Orleans.
Drew Brees' thumb injury
During the Saints' Week 2 game against the Los Angeles Rams, Drew Brees left the game with an apparent injury. He struggled to pick up a football on the sidelines and was diagnosed with a torn thumb ligament. He elected to have surgery; doctors estimated he would miss approximately six weeks of action.
Despite that prognosis, the injury would be a difficult one to overcome. People keep talking about this injury to Drew Brees being six weeks. I think it's a minimum of six weeks. It could be a lot longer than that. People don't realize when you have surgery on your throwing hand, and you've got to get all that feeling back and the strength," former NFL QB Brady Quinn explained on the Pick Six NFL podcast. "So, it's something that, it's not going to be that easy to come back from."
Teddy Bridgewater steps up for the Saints
Despite his status as the back-up, Teddy Bridgewater has taken control of the Saints offense and led them through success. Beyond his 5-0 record, which doesn't count the Rams game when he stepped in for Brees, he's also put up some strong individual numbers.
In his five full starts, Bridgewater has thrown for nine touchdowns and just over 1,200 yards. Despite various injuries, he's kept things simple and avoided mistakes, without becoming a mere game manager. The Saints have a strong defense, but Bridgewater isn't throwing away possessions and banking on that unit to bail him out.
Based on those performances, there's no rush to replace Bridgewater under center. But, with Brees returning to action, his time will theoretically be coming to an end sooner rather than later.
How soon can Brees return?
According to Mike Triplett of ESPN.com, Drew Brees is hoping to return to full practice this week. His thumb has recovered, and the quarterback can now practice with a regulation football; now, it's about getting back into the rhythm of NFL life.
While he hopes to play on Sunday—every pro will want to play as soon as they can—there's no reason to throw him back into the action right away. Given the Saints' performances with Bridgewater at the helm, he can handle the offense for another week. When you're dealing with a player's health, especially a star player, it's better to play it safe.
The Saints also have a bye after this weekend's game, giving Brees some additional time to shake off the rust. Look for him to start under center Week 10 against the Atlanta Falcons. It's not exactly fair to Teddy Bridgewater, but there's no way Brees can remain on the bench for long.