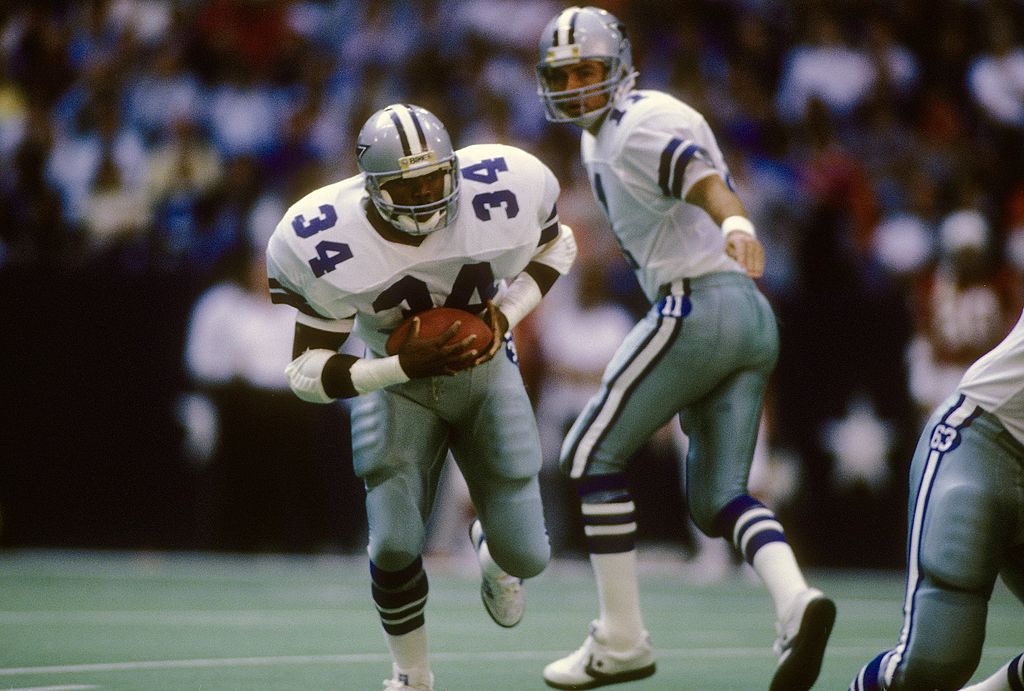 Where Is Former NFL Running Back Herschel Walker Today?
Herschel Walker was a dominant force in college football. He had a successful career in the USFL and NFL before retiring in 1997. Where is he today?
Forty years ago today, Herschel Walker signed a letter of intent to play football for the University of Georgia. It was a signing that would change the course of history for the Bulldogs and college football as a whole.
During his time at Georgia, Walker dominated college football earning All-American honors three seasons and winning the Heisman Trophy his last season as a junior. He had a 16-year professional football career in the USFL and NFL, and was a member of the U.S. Olympic Bobsled Team at the 1992 Olympics. Where is Herschel Walker today?
Herschel Walker dominates college football
After graduating as valedictorian of his high school in which he led his football team to a state championship, Walker joined Vince Dooley's Georgia squad in 1980. That season, Walker set the NCAA freshman rushing record at 1,616 yards on 274 carries for a 5.9 yard per carry average. He scored 15 touchdowns and led the Bulldogs to a Sugar Bowl win over Notre Dame and a national championship.
Herschel Walker followed up his freshman campaign with another outstanding performance his sophomore season rushing for 1,891 yards and 18 touchdowns. The Bulldogs came up short for a second consecutive title losing in the Sugar Bowl to Dan Marino and the Pittsburgh Panthers. 
His junior season, Walker's last, he rushed for 1,752 yards and scored 16 touchdowns leading Georgia to another Sugar Bowl bid. In that contest, the Bulldogs fell short to Todd Blackledge and the Penn State Nittany Lions. To cap off his college career, after a third consecutive trip to New York, Walker finally won the Heisman Trophy. 
Walker a star in two leagues
In 1983, Herschel Walker left college a year early to join the New Jersey Generals in their inaugural season in the USFL. In his rookie season, he led the league in rushing with 1,812 yards and 17 touchdowns. He stayed for two more seasons in the USFL including another rushing title in 1985 before joining the Dallas Cowboys.
That first season in Dallas Walker split time in the backfield with fellow Heisman running back Tony Dorsett. Sharing duties those first two seasons resulted in lower production, and Walker expressed his frustration. In 1988, the Cowboys made Walker their primary back and he flourished rushing for an NFL-career best yards in rushing with 1,514 yards and 505 receiving yards.
In 1989, Walker was part of a blockbuster trade deal that sent him to the Minnesota Vikings. Unfortunately, he never fit into the Vikings' system. After a couple of seasons in Minnesota, he left for Philadelphia where he played for two seasons and had his only other 1,000-yard rushing campaign in 1992. 
He played five more seasons including a stop in New York before capping off his NFL career where it all started with the Cowboys. He retired in 1997. Walker's combined rushing numbers for the USFL and the NFL (13,787 yards) would place him 7th all-time on the NFL's career rushing list.
Where is Herschel Walker today?
Throughout his career Herschel Walker showed his varied interests outside of football when he danced with the Fort Worth Ballet for a single performance in 1988 while playing with the Cowboys. He followed that up by joining the U.S. Men's Bobsled Team after the 1991 season with the Vikings. With his partner, Brian Shimer, the duo finished seventh in the final 1992 Olympic two-man bobsled standings.
In 1999, he was recognized for his college football achievements and inducted into the College Football Hall of Fame. Walker, who has a fifth-degree black belt in tae kwon do, took up mixed martial arts and in 2010 signed with MMA promotion company Strikeforce to compete in the heavyweight division at age 48. In his two-fight professional career, Walker knocked out both of his opponents.
In 2011, Walker, who lives in the suburbs outside of Dallas, talked publicly about a possible return to football. He said after training for MMA, he was in better shape than his playing days. He never got a chance to do it despite maintaining his incredible physique and his legendary workout routine he started back in high school. To this day, Walker still does 1,500 push-ups and 3,000 sit-ups every single day. 
The more things change, the more they stay the same.