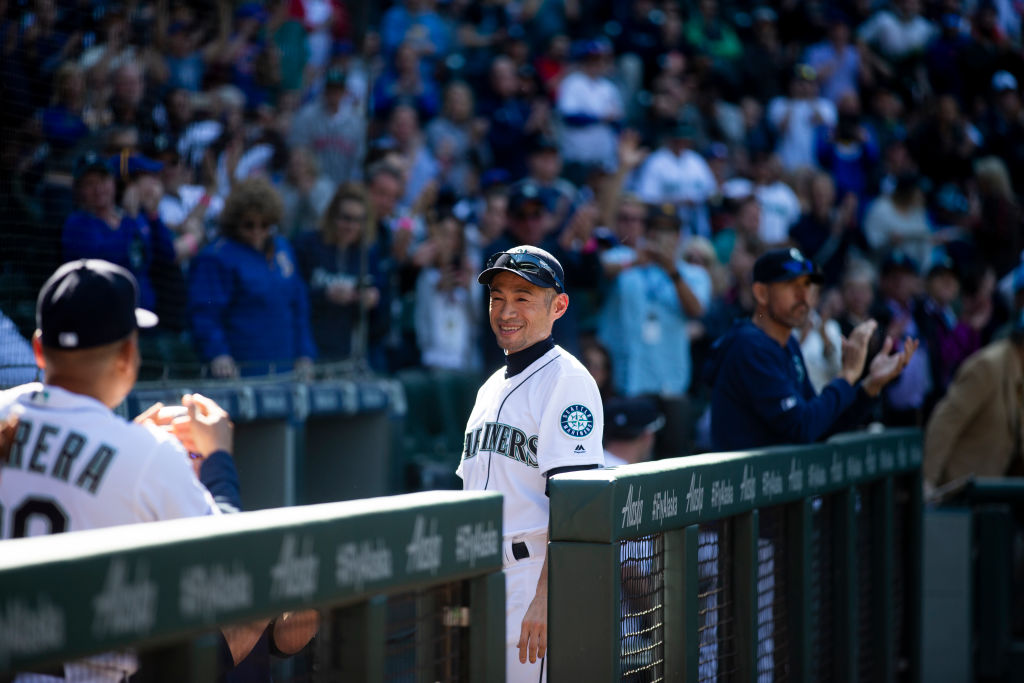 Where Is Japanese MLB Great Ichiro Suzuki Now?
After he came from Japan to the Seattle Marines, Suzuki was known for his ability to get the right hit at the right time. Now he's retired.
Ichiro Suzuki called it quits on an MLB career that stretched nearly three decades across two of the biggest leagues in the world. Suzuki made waves when he came to the Seattle Mariners from Japan's Orix Blue Wave. He was known for his big plays and ability to get the right hit at the right time. With baseball behind him, many wonder what Suzuki is up to now.
Ichiro Suzuki's career 
In 1992, an 18-year-old Suzuki began his baseball career in Japan. After playing sporadically during his first two seasons — largely due to his manager's distaste for his swinging style — Suzuki broke out with 210 hits and 13 home runs. Over the next seven seasons, he garnered a lot of attention.
In 2001, a 27-year-old Suzuki moved to the United States, and his impact was felt almost immediately. MLB fans, teammates, and coaches lauded Suzuki for his work ethic and willingness to do whatever it took to win, be it hitting, base-running, or fielding. Over the next decade, he was a perennial All-Star and a cornerstone for the Mariners.
At 38 years old, Suzuki was still a hot commodity, and the Yankees traded for him midseason in 2012. For most players, this would be a swan song, as the Toyoyama, Japan native had been playing for 20 years. Although he was no longer a star, Suzuki was a valuable contributor to the Yankees during his two-and-a-half years in New York. 
Suzuki returned to Seattle for a brief farewell tour that concluded during the team's first two games played in Japan during the 2019 season. Immediately after turning 45 years old, Suzuki retired. In nearly 20 years, he hit .311 with 3,089 hits, 117 home runs, and 780 RBIs. He was also a consistently great fielder, with 5,000 putouts.
What is Ichiro Suzuki doing now? 
Suzuki has remained with the franchise where he spent most of his baseball career. The Mariners wasted no time hiring him as an instructor. Suzuki already had the title of Special Assistant to the Chairman after moving to the front office during his penultimate season, but his new role had him working directly with the players on fielding, running, and batting.
The outfielder was not only a fan favorite; it seemed like nobody had a negative thing to say about Suzuki. The athlete's rapport with players as an instructor proves handy as he works with a new generation of MLB players.
Ichiro Suzuki's legacy
The surefire Hall-of-Famer may have a long career ahead of him as an MLB manager, but he'll be missed on the field. Japanese fans gave him a standing ovation during his last games, and players joined in on the fun.
Yusei Kikuchi, a Japanese rookie pitcher for the Mariners, openly broke down in tears as Suzuki left the field for the final time, embracing his teammate and telling him how important he was to younger players like himself.
There will likely never be another Suzuki in Major League Baseball. Although he was not alone, he helped bridge the world of Japanese baseball with its American counterpart. Luckily for MLB players, he can extend his legacy as he works behind the scenes.