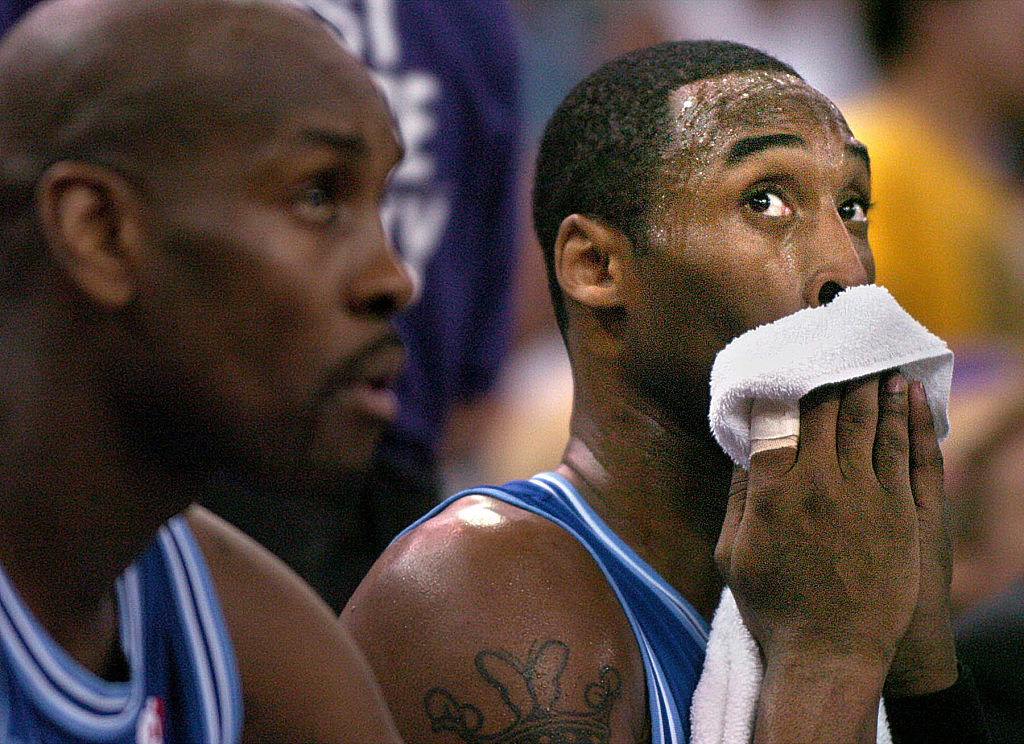 Where Would Kobe Bryant Have Played If He Went to College?
Most NBA fans know that Kobe Bryant never played in college. If Bryant did decide to play at the college level, what school would he have gone to?
Long before he became a totemic icon of basketball, Kobe Bryant had to make the biggest decision of his young life: to go to college or enter the NBA Draft straight from high school. Bryant eventually chose the latter option, and the rest is history. 
Still, it is fascinating to think about the type of impact he would have had in the NCAA environment. Could Bryant's legacy has been bigger if he went to college?
What was Kobe Bryant like as a high schooler?
When Kobe Bryant emerged into the public consciousness, the American sports world had never seen anyone like him. His childhood was unlike any other prospect at the time. He spent most of his youth in Italy before moving to Philadelphia, developing a love for basketball and playing pickup games against grown adults who knew his father, Joe "Jellybean" Bryant. 
It should come as no surprise that Bryant dominated the court even in high school. He was the first freshman in decades to start for the varsity team at Lower Merion High School. As a junior, he was named Pennsylvania Player of the Year after averaging 31 points, ten assists and five rebounds per game.
The excitement around Bryant's potential grew even more after his senior year. He led his school to their first state championship in 53 years, was deemed the high school player of the year by multiple outlets, and became a McDonald's All-American.  
With his notoriety increasing, Bryant found himself with two attractive options: go to college or go straight to the pros. 
What schools tempted him to go to college?
We all know what Kobe Bryant chose to do. He went to the NBA, the Lakers traded for him on draft night, and an iconic career was born. But it's fun to imagine what Bryant's career would have looked like if he went the traditional route and engaged with NCAA system.
The speculation gained even more spice because Bryant gave different answers to this query throughout his career. 
In 2007, he made it quite clear that Duke was his choice.
"There's no maybe about it," Bryant says. "Every time I turn on the TV and see Cameron Indoor Stadium, see everybody in Krzyzewskiville and see the Crazies jumping up in down with the intensity and the building almost shaking, I wonder what it would have been like to play there with Corey [Maggette] and Elton [Brand] and all those guys."
Bryant changed his tune while doing an interview on Jimmy Kimmel Live, where he said that North Carolina was where he would've gone, because he wanted to play against Vince Carter every day in practice.
Finally, Bryant cleared the air during a Twitter Q & A in 2017. 
He went on to explain that the Blue Devils were his choice because Mike Krzyzewski continued to recruit him after he announced that he was going pro, whereas Dean Smith believed that Bryant was settled on going to the NBA. 
It's clear which team could've used him more. That year's UNC squad featured Carter and Antawn Jamison, and made it to the Final Four before losing to eventual champions Arizona. Duke, on the other hand, lost in the second round of the NCAA tournament.
Kobe Bryant didn't need a university's co-sign to become a legend
Even if he didn't plan on going to the school, Kobe Bryant had loads of respect for the Tar Heels. He spoke glowingly of Dean Smith's recruiting letter and kept hold of it years after it was relevant.
It's impossible to boil down Bryant's life to any one moment, but his appreciation of greatness and the work that went into becoming such an impactful figure was a notion that fueled so much of his work prior to his untimely death.
His talent (and the fact that he spent his entire career with the biggest franchise in the sport) was such that Bryant didn't need a co-sign to become a superstar. Five rings and a litany of other awards can do most of the talking. 
But Bryant's legacy cannot be contained to simple math. "Mamba Mentality" was more than a nice piece of branding; it was a motto for people to believe in as they tried to better themselves. Bryant's ample ambition and legendary work ethic inspired millions of fans who adored him, his own idols, and younger players who model themselves on his game. Many have and will imitate Bryant's ethos, but there will be another person who attacks life quite like he did.