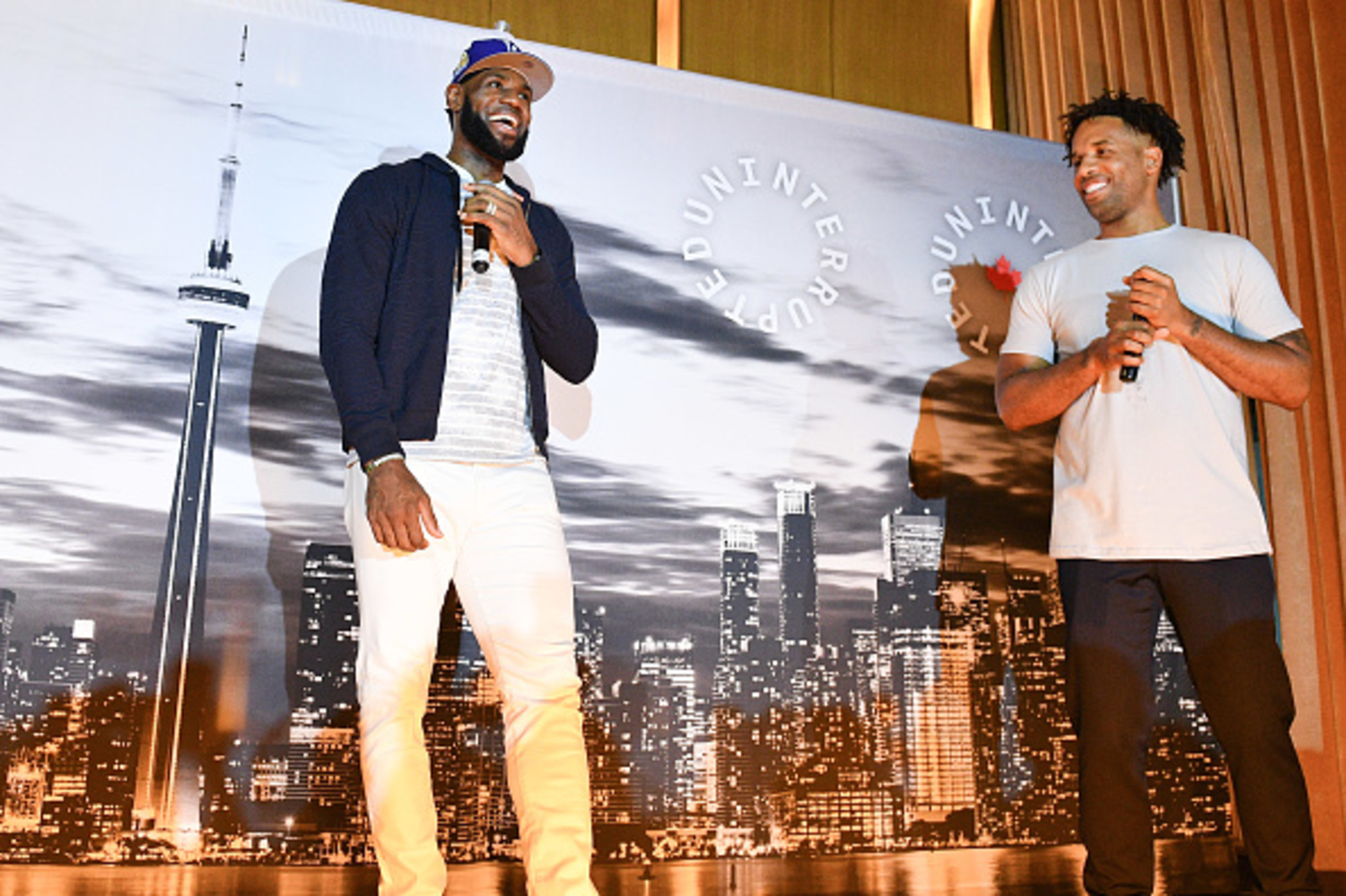 Who is LeBron James' Best Friend, Maverick Carter?
LeBron James has become a superstar in the NBA and an influential person. His close friend Maverick Carter has played a huge role in James' life.
LeBron James was labeled a future NBA star since his days in high school. But that never prevented him from developing close relationships with numerous people, and one such person with whom he's had a strong relationship since his younger days is Maverick Carter.
Carter has had an important role throughout James' career, dating back to when he first entered the league. And rest assured that the two have accomplished a lot over the years.
Maverick Carter attended the same high school as LeBron James
Like LeBron James, Maverick Carter attended St. Vincent-St. Mary High School in Akron, Ohio.
Carter is older than James, and after he graduated high school, he attended Western Michigan University to play basketball. He was not at Western Michigan for long, though, as he knew he wanted to pursue endeavors other than playing basketball.
"I was playing basketball at Western Michigan University. I played my freshman year, and after that year, I realized that I wasn't going to make a career playing basketball," Carter told Andscape in May 2018. "After games against Indiana and Michigan, I realized there's a clear separation between how good I am and the players who will play at the next level. I had to start thinking about, how do I transition into what I want to do next?"
After leaving Western Michigan, Carter interned at Nike. During that time, James was still in high school. When James' high school career came to an end, he signed with Nike, and Carter played a part in making that happen. 
LeBron James and Maverick Carter created a new media company in 2020
In 2020, LeBron James and Maverick Carter decided to form a media company.
James had always wanted to make an impact outside of the game of basketball, and in the summer of 2020, he and Carter announced a new media company, SpringHill Co. According to CNN, the company was supported by a $100 million funding round. 
CNN reported that James began serving as the chairman, while Carter fit in as the CEO. The two formed the company on March 11, the same day the NBA suspended its season after Rudy Gobert tested positive for the coronavirus.
Even beyond SpringHill Co., Carter has had his hands in many business ventures in which James has been involved. 
Maverick Carter is the mastermind behind LeBron James' legacy
LeBron James has been in the spotlight since he was in high school, allowing Carter to make major moves behind the scenes.
When James first entered the league, Carter wanted to make sure that James would gain power and influence. He's certainly done that throughout his career.
From building a school to starting a show on HBO, James has impacted both his community and the world at large, and Carter has been right by his side.
"I thought the most important thing was just establishing a mindset of empowerment," Carter told Andscape about the time when James was first entering the Association.
The two had those discussions before James joined the Cleveland Cavaliers in the 2003 NBA Draft, and it's panned out as planned. James has only become more influential and used his platform for purposes outside basketball, and Carter has helped every step of the way.