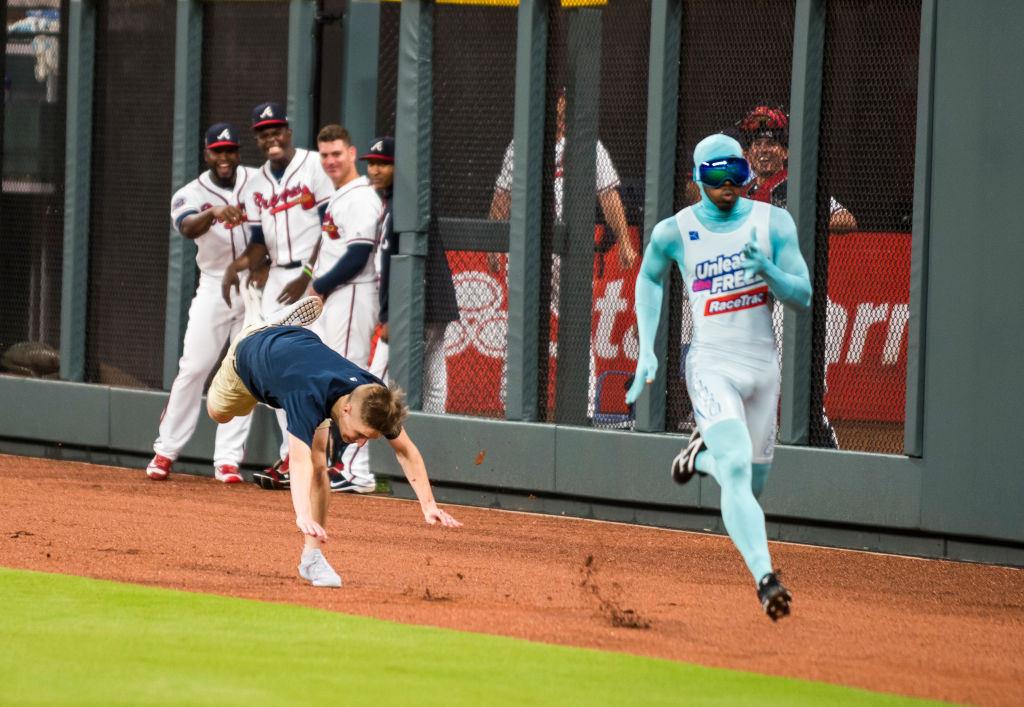 Who Is That Masked Runner at Atlanta Braves Games Known as The Freeze?
Just who is that masked runner, known as The Freeze, who races fans between innings at Atlanta Braves baseball games?
If you've ever watched an Atlanta Braves baseball game, you've seen him. Maybe he was just a blur, but you've seen him. Known as The Freeze, this masked runner dresses in full-body turquoise spandex and provides between-innings entertainment as he races fans from foul pole to foul pole while giving the fan a generous head start. Atlanta's Beat the Freeze promotion ranks right up there with the game's most popular ones.
How did The Freeze become a sensation?
The Atlanta Braves began their Beat the Freeze promo in 2017. The promotion was for the frozen drinks at RaceTrac gas stations. The runner would be called The Freeze. And fans would try to Beat The Freeze.
The Freeze's popularity gained traction in June of 2017 when a Braves fan seemed to get a little cocky toward the finish line. The fan waved his arms in the air in celebration as he was winning the race with a few yards to go.
"I saw that," The Freeze said, "and I thought, "No, no, no. Not on my watch."
The Freeze, unfazed, sprinted past the fan, who wiped out near the finish line as he became yet another victim of Beat the Freeze.
Who is that masked man?
The Freeze is actually an eight-year Atlanta Braves member of the grounds crew named Nigel Talton. Talton, with an extensive track & field background, paints the baselines before the game and then heads off to race fans in the outfield during the game.
Talton has been with the Braves grounds crew since the 2012 season. He was a sprinter at Kennesaw State in Georgia and he notched a 4.28-second 40 at a football camp in 2011, a time just six one-hundredths of a second slower than John Ross's all-time NFL combine record. 
Talton's races have racked up millions of views on Facebook and Twitter, plus love from athletes, celebrities, and Jimmy Kimmel.  What started out as an untested promotion for a gas station has turned into a successful marketing skit, while making Talton a national celebrity.
Talton said he hopes he can use his time as the Braves' entertaining runner to help inspire kids. "I want to be a reason why kids don't give up," says Talton, who plans to attend grad school and become an athletic director.
Has The Freeze ever lost?
Nigel Talton is extremely fast, but he isn't perfect.
Although it wasn't his first loss, one of The Freeze's most notable losses came at the 2017 MLB All-Star Game in Miami.
Talton said he still gets a familiar feeling before each race at a Braves game. It's the old butterflies-in-the-stomach feeling, something that has carried over from his college track days.

"I'm still nervous, like it's a track meet," he said. "It's because I never know what to expect."
It is unknown how many times Talton has lost a race during a Braves game, but winning can pay off for the fans, who walk away with $500 with a victory.
.