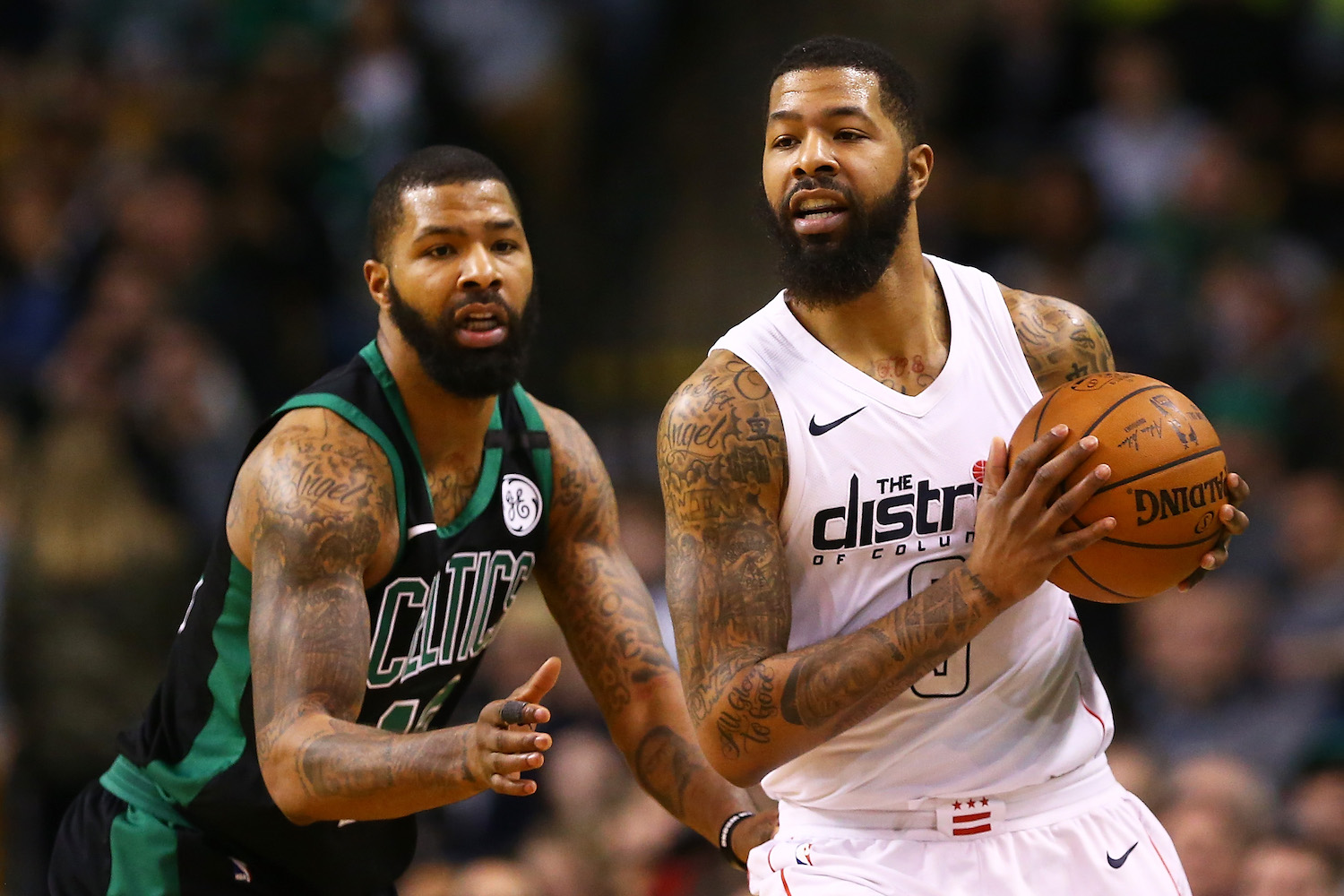 Who Is the Better Morris Brother — Marcus or Markieff?
Twin brothers Marcus and Markieff Morris have played in the NBA since 2011. Who is the better Morris brother?
As twin brothers Marcus and Markieff Morris grew up, they did everything together, including basketball. The pair played together in high school, AAU, and in college at the University of Kansas. Despite all their years together, both knew when they moved on to the NBA, they would be separated for the first time ever. That did in fact happen, but not until they were selected one right after the other in the first round of the 2011 NBA draft as the No. 13 and No. 14 picks, respectively.
Since the Morris brothers arrived in the NBA, their careers have taken similar paths as they have bounced around the league and played with multiple teams. At one point, they reunited and played together with the Phoenix Suns for a couple of seasons. With appearance and careers so similar, who is the better Morris brother on the court?
Marcus Morris and his NBA career
Coming out of the University of Kansas, Marcus Morris had more accolades to his credit than his brother. In 2011, Morris was honored as the Big 12 Player of the Year and a second-team All-American. The Houston Rockets selected him with the 14th pick in the 2011 NBA draft, one pick after his brother.
Morris didn't have much of an opportunity to establish himself that first year in Houston seeing limited playing time, appearing in just 17 games. In his second season, he was traded to the Phoenix Suns, where he joined forces with his brother Markieff and played for two full seasons. 
Since that time, Morris has played for four different teams, including his most recent stop in Los Angeles with the Clippers. Prior to joining the Clippers, he was having the best season of his career in New York where he started in 43 games and was averaging 19.6 points per game. For his career, he has averaged 12.1 points, 4.7 rebounds, and 1.5 assists per contest. 
Markieff Morris and his NBA career
At the University of Kansas, Markieff Morris played second fiddle to his twin brother Marcus. In 2011, he played well enough to earn Big 12 second-team honors before announcing he was joining his brother and going to the NBA after his junior season.
Interestingly, despite not receiving as many honors as his brother, the Phoenix Suns selected Markieff Morris one slot ahead of his brother with the 13th pick of the 2011 NBA draft. Unlike his brother, Markieff saw considerable playing time early in his career, including starting seven games his rookie season.
He also had stability as he played the first four seasons of his career in Phoenix, including those couple of seasons with his brother. During his time in Phoenix, he had the best season of his career in 2014-15, averaging 15.3 points and pulling down 6.2 rebounds per game. 
Markieff Morris, similar to his brother, has moved around frequently in his NBA career and played for four different teams since he left Phoenix, including his current stint with the LA Lakers. For his career, Morris has averaged 11.4 points, 5.3 rebounds, and 1.7 assists per game. 
Who is the better Morris brother?
By most accounts, Marcus is the better shooter with considerably better range. Markieff, however, is considered more versatile and can play as a small center when required. Both brothers are solid in the post. 
What's remarkable are their numbers. On average statistics alone, Marcus is the better offensive player as he's averaged 12.1 points per game compared to Markieff's 11.4. But as of June of this year, the two were separated by just two points in total career points. 
However, the updated total since the restart, Marcus has slightly surged ahead with 7,326 while Markieff sits at 7,286, just 40 points behind.
When it comes down to who is the better Morris brother, it's really too close to call. There is no definitive answer. However, that could all change in the coming weeks if one of the Morris brothers makes it through the playoffs and wins an NBA title. While that may not be a solid indicator of who is the better player, it will show who played for the better team and, more importantly, it will allow for bragging rights in their house. 
All stats courtesy of Basketball Reference.