Who Is the Only MLB Player to Die After Being Hit by a Pitch?
Every single pitch in a Major League Baseball game could potentially end in death. One high-velocity fastball gets away from a pitcher and hits a batter in the face, and the results could be catastrophic. Fortunately, in the 150-plus years of MLB, only one player has died after being hit by a pitch. Here's a look back at the most tragic day in baseball history.
Who was Ray Chapman?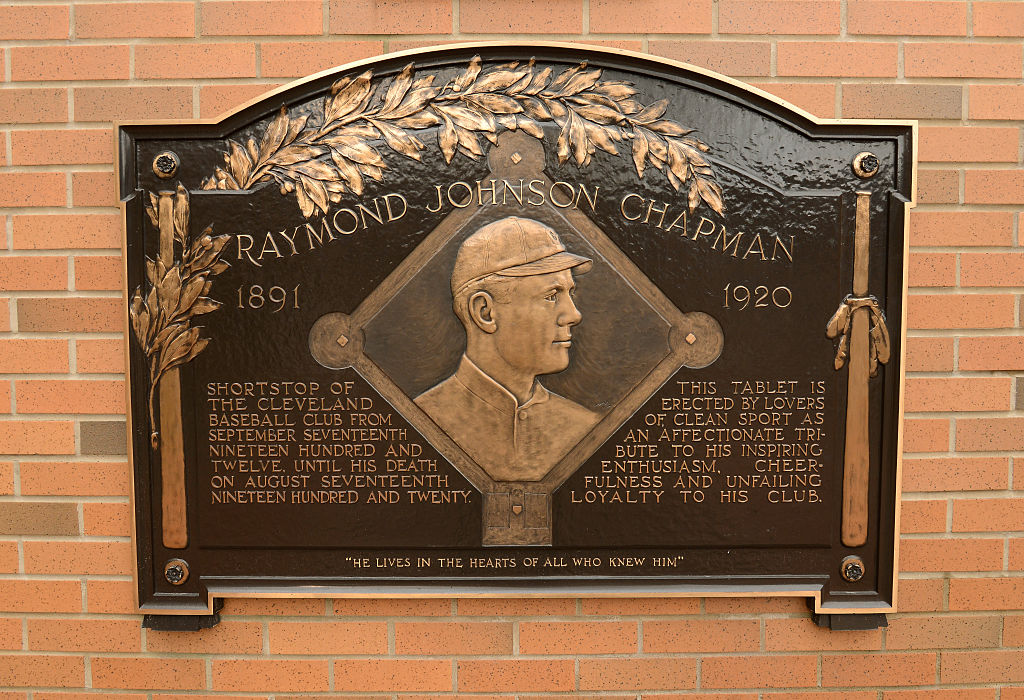 Ray Chapman made his MLB debut in 1912 with the Cleveland Naps (became Indians in 1915) and was one of the better all-around players in the game. As a fielder, Chapman was a top shortstop and led the league in assists one season.
At the plate, the right-handed Chapman could get on base a multitude of ways. He batted .300 or better three times in his nine-year career, and was considered to be one of the best bunters in MLB history. He is sixth on the career all-time list for most sacrifice hits at 334 and still holds the single-season record with 67 in 1917. In 1918, Chapman led the American League in runs and walks, with 84 of each. 
Once Chapman got on base, he was always a threat to steal. He led the Indians in stolen bases four times. In 1917, he swiped 52 bases, which remained the franchise record until 1980.
According to some, Chapman's all-around game might have earned him Hall of Fame consideration had it not been tragically cut short. The Cleveland News once wrote he was the "greatest shortstop ever to wear a Cleveland uniform."
Chapman is only MLB player to die after being hit by pitch
On August 16, 1920, Chapman was in the middle of one of the best seasons of his career with a .304 batting average, 97 runs scored, 52 walks, 27 doubles, and 49 RBI. The Indians were on the road facing the New York Yankees at the Polo Grounds.
With Cleveland ahead 3-0, Chapman was 0 for 1 when he stepped up to the plate as the leadoff hitter in the fifth inning. With a 1-1 count, the 5-foot-10-inch Chapman leaned in and crowded the plate as usual. That's when Yankees starting pitcher Carl Mays, who was known for his submarine style and pitching inside to hitters, released the pitch.
What happened next shocked the 20,000 in attendance. Chapman never moved because he reportedly never saw the ball as it hurled toward his head. When the ball reached home plate, it made an "explosive sound." Right fielder Babe Ruth later said it was audible from his position in the outfield. Chapman dropped to his knees, blood flowing from his left ear. Yankees catcher Muddy Ruel tried to catch the falling hitter.
Surprisingly, Chapman rose to his feet moments later, mumbling, and began walking toward the dugout before he collapsed. Two teammates hurriedly carried him to the dugout. He was taken to a nearby hospital where they performed emergency surgery. It didn't help. The next morning Chapman became the first MLB player to die after being hit by a pitch, just hours before his wife, who was pregnant with their first child, arrived at the hospital. 
Chapman's death results in MLB changes
Chapman's death resulted in multiple changes to the game. Many recognized that Chapman's reaction, or lack thereof to the pitch that killed him, was a result of his inability to see the ball. In addition to playing the game in dark and rainy conditions, the ball was reportedly dirty and difficult to see.
In those days, pitchers doctored the balls in various ways including, spit, mud, or even grease. After Chapman's death, MLB banned all foreign substances from being used. In addition to the ban, baseball also required umpires to regularly replace dirty balls with cleaner ones. Up until that point, some games would use one or two balls for an entire game. Even foul balls were thrown back and continued to be used.
One change recommended but didn't happen until years later was the use of batting helmets. That change didn't occur until the 1950s.
Fortunately, Chapman's death remains the only one in MLB history. There have been numerous severe injuries since that fateful day in 1920. Today, with pitchers consistently firing bullets at velocities approaching and sometimes topping more than 100 miles per hour, tragedy remains only one loose pitch away.