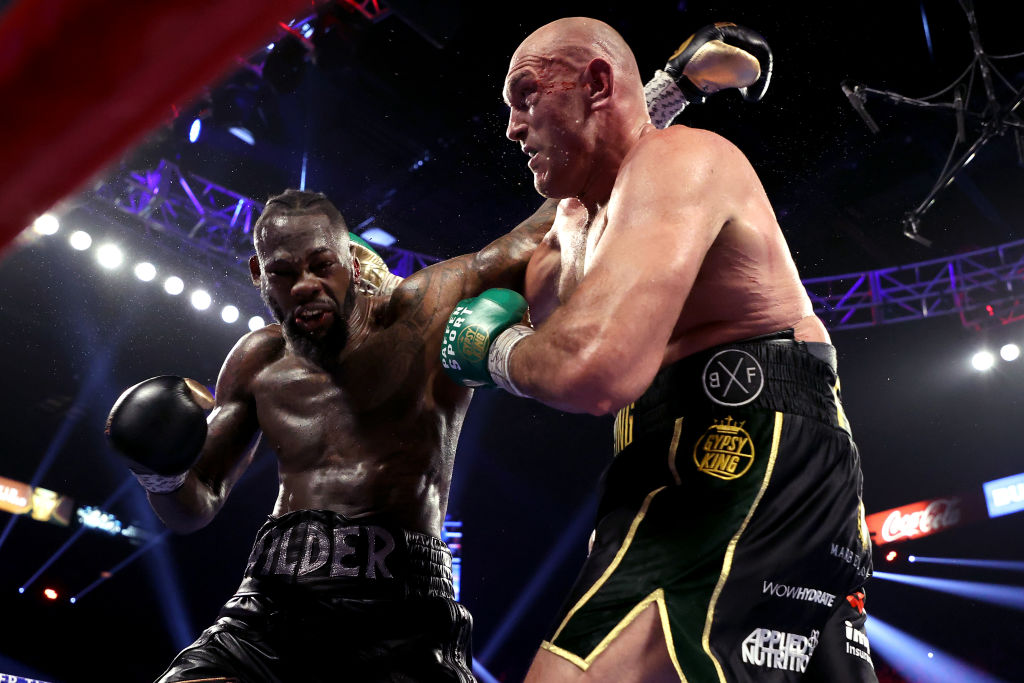 Why Deontay Wilder and Tyson Fury Both Need This Third Fight
Tyson Fury and Deontay Wilder have signed on for a third fight this July. Do both fighters still have something to prove?
No matter which way you look at it, Tyson Fury and Deontay Wilder have given boxing fans two entertaining fights in the last 15 months. It's certainly been one of the best rivalries in the heavyweight division in the past decade, something that the once-prominent division sorely needed.
We now know that the third fight between Wilder and Fury is set for this summer in Las Vegas. And while it may not seem like it, both men actually need the trilogy bout.
Deontay Wilder still feels he beat Tyson Fury in the first fight
The first fight between Deontay Wilder and Tyson Fury, which took place on December 1, 2018, was officially ruled a draw. However, that doesn't keep people, including Wilder himself, from saying that the fight wasn't a draw at all.
Both undefeated at the time, Wilder and Fury battled back and forth for 12 rounds. Fury was bloodied in the fourth round after an onslaught from Wilder but continued to attack in his own right. Wilder knocked Fury down in the ninth round with a left-right combination and dropped him again in the 12th and final round. It looked as if the fight was over at that point but Fury was somehow able to get up and finish the fight.
Usually, two knockdowns in a fight is enough to get the points needed in a decision. Throw in the fact that the final one came in the last round and was especially brutal and one would think that it would definitely be enough. Nope. The bout was a draw and Wilder wasn't happy about it. He still thinks he beat Tyson Fury in 2018 and a third fight will give him one more chance.
Tyson Fury still has something to prove
Tyson Fury also feels like he won the first fight. Despite being knocked down twice, Fury did enough throughout the rest of the bout to warrant the draw. In reality, Fury actually did dominate the majority of that first fight, controlling the pace for most of the 12 rounds.
The second fight saw a lot of the same. Fury was in control from the opening bell, keeping Deontay Wilder from landing his signature power shots (Wilder only landed 18 power punches) while meticulously picking apart the now-former WBC champ.
The Gypsy King was a bit more aggressive than usual, choosing to take the fight right to the Bronze Bomber, landing 58 power shots of his own. He first dropped Wilder in the third with a big right hand and then again in the fifth with a vicious body shot. The fight was stopped in the seventh round when Wilder's corner threw in the towel.
In the aftermath, Wilder blamed his 40-pound costume for taking his legs, which Fury isn't buying, and wasn't happy with his corner. Wilder believed he could continue. Despite the excuses, it was clear that Fury was dominating the fight. So with so many people believing he won the first fight, coupled with the fact that Fury decisively won the second one, what exactly does he have to prove now? Well, what a third fight can do is definitively prove that the second fight was no fluke.
Nobody has been able to slow down Deontay Wilder as Fury has. And yet there are still doubters out there. Every fight fan knows that anything can happen on any given night. One punch can change everything. With a win in the third fight, Fury can prove that he's clearly the better fighter.
When is Wilder vs. Fury 3?
Following the second fight, Deontay Wilder had 30 days to exercise his rematch clause. While some think it might be a mistake, he didn't take much time in doing so.
Wilder vs. Fury 3 is set for July 18 at the MGM Grand in Las Vegas.