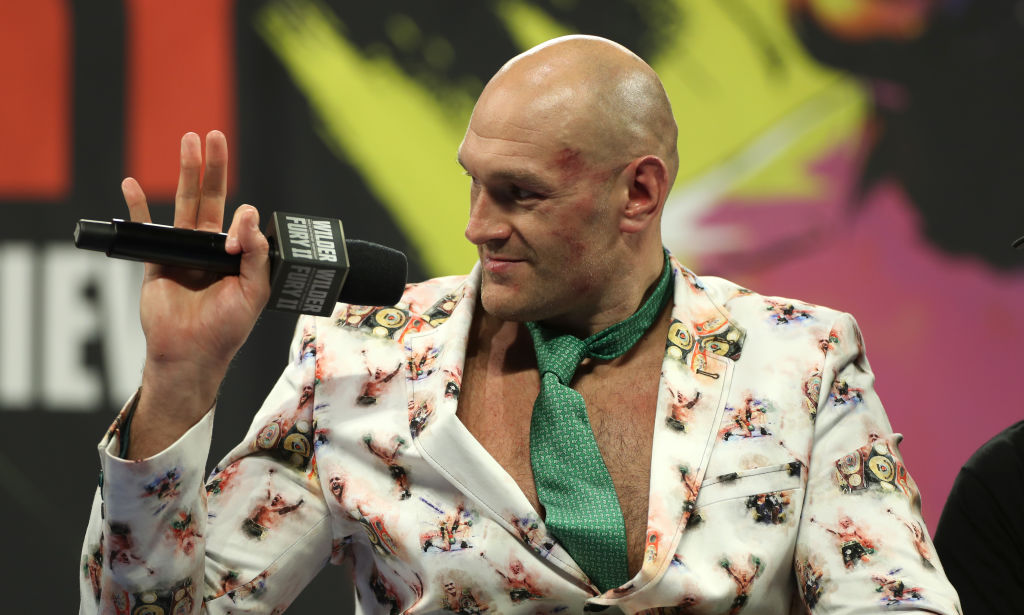 Tyson Fury Confirms Retirement Plans, Responds to Deontay Wilder Costume Excuse
Heavyweight champion Tyson Fury speaks on how many fights he has left in him, responds to the Deontay Wilder costume excuse.
Tyson Fury is just about ready to hang up his boxing gloves.
In an interview on Wednesday, the heavyweight champ confirmed his retirement plans and also spoke on Deontay Wilder using his costume as an excuse following the loss to Fury last month. Fury defeated Wilder in the duo's second fight via TKO in the seventh round in Las Vegas on February 22.
Tyson Fury responds to the Deontay Wilder costume excuse
Not long after Deontay Wilder lost to Tyson Fury in their second bout, the excuses began rolling out. The biggest and perhaps most ridiculous claim from the former champion was that the $40,000, 40-pound costume that he wore during his entrance to the ring cost him his legs and, ultimately, the fight. Wilder also wasn't happy with his assistant trainer, who threw in the towel that ended the fight. Tyson Fury isn't buying it. In a Wednesday morning interview with the British TV show, This Morning on ITV, Fury finally responded to Wilder's claims.
"He (Deontay Wilder) said that he trains in a 45-pound weighted vest every day. But, you know, I can understand where he's coming from.

"In every fighter's mind, there's got to be a reason why they've lost. It can never be a simple fact (of) I wasn't good enough on the night and lost to the better guy. It's always got to be, 'the camp was wrong. It was the trainer's fault. It was my suit, it was my toe.'

"With me if I'm injured or whatever the problem is it's like 'OK, the performance wasn't great. But I'm going to move on and crack on.'"

Tyson Fury on Deontay Wilder
A third fight between Tyson Fury and Deontay Wilder is scheduled for July 18, again at the MGM Grand in Las Vegas.
Fury reveals how many fights he has left
Tyson Fury has accomplished just about everything he can in the heavyweight division. The only belt he hadn't won in his career was the WBC title, which he took from Wilder in February. He remains undefeated in his career at 30-0-1, the only slight blemish coming from the draw in his first fight with Wilder in 2018.
The fight many were hoping to see was Fury vs. Anthony Joshua, who currently holds the WBA (Super), IBF, WBO, and IBO heavyweight crowns. However, Wilder had 30 days to invoke his rematch clause with Fury, setting up the bout in July. Fury plans to once again take out The Bronze Bomber, which could then set up a match with Joshua, which Fury says will be his last fight. In the same interview with This Morning, Fury confirmed that he's close to the end of his career.
"Yes, I've got two more fights left and then we'll really think about what we're going to do from there.

"How long's a piece of string? I'm undefeated from 31 fights and I've been a professional for 12 years. Hopefully, I'll have two more fights and then sail into the sunset.

"I've already been the undisputed heavyweight champion of the world.
When I beat Klitschko I had all the belts, so as far as I'm concerned Anthony Joshua just has my leftovers."

Tyson Fury on his retirement plans
What Fury plans to do in retirement
Tyson Fury plans to stay busy once he hangs up his gloves. He's just 31 years old and while there's a "never say never" saying that floats around the fight game, he has plans to help the next generation of fighters.
Fury has opened up a boxing gym in Britain and hopes to train young fighters, saying that a chance was given to him when he walked into a gym as a youngster. He's hoping to give that chance to others.