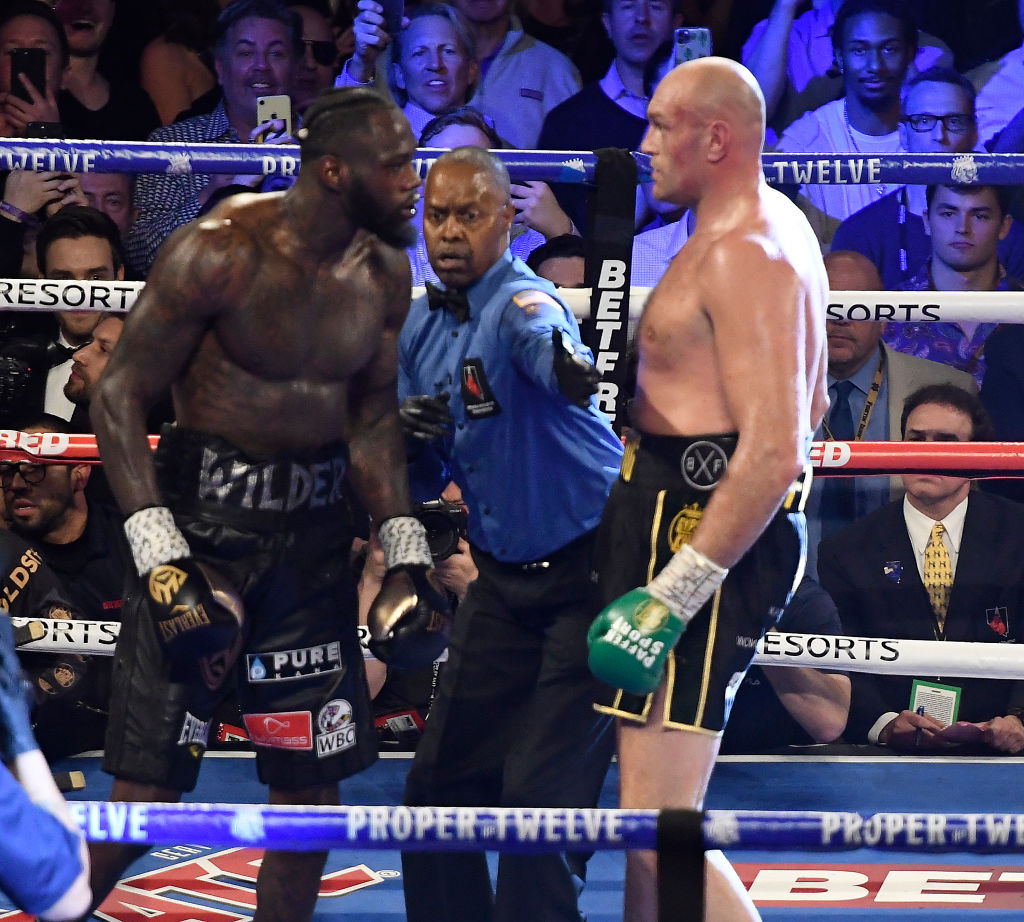 What Did Tyson Fury and Deontay Wilder Make for the Rematch?
A record live gate in Las Vegas and projected high sales of the pay-per-view broadcast netted Tyson Fury and Deontay Wilder a huge payoff for their rematch.
Boxing became the main attraction in the sports world last weekend courtesy of the rematch in Las Vegas between Tyson Fury and Deontay Wilder in a heavyweight bout that was relentlessly promoted and eagerly awaited because both fighters began the night undefeated.
The bout delivered in just about every respect other than not ending with a fighter counted out or going the distance any being decided with the dramatic reading of judges' scorecards. It set the heavyweight division record for a live gate and attracted a sizeable pay-per-view audience to witness Fury stopping Wilder by TKO in the seventh round.
How much money did Tyson Fury vs. Deontay Wilder generate?
Thousands of fans pay to attend championship bouts in person at venues that bid for the right to host while millions of others watch on pay-per-view. Corporations vie for advertising and marketing rights, and additional money flows in from merchandising and the sale of rebroadcast rights at a later date to TV or cable networks.
There is also indirect spending associated with hotel and restaurant traffic, not to mention what the casinos take in at the tables and slot machines during the days leading up to a big fight.
In summary, boxing's biggest bouts are money machines. The registers began ringing at the ticket window as soon as the Tyson Fury vs. Deontay Wilder rematch was announced. Hotels bought blocks of tickets for their VIPs and the paid attendance of 15,186 at MGM Grand Garden Arena generated nearly $18 million, putting the average ticket price at a little under $1,200.
What did the fighters get paid for their rematch?
According to the Nevada Athletic Commission, Tyson Fury and Deontay Wilder were paid $5 million apiece to accept the rematch. That was a slight bump from their controversial December 2018 draw in Los Angeles for which Wilder pas paid $4 million and Fury $3 million.
But that's not where the money ends. Each fighter's total haul after adding in the money from pay-per-view purchases of the fight will be at least $28 million.
Boxing is big business for cable and satellite television. They deliver a huge additional audience via pay-per-view as people watching at home split the cost with guests and hold a party. The gold standard was the 2015 fight between Floyd Mayweather and Manny Pacquiao that was purchased in 4.6 million homes and businesses. Second on the list was Mayweather vs. Conor McGregor, which was purchased by 4.3 million customers.
The first Fury vs. Wilder fight generated 325,000 PPV buys, modest for a heavyweight title fight but still enough for the fighters to split at least $6 million. This time, however, the PPV numbers were substantially higher.
Promotors were hoping for 2 million purchases at $79.99 apiece, though industry analysts were more conservative with a call for 1 million. The actual U.S. total turned out to be close to 900,000, still a strong number.
What's next for Tyson Fury and Deontay Wilder?
Deontay Wilder's contract gives him the right to call for a rematch with Tyson Fury later this year that is all but certain to attract even more interest from people only casually interested in boxing, resulting in another huge payday.
If Wilder doesn't force the rematch, then Fury can proceed directly to a showdown with fellow British boxer Anthony Joshua to unify the major heavyweight titles in another big-money fight.