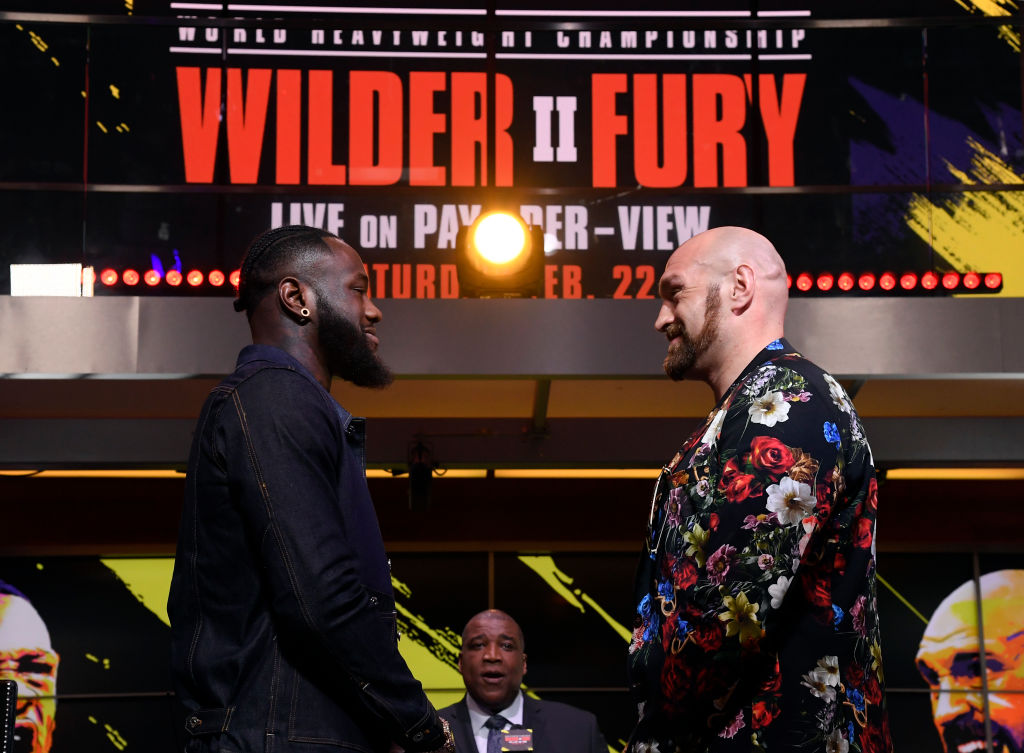 Wilder vs. Fury 2: Who Do Mike Tyson and Conor McGregor Think Will Win?
Ahead of the second fight between Deontay Wilder and Tyson Fury, Mike Tyson and Conor McGregor chimed in on who they think will win.
Deontay Wilder vs. Tyson Fury 2 is one of the most highly-anticipated heavyweight championship bouts in years.
Since their first fight in December 2018, both men have scored two victories. Wilder knocked out Dominic Breazeale in the first round last May and followed it up with a seventh-round knockout of Luis Ortiz in November. Fury destroyed Tom Schwarz in two rounds in June and earned a unanimous decision win over Otto Wallin in September.
Everyone has an opinion on who will win Wilder vs. Fury 2, including former heavyweight champion Mike Tyson and former UFC two-class champ Conor McGregor.
Who won the first Deontay Wilder vs. Tyson Fury fight?
Wilder vs. Fury 1 was easily one of the best heavyweight championship fights of the last decade. Held on December 1, 2018 at the Staples Center in Los Angeles, the two put on a dizzying display of power in front of more than 17,000 people. Both men were undefeated coming in, Wilder at 40-0 with 39 KOs and Fury at 27-0 with 19 KOs.
For 12 rounds, Wilder and Fury went back and forth. Wilder bloodied Fury in the fourth round but "The Gypsy King" fought back, switching stances midway through the fight to gain the upper hand. Wilder dropped Fury in the ninth with a left hook/overhand right combination, but Fury beat the count.
Many thought the fight was over when Wilder knocked Fury down a second time in the 12th and final round. However, Fury, who had landed hard on his back, managed to once again beat the count and survived the rest of the fight. Some thought (and still think) that the two knockdowns were enough to give Wilder the win by decision. Others believe that Fury outboxed Wilder and landed more big shots to earn enough points for the win.
One card scored the bout 115-111 for Wilder, a second had it 114-112 for Fury, and the third was scored a 113-113 draw. With one judge each picking a side and the third calling it even, the bout was a draw.
When is Wilder vs. Fury 2?
After calls for an immediate rematch, it took more than a year to get Wilder vs. Fury 2 set up and the bout was officially announced on December 27, 2019. The heavyweight bout will be a joint promotion from Premier Boxing Champions, Top Rank, and Queensberry Promotions.
Wilder vs. Fury 2 will take place at MGM Grand Garden Arena in Las Vegas, Nevada this Saturday, February 22, 2020. Deontay Wilder enters with a record of 42-0-1 with 41 KOs and Fury comes in at 29-0-1 with 20 KOs.
Who do Mike Tyson and Conor McGregor think will win?
Especially after the first fight, Wilder vs. Fury 2 brings with it a lot of hype and a lot of attention. Nearly everyone has an opinion on who will come out on top, including some of the biggest names the fight game has ever seen. And that's not just those associated with boxing. UFC President Dana White has chimed in on the matter, as has one of MMA's biggest names, Conor McGregor, who does have one professional boxing match to his name. McGregor likes Fury on Saturday.
"Deontay Wilder's a power guy, but I think if [Fury] keeps his mind strong, keeps his playfulness in there, keeps his sharpness and his elusiveness, I think he can do the job."

Conor McGregor

One might think that Mike Tyson would be all in on a power guy like Deontay Wilder, but that's not the case. He's in with McGregor on Tyson Fury.
"I always pulled for him because he was named after me, that is the natural thing to do, right? I was always biased toward him. He is very likeable, he is a nice person… He is so much better than what he appears to be and looks like."

Mike Tyson
Wilder vs. Fury 2 is sure to be a spectacle and a phenomenal heavyweight championship battle.