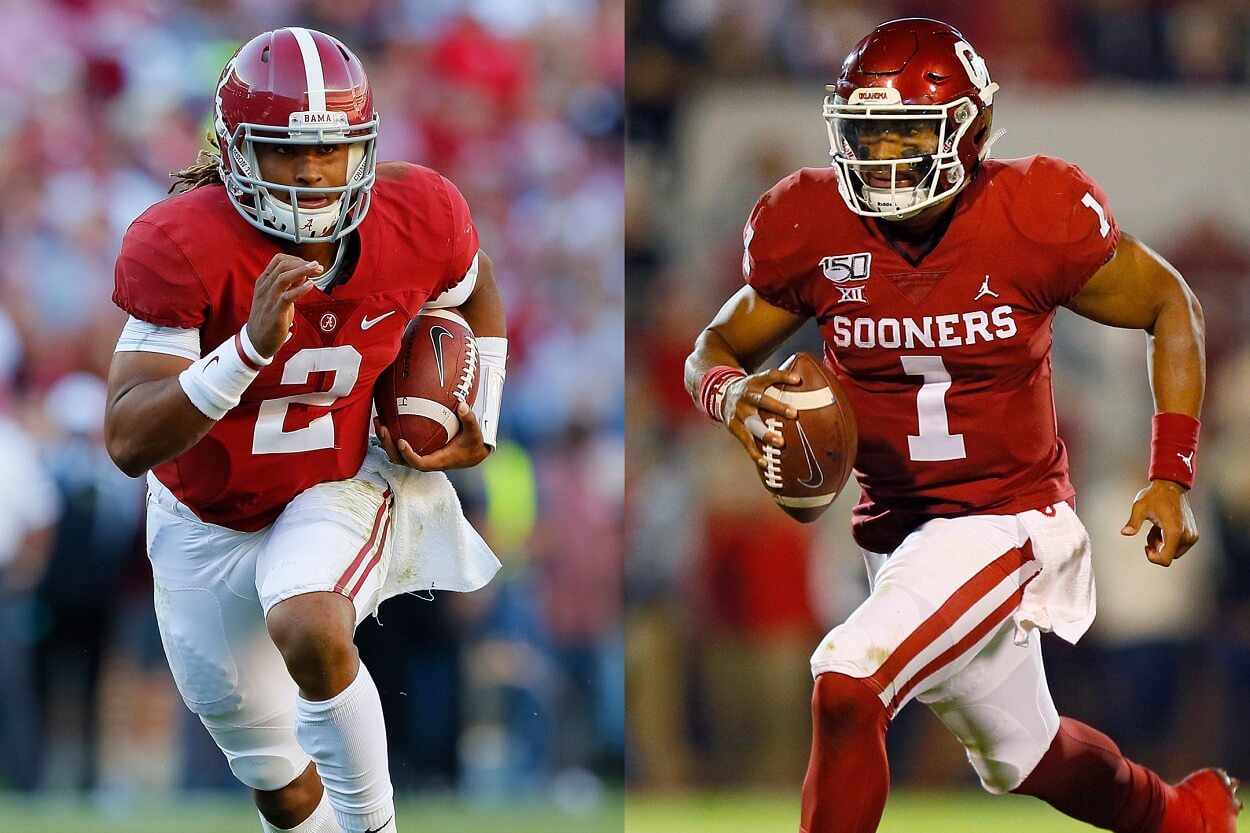 Why Did Jalen Hurts Transfer From Alabama to Oklahoma?
Why Jalen Hurts transferred from Alabama to Oklahoma.
In 2016, Jalen Hurts' college football career got off to a historic start as it took just two games for him to become the first true freshman quarterback to start for the Alabama Crimson Tide in 32 years.
But despite setting numerous school records and helping the Crimson Tide to three consecutive appearances in the national title game, Hurts didn't finish his college career in Tuscaloosa, opting instead to play his final season with the Oklahoma Sooners.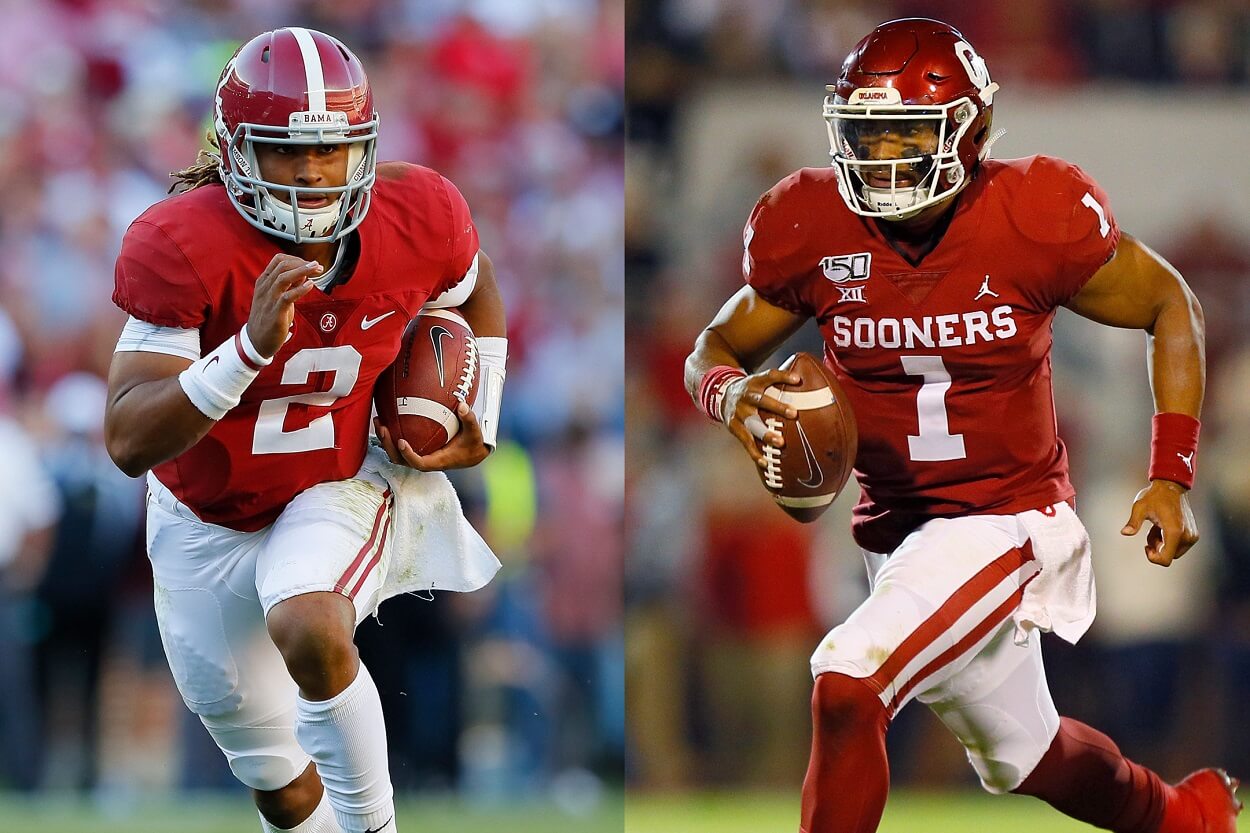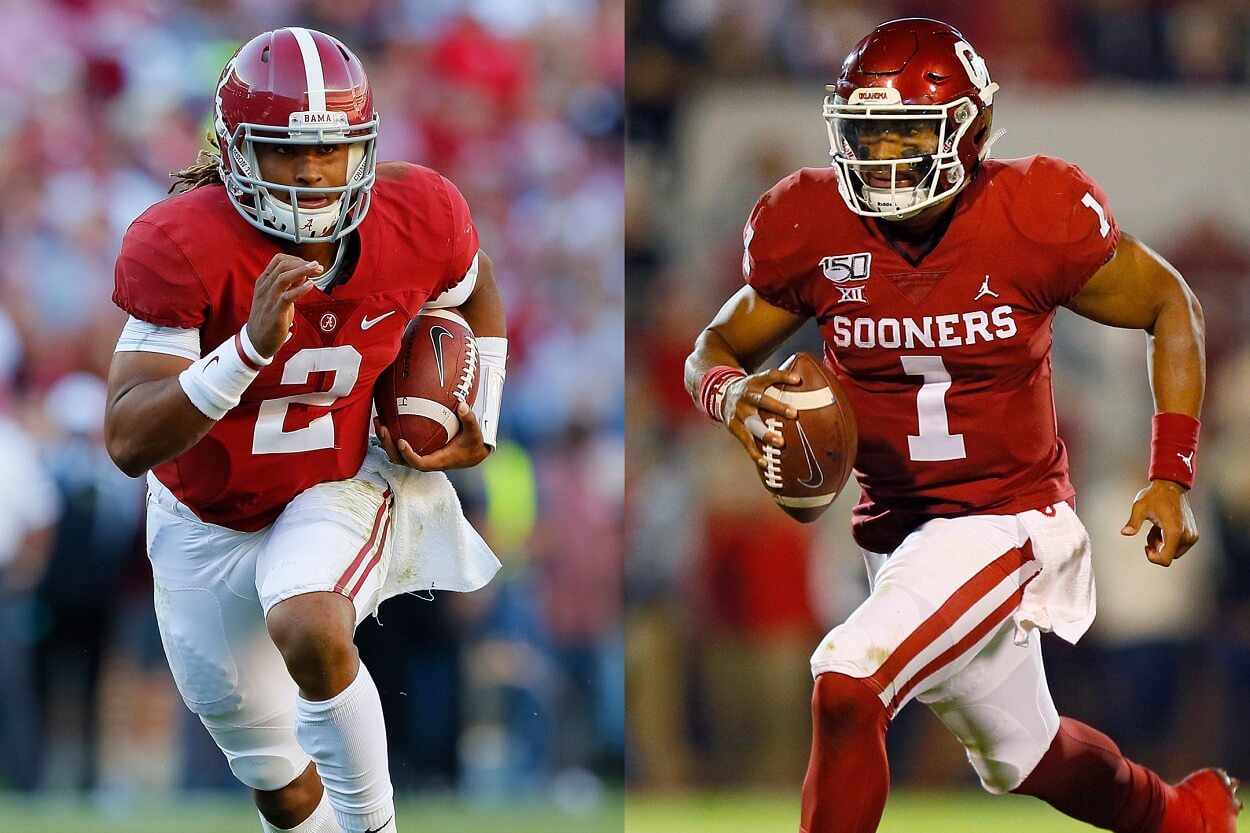 So why did Jalen Hurts transfer from Alabama to Oklahoma?
Jalen Hurts had a historic freshman season at Alabama
In 15 games as a freshman, Hurts completed 62.8% of his passes for 2,780 yards with 23 touchdowns against nine interceptions. He also added 954 yards and 13 scores on the ground, setting new school records for rushing yards by a quarterback and total touchdowns. Hurts was also the first Alabama player to ever throw for 300 yards and rush for 100 yards in the same game.
Nick Saban & Co. finished the 2016 regular season with a perfect 12-0 record and then knocked off the Florida Gators in the SEC title game, after which Hurts was named SEC Freshman of the Year and SEC Offensive Player of the Year. The Crimson Tide then cruised to a 24-7 victory over Washington in the College Football Playoff semifinals, setting up a national championship showdown with the Clemson Tigers.
Hurts certainly didn't have his best day, completing just 13 of 31 passes for 131 yards. But he did throw for a touchdown and rushed for another. His counterpart, however, was just too much that night as Deshaun Watson, who threw for 420 yards, tossed his third touchdown of the game with just one second remaining to give Clemson a 35-31 victory.
He was benched for Tua Tagovailoa in the national title game as a sophomore
Hurts had another solid season as a sophomore, completing 60.4% of his passes for 2,081 yards with 17 touchdowns against just one interception, adding 855 yards and eight scores on the ground.
As Hurts engineered several blowouts during the Crimson Tide's 11-1 regular season run, freshman backup Tua Tagovailoa often got a chance to showcase his abilities in those victories.
Despite not even appearing in the SEC title game after losing to Auburn in the Iron Bowl to close out the regular season, Alabama earned another trip to the College Football Playoff as the No. 4 seed. And behind a two-touchdown performance from Hurts, the Crimson Tide got some revenge as they knocked off top-seeded Clemson in the semifinals, setting up an all-SEC national championship against the Georiga Bulldogs.
After completing just three of eight passes in the first half against Georgia, Hurts was benched at halftime in favor of Tagovailoa, who rallied Alabama from a 13-0 deficit to a 26-23 overtime victory, earning Offensive MVP honors in the process.
That was essentially the beginning of the end of Jalen Hurts' tenure in Tuscaloosa.
He lost his starting job as a junior
Despite going 26-2 in his first two seasons, Jalen Hurts lost his starting job to Tua Tagovailoa in 2018 but still saw plenty of playing time as a junior. Appearing in 13 games, he completed 72.9% of his passes for 765 yards with eight touchdowns and two interceptions, adding 167 yards and two scores on the ground.
And when Tagovailoa, who finished second in the Heisman Trophy voting, went down with an injury in the SEC title game against Georgia, Hurts came in and played the hero, leading Alabama to a come-from-behind 35-28 victory, earning the Crimson Tide a spot in the College Football Playoff.
Hurts threw just one pass in Alabama's Orange Bowl victory over Oklahoma and just two in the Crimson Tide's 44-16 loss to Clemson in the national title game.
Jalen Hurts finished second in the Heisman Trophy vote in his lone season at Oklahoma
With one year of eligibility remaining, Hurts knew he wouldn't be the starter in Tuscaloosa and opted to transfer. He considered several schools, and it was actually Nick Saban who convinced him to go to Oklahoma, telling him that Sooners head coach Lincoln Riley was the best person to help him continue his development as a quarterback.
And Saban was clearly correct in that assessment.
As Hurts had already earned his degree at Alabama, he was eligible to play immediately for Oklahoma as a graduate transfer. And just as he made history early in his career in Tuscaloosa, he also did so in Norman.
In his first game in a Sooners uniform, Hurts set a new school record for total yards of offense in a debut, accounting for 508 yards in a 49-31 win over Houston. In leading Oklahoma to a Big 12 title and a spot in the College Football Playoff, he completed 69.7% of his passes for 3,851 yards with 32 touchdowns against eight interceptions and added another 1,298 yards and 20 touchdowns on the ground.
Hurts finished second in the Heisman Trophy voting behind LSU quarterback Joe Burrow. The two squared off in the CFP semis, with Burrow & Co. taking a 63-28 victory, thus ending Hurts' college career. A few months later, he was taken with the 53rd overall pick in the 2020 NFL Draft by the Philadelphia Eagles.