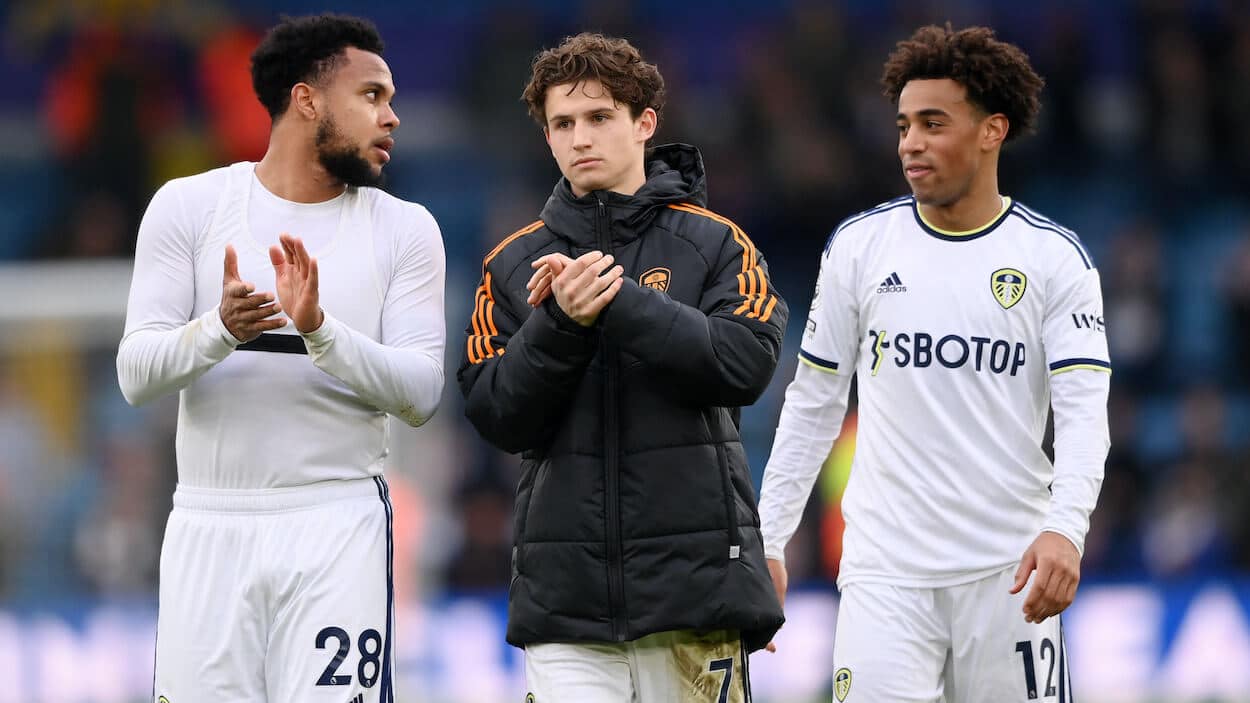 Why Leeds United is America's English Premier League Team
Americans are fans of all different Premier League soccer teams these days, but Leeds United is the real America's Team in the EPL.
American English Premier League fandom is generally split between the big six EPL clubs. Because these teams have the best players, win the most, and are on TV more often, English soccer fans in the U.S. either support Manchester United, Manchester City, Liverpool, Arsenal, Chelsea, or Tottenham Hotspur. However, thanks to Tyler Adams, Weston McKennie, and Brenden Aaronson, and with apologies to the Dallas Cowboys, the real America's Team in (that kind of) football is Leeds United.
Leeds United has more American connections than any other Premier League team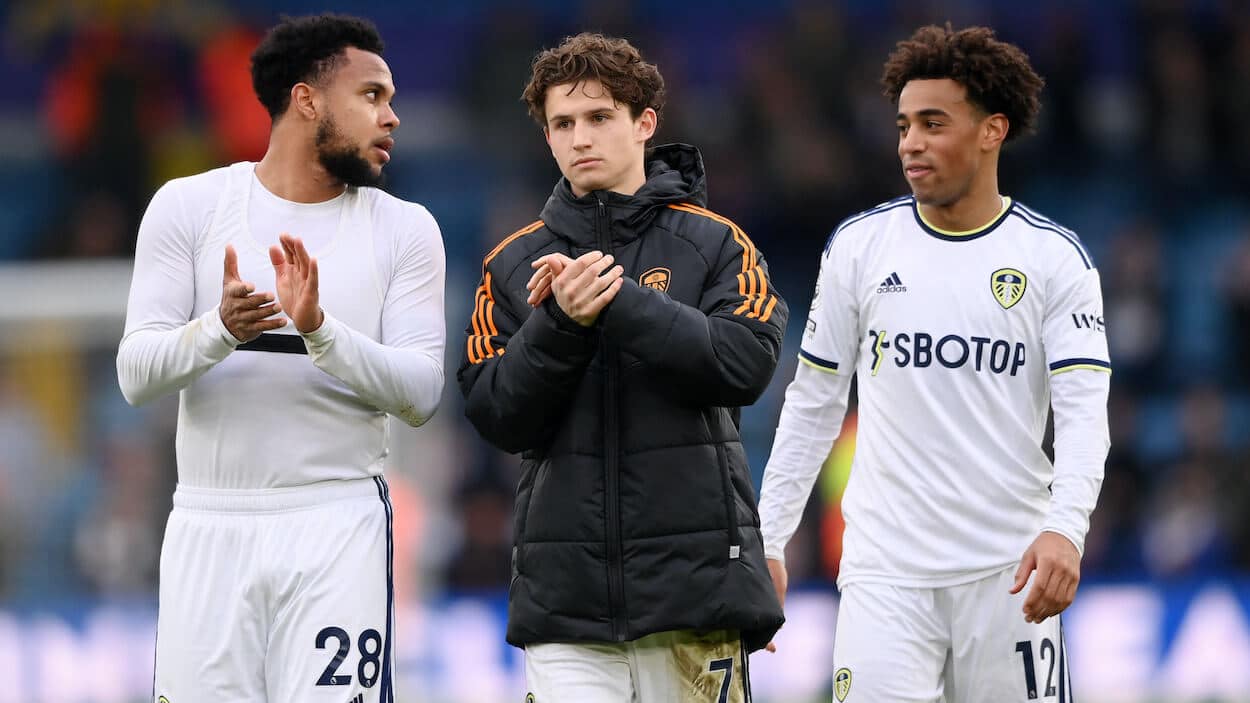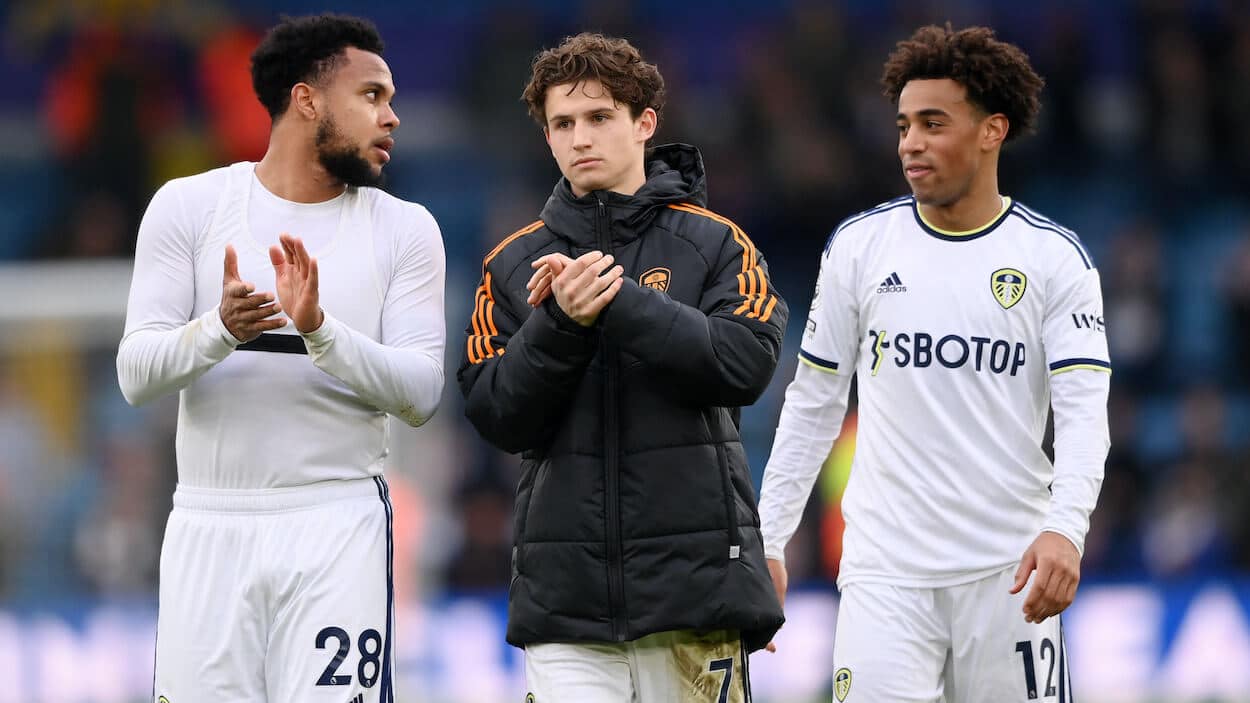 Plenty of Americans have played in the English Premier League through the years. Clint Dempsey (Fulham), Landon Donovan (Everton), Tim Howard (Manchester United, Everton), Brad Friedel (Liverpool, Blackburn, Aston Villa, and Tottenham), Brian McBride (Fulham), Claudio Reyna (Manchester City), and others had nice careers in England.
Currently, players like Christian Pulisic (Chelsea), Matt Turner (Arsenal), Chris Richards (Crystal Palace), Antonee Robinson (Fulham), and Tim Ream (Fulham) all call the EPL home.
However, no club has had more U.S. ties in recent years than Leeds United.
FW Brenden Aaronson
Brenden Aaronson is a 22-year-old New Jersey native quickly making a name for himself on the international soccer scene.
Aaronson started his professional career in earnest as an 18-year-old for MLS's Philadelphia Union. After a strong debut season, he moved to Red Bull Salzburg, where he played for American manager Jesse March for a short time. When Marsch got the Leeds United job, one of his first moves was bringing Aaronson with him, paying Salzburg a $36.13 million fee to do so.
The USMNT youngster started the 2022-23 campaign hot, causing an own-goal by Wolves in the club's 2-1 victory and scoring in a 3-0 win over Chelsea. However, since returning from the 2022 World Cup in Qatar, Brenden Aaron has struggled, notching just one assist in 22 appearances for his club.
MF Tyler Adams
USMNT captain Tyler Adams is another American involved in Leeds United's 2022-23 Premier League campaign.
The 24-year-old New York native was key to the USMNT's success at the 2022 World Cup. Coach Gregg Berhalter puts Adams at the heart of his starting midfielder for the tournament on the "MMA" line of Yunus Musah, Weston McKennie, and Adams.
Adams also started his career in the MLS. He played under Jesse Marsch on the New York Red Bulls from 2016-19 before rejoining his manager at RB Leipzig in 2019. Marsch brought his safety blanket midfielder with him again to Leeds, paying their old employer an $18.7 million fee.  
Tyler Adams was a bright spot this season for Leeds United. However, the midfielder picked up a hamstring injury that required surgery playing for the USMNT during an international break. There is no timetable for his return, but he's missed the last eight Leeds tilts and is likely out for the remainder of the 22-23 Premier League season.
MF Weston McKennie
During the 2023 January transfer window, Leeds United took 24-year-old Texas native Weston McKennie on loan from Juventus in Italy for a $1.6 million loan fee.
Since moving to England, McKennie has played in 15 Premier League matches and in the team's FA Cup loss to Fulham. That appearance number is significant because reports at the time of the loan noted that Leeds would have an obligation to buy the USMNT star for $37 million if he made 10 EPL appearances (h/t Daily Mail).
The midfielder has yet to notch a goal or an assist for his new club, and the criticism for the American brought in to bolster the lineup is mounting.
That said, without his Leeds and USMNT running-mate, Tyler Adams, Weston McKennie's regular presence in the midfield has helped Leeds United scratch out enough points to sit in 17th place in the EPL, one spot above the relegation zone with four games to play.
FW Jack Harrison 
Jack Harrison was born an hour south of Manchester in Stoke-on-Trent and grew up a half-hour north of the city in Bolton. Even if you're not the biggest geography buff in the world, you probably know those places aren't in the U.S.
Despite being an Englishman, Harrison played high school soccer in Massachusetts and came to prominence in Major League Soccer, just like Jesse Marsch, Brenden Aaronson, and Tyler Adams.
The Chicago Fire drafted the now-26-year-old No. 1 overall in the 2016 MLS SuperDraft and traded him to NYCFC. After two successful seasons in MLS, Harrison signed with NYCFC's parent club, Manchester City.
The English youngster never played a game for City. The club loaned him out to Middlesbrough and Leeds United before Leeds made it permanent in 2021 with a $14.08 million fee. All in, Harrison has 202 appearances with 33 goals and 32 assists for his current club.
Former manager Jesse Marsch
In 2022, after taking over Leeds United from the fired Marcelo Bielsa, Wisconsin native Jesse Marsch got the job managing the club full-time.
This made him the second American-born manager in Premier League history. He joined former USMNT coach Bob Bradley, who managed Swansea City in 2016. David Wagner was born and raised in Germany but played for the USMNT with his international eligibility based on his American stepfather.
Marsch is a former Princeton Tigers and MLS player who's managed the Montreal Impact and New York Red Bulls in MLS, Red Bull Salzburg in Austria, and RB Leipzig in Germany before moving to the Premier League.
The American manager dramatically saved Leeds United from relegation last season and started 2022-23 with a bang. The team has a thrilling 2-1 victory over Wolves and a 2-2 draw vs. Southampton.
Unfortunately for Marsch, Leeds sacked the manager on Feb. 6, 2023, after a seven-game winless streak to end 2022 and begin 2023.
Despite the inauspicious end, Marsch still played a critical role in making Leeds United America's team by overseeing the develoment of USMNT stalwarts Brenden Aaronson, Tyler Adams, and Weston McKennie.