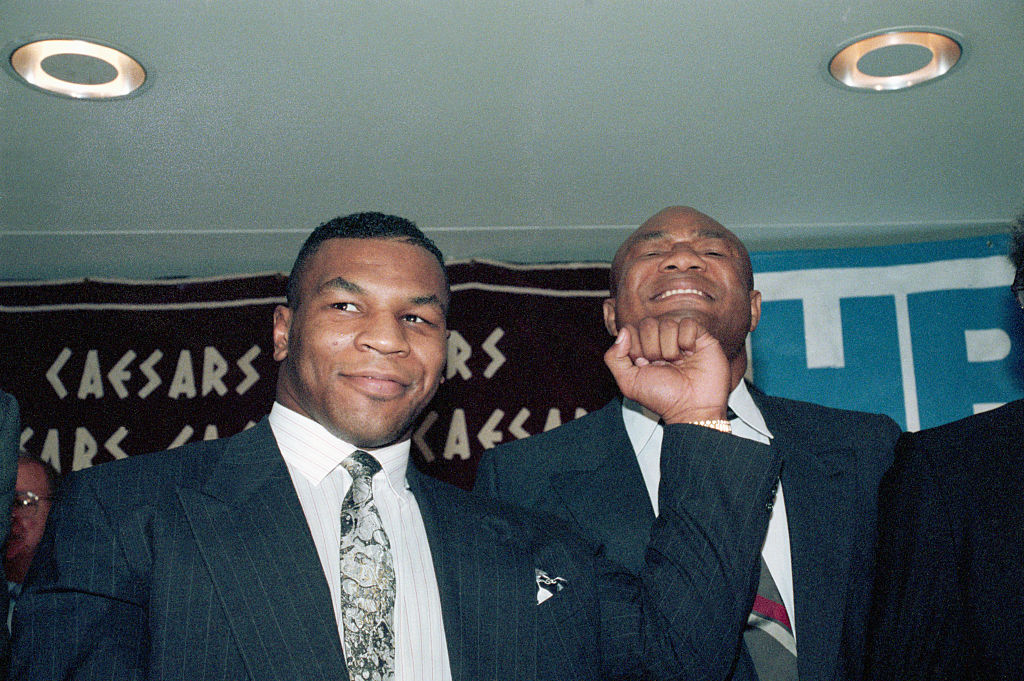 Why Mike Tyson vs. George Foreman Never Happened
When George Foreman made his comeback to boxing at the age of 38, he wanted a dream fight with Mike Tyson. Why did it never happen?
When 38-year-old George Foreman returned to the boxing ring in 1987 after a 10-year absence, he made no secret of the fact that he wanted to reclaim the heavyweight championship that he had lost to Muhammad Ali at the famed "Rumble in the Jungle" bout in 1974. But that was obviously much easier said than done as Mike Tyson was dominating the heavyweight division at the time.
So why did Mike Tyson vs. George Foreman never come to pass?
Muhammad Ali told George Foreman to stay away from Mike Tyson
Nearly 10 years to the day after George Foreman lost to heavyweight contender Jimmy Young in 1977, just the second loss of his career, he made his return to the ring, knocking out Steve Zouski in the fourth round on March 9, 1987. Foreman certainly wasn't fighting the highest level of competition during his comeback, at least not early on, but he performed well, winning all five of his fights in 1987 by knockout.
In 1988, the same year Mike Tyson famously knocked out Michael Spinks in 91 seconds, Foreman was fighting just about every month. He fought nine times that year, again winning them all via knockout and people started to talk about the possibility of a Tyson vs. Foreman dream bout. But there was at least one person that didn't want to see it, the man who had handed George Foreman his first career loss, Muhammad Ali. Foreman once told TMZ Sports that his "Rumble in the Jungle" opponent told him to stay as far away from Mike Tyson as possible.
"George, Mike Tyson hits so hard!! George, that Mike Tyson can hit! That's punching power there! It was like a warning, 'Don't do that George!'"

George Foreman on Muhammad Ali telling him to stay away from Mike Tyson
But George Foreman made no secret of the fact that he wanted Mike Tyson in the ring. What he didn't know was that Mike Tyson wanted no part of him.
Both were unstoppable at one point
In 1989, George Foreman fought five more times, again winning them all, and the competition was getting better and better with each fight. On the other side of things, Mike Tyson twice defended the undisputed heavyweight championship, defeating Frank Bruno and Carl "The Truth" Williams, both wins coming knockout.
In January 1990, Foreman faced Gerry Cooney, whose only two losses had come to Larry Holmes and Michael Spinks, both of whom Tyson had destroyed. Cooney was on a comeback of his own, not having fought since losing to Spinks in 1987. He felt he would dominate Foreman and get back into the title picture. That didn't happen. Foreman dominated Cooney, knocking him out in the second round and sending him into permanent retirement. A fight with Tyson seemed imminent but just 42 days later, James "Buster' Douglas shocked the world, knocking out Mike Tyson in Tokyo in the biggest upset in boxing history. But hope wasn't lost on a Tyson vs. Foreman showdown.
Mike Tyson was scared to fight George Foreman
After Mike Tyson lost to Douglas, a fight with George Foreman seemed to be in the works. Rumors swirled that the fight had been signed and ESPN even ran a number of segments about it as they assumed it would be announced. But it never came to be, but not for lack of trying.
On June 16, 1990, Tyson and Foreman actually did appear on the same card in a co-main event. Tyson avenged his two 1984 Olympic trial losses to Henry Tillman by knocking him out in the first round while Foreman took out top-10 contender Adilson Rodrigues with a second-round knockout. But why didn't they fight each other that night? Apparently, Tyson wanted absolutely no part of Foreman, believing he was a lot more dangerous than people were giving him credit for.
Longtime boxing journalist Frank Lotierzo once recounted a lunch he had with Don King's longtime matchmaker, Bobby Goodman, who told him that Mike Tyson was scared to death of George Foreman and that Foreman was a con man, putting on the old-man show so he'd always be overlooked.
"You'll never believe this but Tyson is scared s***less of Foreman and wants no part of him. I was there when Don was trying to make the fight. He was telling Tyson that Foreman represented huge money, plus he was old and slow and would be no problem. Tyson got up and screamed at King saying, 'I'm not fightin' that f****ng animal. If you love the motherf***er so much, you fight him!'"

Bobby Goodman on Mike Tyson being scared of George Foreman
It's crazy to believe that Mike Tyson would be scared of anyone but it actually stems from his early days with his legendary trainer, Cus D'Amato. Tyson and D'Amato would constantly watch the George Foreman vs. Joe Frazier fights from the '70s and D'Amato would tell his young pupil that a shorter fighter who likes to swarm and attack would always get destroyed by George Foreman. This was obviously Tyson's style and he must have remembered D'Amato's words at a time where it didn't seem possible that Iron Mike would ever square off with George Foreman.
Alas, Mike Tyson vs. George Foreman never happened. Foreman would actually go on to win the heavyweight championship in 1994 with a stunning upset of Michael Moorer. At this same time, Tyson was in the middle of a three-year prison sentence. Even with a couple of years of overlap upon Tyson's return to boxing, it just never happened.
George Foreman later admitted that he really never wanted any part of Mike Tyson
While there's no question George Foreman would've loved the opportunity to face Mike Tyson, he later admitted that he would have had a very tough time with the fighter once known as the "Baddest Man on the Planet."
"That guy was a nightmare in the ring. I didn't want anything to do with that guy. He was sacred and I was glad of that. I didn't want a part of Mike Tyson. He was a monster.

"Those are the kind of guys you see in a nightmare. You want to wake up and say, 'So glad that's a dream.' I didn't want any part of Mike Tyson — no way."

George Foreman on fighting Mike Tyson
Mike Tyson vs. George Foreman could have been incredible. But, as it happens so often in boxing, we'll just never know what could have happened.