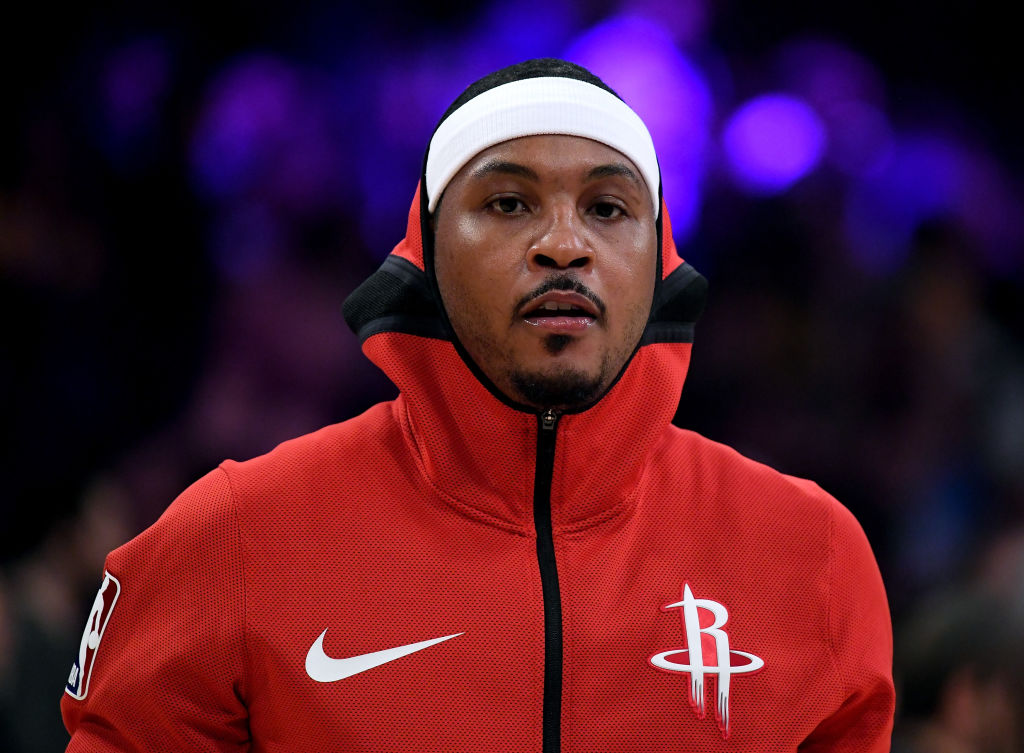 Why Won't Carmelo Anthony Accept a Role off the Bench?
After leaving the Knicks, Carmelo Anthony's status in the NBA has plummeted. So why won't the former star just accept a role off the bench?
Since leaving the New York Knicks, Carmelo Anthony's status in the league has deteriorated. Where most players decline in athleticism and skill transition from starters to role players on the bench, Anthony thinks he should be in the same breath as Michael Jordan and other all-time greats.
This caused issues with the Oklahoma City Thunder during the 2017–18 season, and lead to his downfall in Houston.
Today we will look at why Anthony hasn't made it work at either of his last two stops. We'll also determine whether he can ever start again for an NBA franchise.
Carmelo Anthony's career accomplishments
Anthony has made the All-Star team 10 times while being named to the All-NBA team six times. He has career averages of 24 points and nearly seven rebounds per game. Between his time in New York and Denver, he quickly became one of the league's most talked about players.
A national championship run with the Syracuse Orange helped solidify his status as a top-three pick in the 2003 NBA draft, which is widely regarded as one of the league's best.
Carmelo Anthony couldn't work things out in Oklahoma City
When Anthony got to Oklahoma City he was asked by a local reporter if he would take a role coming off of the bench. He scoffed at the reporter for asking him such an insane question.
Anthony felt like the amount of money he was being paid ($26 million) wasn't worthy of a role player. However, when the season started Melo was in the lineup.
He never really got used to playing with Russell Westbrook and Paul George, while struggling at times during the year. Anthony averaged just 16 points and six rebounds per game. The former star failed to show up numerous times during the Thunder's first-round exit to the Utah Jazz.
Failing to make an impact in Houston
When Anthony got to the Rockets it was viewed as a good pick up for head coach Mike D'Antoni. Anthony had some of his best years in New York under D'Antoni. This meant fans were expecting a player that could put up 19 to 20 points per game and lighten the offensive load off of James Harden.
What they got instead was a player that struggled to make rotations on defense and who couldn't score at the level of consistency the team would have hoped. He played in just 10 games for the Rockets this year before being traded to Chicago, where he was ultimately bought out.
How long until Carmelo Anthony changes his mind?
If Anthony was willing to come off of the bench for a team such as the Los Angeles Lakers, do you think he would be comfortable averaging 10 to 12 points on the second unit?
The thing that perplexes us is when Anthony plays for team USA he isn't always inserted into the starting lineup. Him coming off of the bench to help team USA win the gold. He thrives an international competition so we don't see why he wouldn't want to play 15 to 20 minutes and still put up numbers that can impact winning a championship.
Melo should mold the rest of his career after someone like Vince Carter, who still plays a significant amount of minutes in a mentorship role for the Atlanta Hawks. Carter focuses mainly on spot-up shooting and teaching younger players the important nuances of the game. This could help his career extend another seven or eight years.
Where could Carmelo Anthony go?
Besides the Los Angeles Lakers, he could land with the Brooklyn Nets on the veteran minimum, and fill a void until Kevin Durant returns healthy. If he doesn't go with either of those teams he could latch on to a playoff contender such as Milwaukee or the Los Angeles Clippers.
Will Carmelo Anthony ever start again?
We think those times are over, but he can still be a valuable player for the next half-decade. Ultimately it comes down to whether or not he can put his ego aside. Our NBA section is brimming with free-agent content so check out that section of the site for more news from around the hardwood.