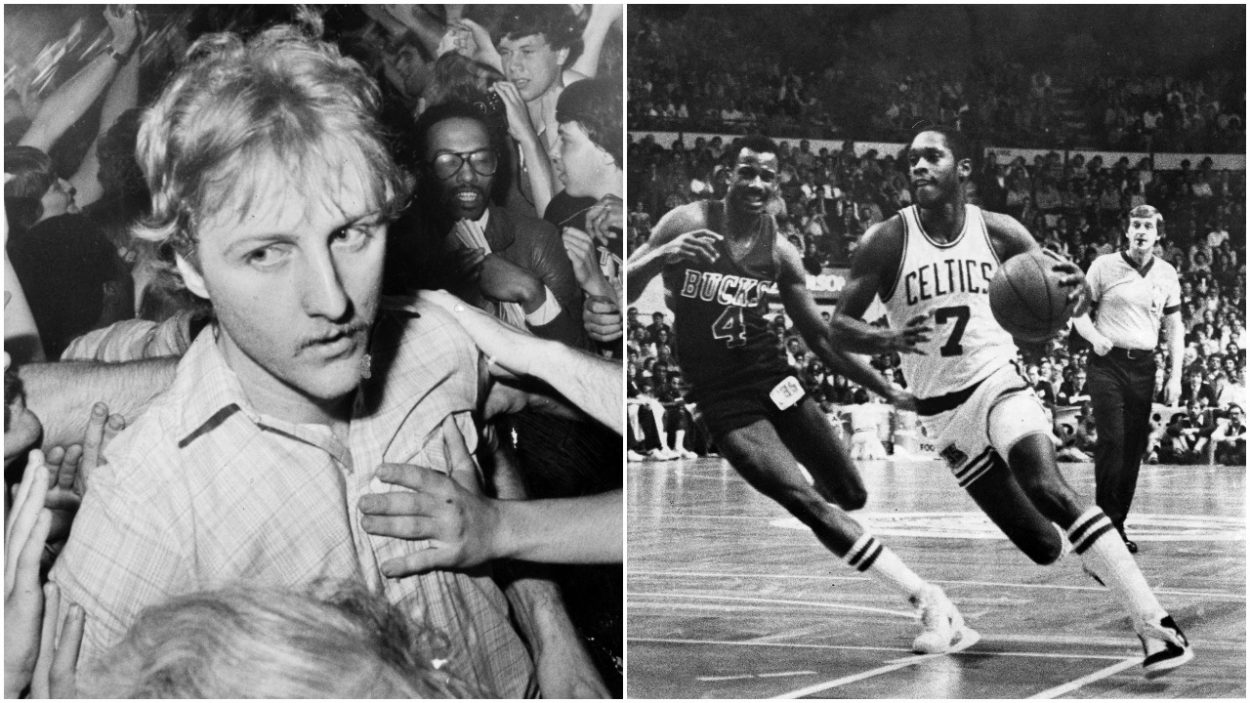 A Young Larry Bird Boldly Demanded the Rock From His Hall of Fame Point Guard: 'Make Sure You Know Who Gave You the Ball'
Larry Bird let his Hall of Fame point guard know the Boston Celtics were his team right from the start of his career.
Larry Bird imposed his will on his opponents. He did the same with Boston Celtics teammates, even as a young up-and-comer playing alongside a Hall of Fame point guard.
Bird had no qualms sharing the ball. His exceptional vision and playmaking made him an elite assist man (even if he thinks assists are overrated), especially as far as forwards go. But Larry Legend also demanded the ball be placed in his hands, and he wasn't shy letting Nate "Tiny" Archibald know all about it.
Larry Bird told former Celtics point guard Nate Archibald to feed him the rock
By the time Nate Archibald joined the Boston Celtics ahead of the 1978-79 season, he had already established himself as one of the best point guards in basketball.
Despite lacking in physical stature, Tiny dominated with his quickness and shot-making. He is one of just seven players in NBA history to lead the league in scoring and assists in the same season, averaging 34.0 points and 11.4 dimes with the Kansas City-Omaha Kings during the 1972-73 campaign.
But Archibald's reputation didn't intimidate Larry Bird one bit when he joined the Celtics. On the contrary, Bird asserted himself and reminded his point guard (h/t MassLive) that while Tiny ran the show, the ball needed to find its way back to him.
"[Bird] told me 'It's your ball. Make sure you know who gave you the ball. When I get down there, I want to touch it more.'"

–Nate "Tiny" Archibald on playing with Larry Bird
Bird showed quite a bit of gall in asking so much of a more established star. Had Archibald possessed a bigger ego, Larry Legend's brashness might have been an issue.
However, Tiny proved himself a willing passer and capable orchestrator during his Celtics years.
Bird and Archibald won a championship together
Most basketball fans probably think of Dennis Johnson as Boston's point guard of the 1980s and the glue of those Celtics teams. However, Nate Archibald played a vital role in the team's first championship of the 1980s. Bird played a significant role in Tiny's success.
Archibald averaged 11.0 points and 4.7 assists in his first season with the Celtics. He still proved he could play, but an Achilles injury suffered during the 1976-77 season limited Tiny's explosiveness. Still, Bird had a clear impact on Archibald when he arrived in 1979, as Tiny's numbers jumped to 14.1 points and 8.4 assists per contest.
Boston came up just short in 1979-80, but Tiny and the Hick from French Lick achieved the ultimate goal the following season.
The Celtics won 62 games during the 1980-81 campaign. They survived a tough, seven-game series with the Philadelphia 76ers in the Eastern Conference Finals before defeating the Houston Rockets in the NBA Finals. That championship began a pretty dominant run.
Archibald's willingness to acknowledge he was no longer the same player and his generally unselfish attitude made him the perfect point guard for Bird early in his Celtics career. But the recollection of Bird's authoritativeness also speaks volumes about Larry Legend being the engine who drove the Celtics machine.
Bird relished having the ball in the big moments
The Celtics didn't rely solely on Larry Bird. They had the good fortune of rostering strong guards like Archibald and DJ while boasting an imposing frontcourt of Kevin McHale and Robert Parish.
Still, Bird often had the ball in his hands when it mattered most. He relished those moments.
Bird constantly wanted the team's fate to be in his hands. He took on the responsibility of making the big shots and big plays in crunch time, seeking the spotlight at all times.
That desire to take center stage is reflected in Tiny Archibald's memory of his interactions with a young Bird. Tiny could set up the offense, but the ball would eventually have to find its way back to Larry Legend.
Stats courtesy of Basketball Reference.