Larry Bird Reveals Why He Thinks Triple-Doubles Are Overrated: 'Assists Are a Questionable Stat'
For the record, Larry Bird is tied for eighth in NBA history with 59 triple-doubles during regular season play. Further, he is one of only seven players in the history of the NBA Playoffs with at least 10 games with at least 10 points, 10 rebounds, and 10 assists. So when Bird says the triple-double is an overrated achievement, he's not speaking from a position of weakness on the topic.
Instead, Bird thinks statistical anomalies make the triple-double misleading. Russell Westbrook is the NBA's triple-double king, notching the 188th of his career with 31 points, 13 rebounds, and 10 assists in the Los Angeles Lakers' Nov. 23 loss to the New York Knicks. When Bird retired after the 1991–92 season, he was fourth on the all-time list. He's since been passed by Westbrook, Jason Kidd, LeBron James, and James Harden. Nikola Jokić matched Bird's total of 59 on Nov. 12.
Larry Bird had the skillset to accumulate triple-doubles at will
During his 13-year NBA career, all with the Boston Celtics, Larry Bird averaged 24.3 points, 10.0 rebounds, and 6.3 assists per game. In 164 playoff games, those marks were 23.8 points, 10.3 boards, and 6.5 dimes, respectively. He was a triple threat, a player who could score, crash the glass, and find open teammates.
But for all his statistical largesse, Bird never gave much thought to his triple-double count. In his autobiography Drive: The Story of My Life, Bird confessed that he could have gotten many more than he had.
"People make too much of triple-doubles, which is usually defined as a game when a player has double figures in points, rebounds, and assists," Bird wrote. "If that's all anyone wanted me to do, I honestly believe I could get a triple-double in at least 41 of the 82 games played every year."
Bird said he could guarantee the 10 boards and 10 helpers. But he added that asking him to score 30 points on top of that would be too much.
"If other guys are playing well, you could do it, and it would be to the team's benefit," Bird said. "If they're not, what does it mean if you get a triple-double and we get beat?"
In the final analysis, wins are the only statistic that matters.
Bird believes part of the triple-double formula is fundamentally flawed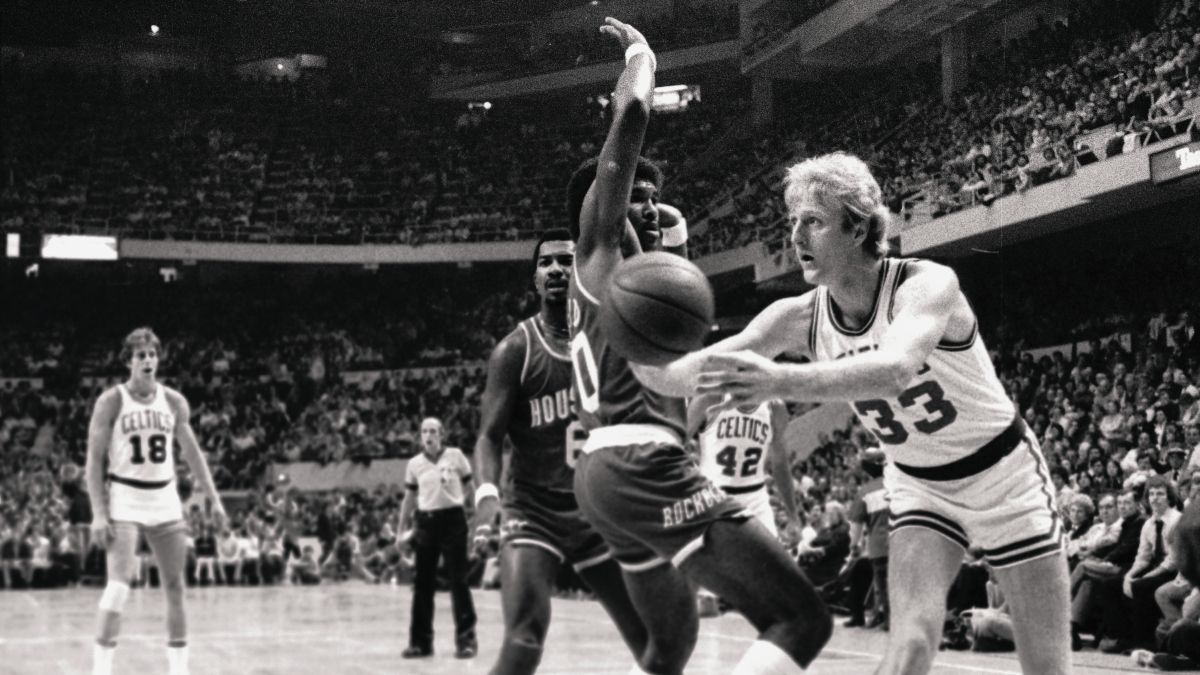 The triple-double has become, if not common, a more regular occurrence in the modern NBA. For more than 50 years, Oscar Robertson was the only player in NBA history to average a triple-double for a season. He turned the trick in 1961–62. Westbrook has done it four times since 2016–17. He earned NBA MVP honors for his first.
However, Boston Celtics legend Larry Bird believes that one piece of the standard triple-double equation is dubious. Assists tend to be a judgment call that too often goes in favor of the player for the home team:
"Assists are a questionable state anyway. I believe it's generally easier to get one on the West Coast. It's just the way they interpret it. To me, assists should be given when a player gets the ball and scores — period. He can make a fake, but he can't put the ball on the floor. You also can't pump it three or four times and then put it in.

"There's a limit to what should be allowed to be called an assist."

Larry Bird
Bird was quick to give credit where it's due. His chief rival, Magic Johnson, had 138 triple-doubles, and Bird believed many of those were the particularly great type.
"And while we're on the subject, there are triple-doubles, and there are triple-doubles, Bird said. "When I see Magic have a game with 15 points, 13 rebounds, and 17 assists – that's a triple-double."
Winning is the key element. Not that statistical dominance doesn't often contribute to victories. In Westbrook's 188 triple-doubles, his team is 140–48, a .745 winning percentage. That's equivalent to a 61-win regular season over 82 games.
Stat-padding is as old as the NBA itself, even among Larry Bird's contemporaries
While Larry Bird's Boston Celtics were winning three championships in the 1980s, one of the game's greatest statistical accumulators was at his zenith. Hall of Famer Moses Malone became for both his offensive rebounding prowess. He was also notorious for his ability to pad his numbers in that column.
Malone intentionally missed shots. He knew he could get back off the floor and get the offensive rebound before anyone else could. According to The Detroit News, it's a tactic Andre Drummond admitted to in 2015 while with the Detroit Pistons.
Sometimes, players pad in other ways. While leading the NBA in 3-point shooting in 2007–08, Jason Kapono of the Toronto Raptors put himself on ice after a hot start.
Through 30 games, Kapono shot 51.7% from deep, taking 3.0 attempts per game. The rest of the season, his attempts dipped to 0.6 a night. Even though he shot 37.9% over that 51-game stretch, his 48.3% overall mark led the league; the second consecutive season he did so.
With the individual accomplishment in the books, Kapono took the lock off his jumper in the playoffs. He was 13-of-24 in a five-game loss to the Orlando Magic.
As for the definition of an assist, Larry Bird is correct in the assertion that it varies. John Stockton set the single-season record by averaging 14.5 assists per game for the Utah Jazz in 1989–90. But he averaged 15.4 a night at home and 13.6 on the road. Sometimes a little home-cooking from the stat guys is all you need.
Statistics courtesy of Basketball Reference and Stathead.