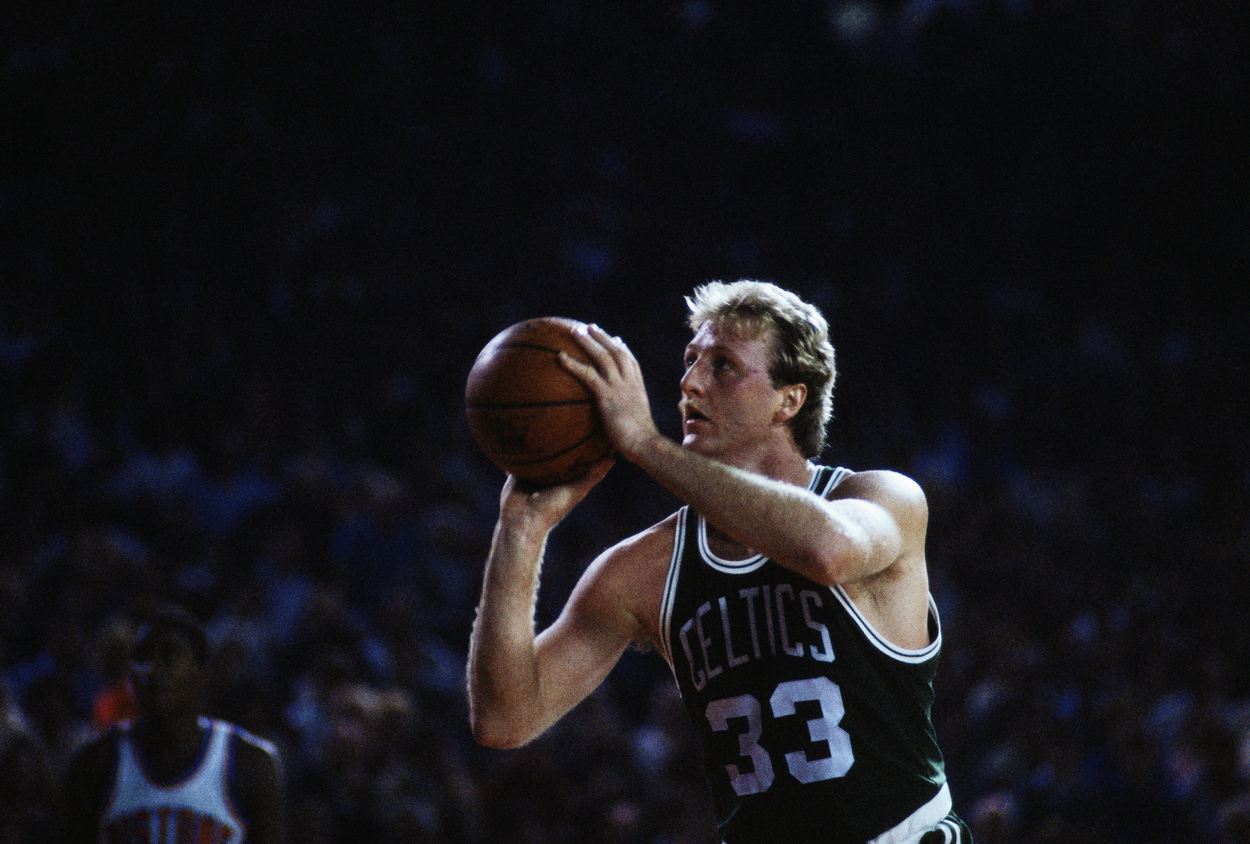 Larry Bird Was Christened 'the Best Player Ever' by a Fellow Hall of Famer
Larry Bird received a nod as the GOAT by an international star who faced Larry in the Olympics.
Larry Bird is often looked at as one of the NBA's greatest players? But is he the greatest player? While the GOAT debate has often been a fight between Michael Jordan and LeBron James, one Hall of Famer believes the former Boston Celtics star is the best to ever do it.
Larry Bird had a legendary NBA career
Even though Bird was a star at Indiana State, it wasn't enough to get him selected first overall in 1978. Or second, or third. Finally, the Celtics selected Bird sixth overall in the hopes he'd turn the franchise around.
Larry made his C's debut in 1979 after the team went 29-53, their worst record since 1950. Immediately, The Hick from French Lick dazzled fans everywhere, averaging 21.3 points and earning Rookie of the Year honors. By his second season, Bird led Boston to an NBA title, his first of three in Green and White.
Larry Legend only ended up playing 13 seasons but made a massive impact along the way. Bird was a 12-time All-Star, three-time MVP, 10-time All-NBA selection, and three-time All-Defense selection. He finished his career averaging 24.3 points, 10.0 rebounds, and 6.3 assists per game before retiring in 1992.
Oscar Schmidt declares Bird 'the best player ever'
Bird was a player unlike many had ever seen. At 6-foot-9, his passing and court vision were remarkable. He also became one of the first elite 3-point shooters in league history. But one player had a similar game to Bird, even though fans never got to see him in the NBA.
Oscar Schmidt is one of the greatest international players of all time. "The Brazillian Larry Bird", as he's termed in his Basketball Hall of Fame bio, is the Olympic scoring leader with over 1,000 total points. One of the Olympics Schmidt starred in was in 1992 in Barcelona. It was there when he and his countrymen fell to Bird and the United States "Dream Team".
In 2013, Bird had the honor of welcoming Schmidt into the Hall of Fame, standing on stage for the entirety of his enshrinement speech. Before saying anything about his own career, Schmidt paid an incredible amount of respect to the Legend … Larry Legend, that is.
"It's too easy to have Michael Jordan [and] Kobe Bryant as an idol," Schmidt said to open his speech. "The guy flies around and does whatever he wants. It's too easy. My guy doesn't run, doesn't jump, and plays the best out of everybody else. He is here."
After pointing to Bird and receiving applause from the crowd, Schmidt added, "This is my idol. The best player ever, in my opinion."
Could Larry Bird be the GOAT?
Jordan owns the top spot in many GOAT lists. Some lists also have James number one, or Kareem Abdul-Jabbar, or Bill Russell. But Bird's case as the best player ever is at least worth discussing.
The NBA was once a league struggling to gain traction. But soon after Bird and Magic Johnson arrived, the league went from airing Finals games on tape delay to taking center stage across the sports landscape. Bird's part in revitalizing the entire sport should never get overlooked.
Larry competed against some of the NBA's best players and teams … and defeated them. He battled against Isiah Thomas' Detroit Pistons and Julius Erving's Philadelphia 76ers regularly in the East, while also facing Magic's Lakers and Hakeem Olajuwon's Houston Rockets in the Finals. Facing that level of competition and routinely coming out ahead is a testament to not just the Celtics as a whole, but Bird specifically.
You can also look at Bird's career and make a case that nagging back issues prevented his numbers from being in the all-time ranks. Playing in just under 900 regular-season games, Larry's 21,791 points rank 36th in NBA history. But his career average of 24.3 points is 18th, meaning a fully-healthy Bird could have seen his total climb even higher.
It's OK not to have Bird as the greatest player of all time. But he should never be far away from the top spot, either.
All statistics courtesy of Basketball Reference.