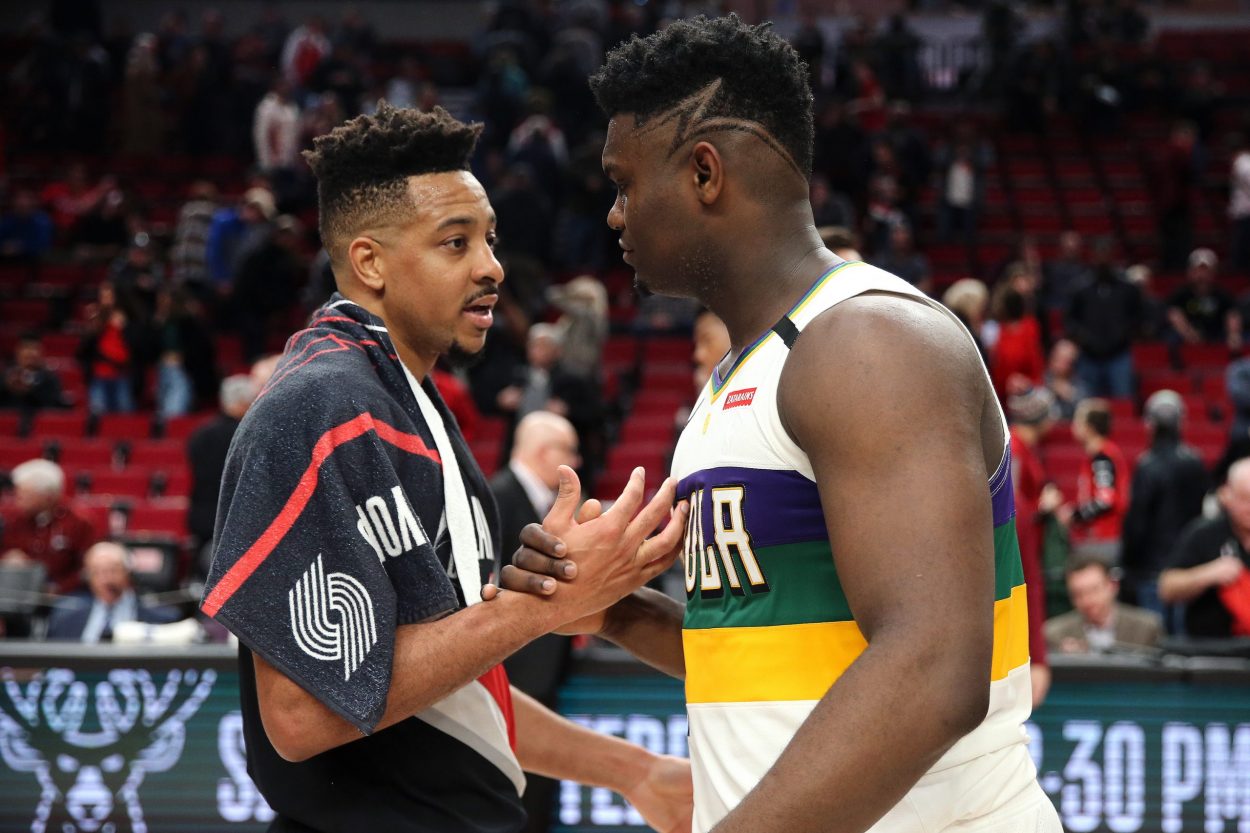 Zion Williamson's Injury Nukes the Pelicans' Playoff Chances and Makes the Blazers Clear Winners of the CJ McCollum Trade
New reports of Zion Williamson's injury woes bode poorly for the New Orleans Pelicans but could serve as a boon for the Portland Trail Blazers.
Straddling the line between NBA play-in participants and lottery dwellers, the New Orleans Pelicans decided to buy at the Feb. 10 trade deadline by trading for Portland Trail Blazers guard CJ McCollum. However, that move looks all the more regrettable in light of recent Zion Williamson injury news.
Williamson has yet to make his 2021-22 debut after offseason foot surgery and has experienced multiple setbacks in his recovery. The Pelicans probably hoped Zion's eventual return, paired with the addition of McCollum, could galvanize the team and chart a course for the future.
Instead, Williamson's woes all but nuke New Orleans' playoff hopes. It also makes the Blazers the clear winners of the McCollum trade.
Zion Williamson might need a second surgery to address his foot injury
Things have only gone from bad to worse for Williamson this season. He finds himself at perhaps his lowest point yet.
At the start of the season, Williamson came under fire for his purported weight gain during the rehabilitation process. The rumors hardly eased fears about Zion's durability and resulted in stern messages from Charles Barkley and others.
Now, he might not take the floor.
Christian Clark of NOLA.com reported that Zion could need a second surgery on his right foot. The team initially designated Williamson to resume practicing in December, but he experienced more soreness. Williamson remains without a timetable, though a second procedure would probably render him inactive for the remainder of the campaign.
The news comes as a devastating blow for New Orleans. Zion injury updates have been quite vague and somewhat inconsistent. It has never seemed entirely likely he would suit up this season.
Still, the possibility of a second surgery likely only adds to the growing list of concerns for Pelicans fans. Williamson's continued absence could also devastate New Orleans' playoff hopes.
The Pelicans will have a hard time making the playoffs
At 23-35, the Pelicans are the No. 11 seed in the Western Conference and on the outside looking in when it comes to making the play-in tournament. It's hard to see how they make up ground without Zion Williamson.
McCollum struggled in his Pelicans debut but has been brilliant in his last three games, averaging 29.7 points on 58.1% shooting (40% from beyond the arc) to go with 7.0 rebounds and 5.7 assists. Still, New Orleans is just 1-2 in its last three contests. What gives?
While McCollum is one of the better pure scorers in the NBA, he doesn't address the Pels' brutal team defense. New Orleans ranks 22nd in defensive rating and gave up over 120 points in two of its last three games.
Williamson's hypothetical addition to the rotation wouldn't necessarily fix the defensive issues. In fact, Zion posted negative defensive box plus-minus marks in his first two seasons. Still, he has a potential impact as a springy help defender, and the Pelicans could trade his deficiencies for the offensive playmaking and scoring he would provide.
Even with McCollum, the Pels still don't have enough scoring and creation, though Brandon Ingram has made gains in the latter department. After giving up Josh Hart in the McCollum trade, they lost defensive savvy and versatility.
This team just doesn't resemble a playoff contender.
Williamson's injury has ramifications regarding the CJ McCollum trade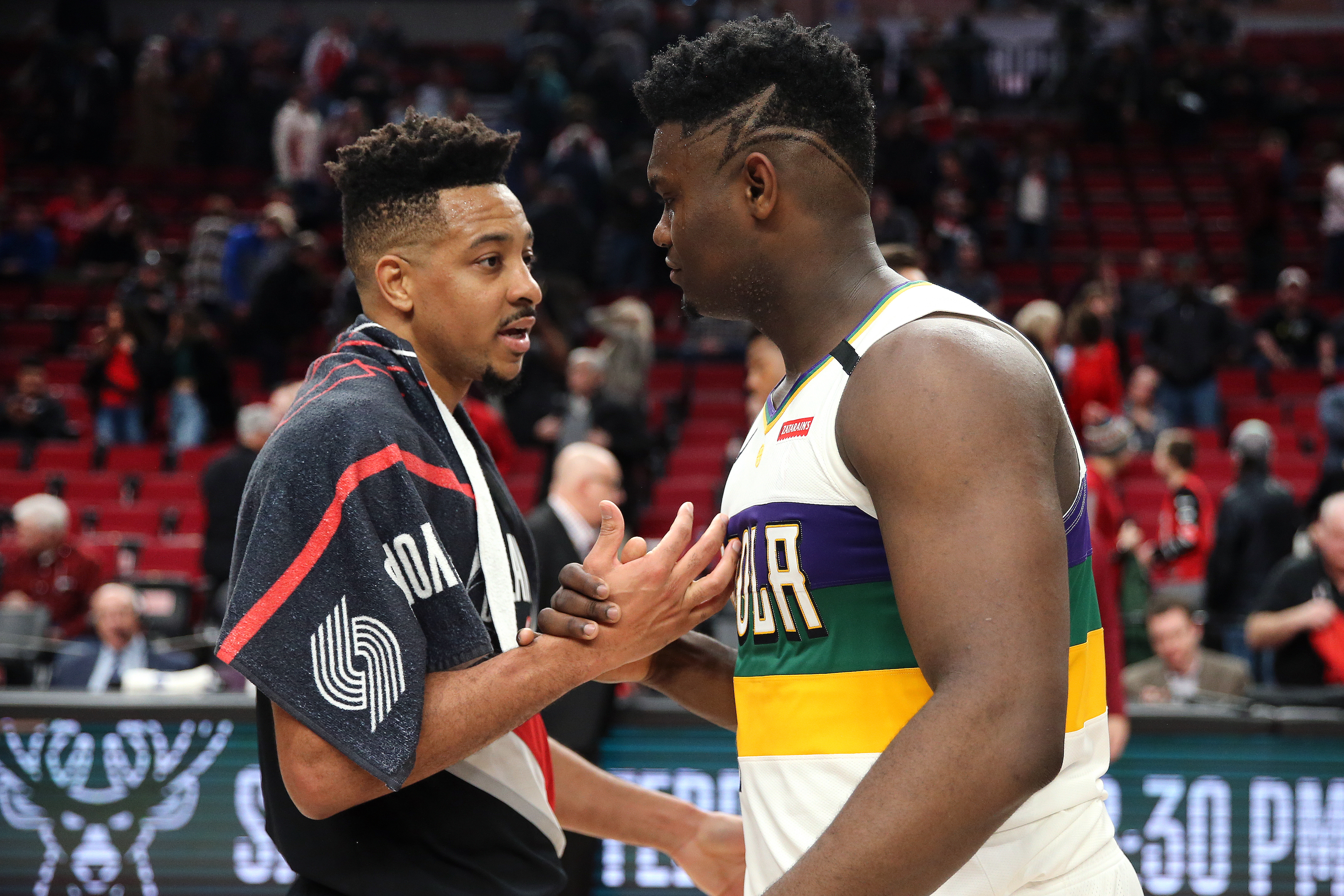 If Williamson misses the remainder of the season, the Pelicans could struggle to make the play-in tournament. Blazers fans, start your engines.
In addition to Hart, Portland received a protected first-round pick from New Orleans as part of the CJ McCollum trade. That pick conveys to the Blazers if it falls between the No. 5 and No. 14 selections. Given where the Pels currently sit, there's a good the choice will indeed convey.
Such a scenario would give the Blazers more options in their effort to retool around Damian Lillard. They could package multiple firsts in an attempt to acquire a star. Additionally, Portland cleared a lot of cap by trading McCollum and Norman Powell. It could make a run at a number of impact players in free agency.
Meanwhile, Hart looks like a playable future option in Rip City after his stellar early showings with the Blazers. Hart averaged 25.0 points, 4.0 rebounds, and 3.5 assists in his first two games, shooting a whopping 53.3% from beyond the arc on 7.5 attempts per game. Sure, it's a small sample size. But the 26-year-old had emerged as a funky offensive playmaker and hyper-versatile defender in New Orleans. Now, he brings those attributes to Portland.
The Pelicans, on the other hand, saddled themselves with the nearly $70 million remaining on McCollum's contract in the next two seasons. Not to mention, they have to decide whether to hand Zion Williamson a max rookie extension, which is hardly the most straightforward commitment given his injuries.
According to Pelicans team president David Griffin (h/t NOLA.com), Williamson "reacted very positively" to the McCollum trade. But that deal could strip New Orleans of a top pick and foster luxury-tax issues for the Pelicans.
In reality, Zion's injury only solidifies the Blazers as winners of the CJ McCollum trade.
Stats courtesy of Basketball Reference.