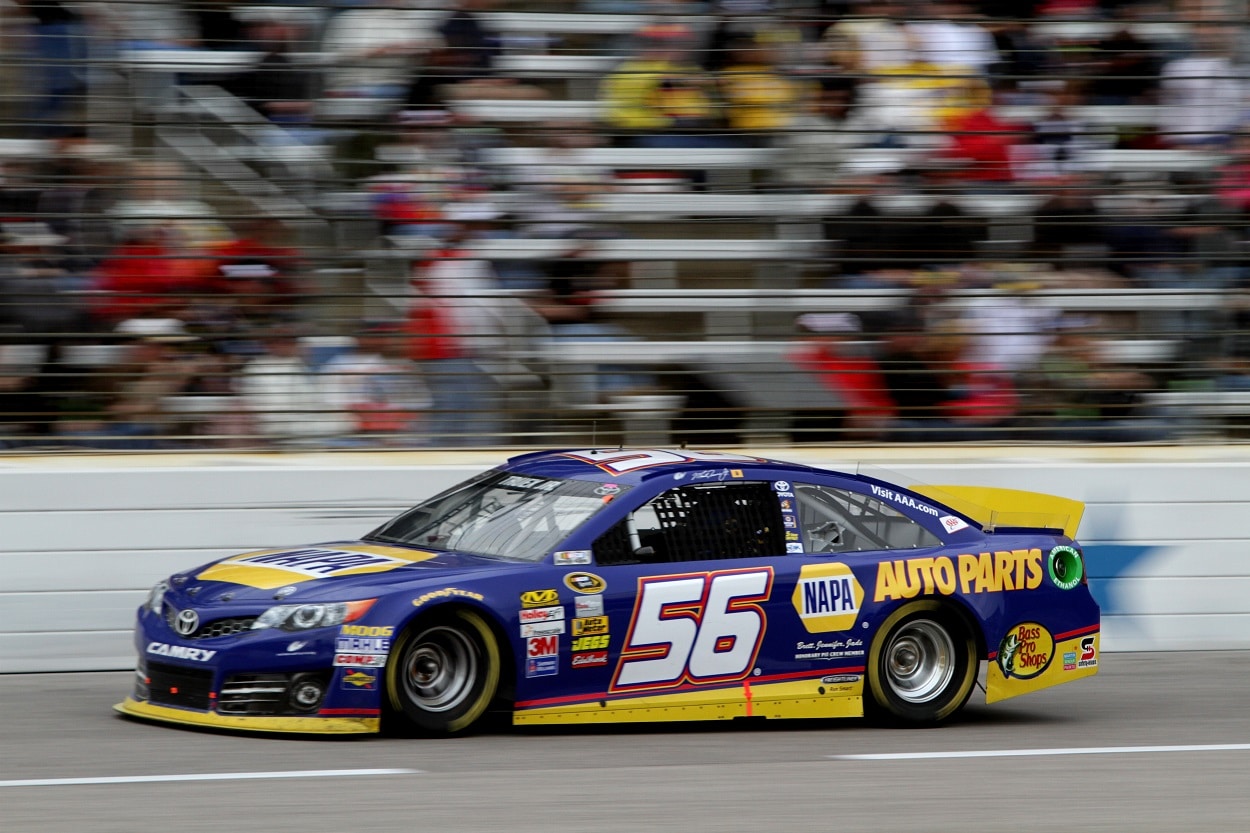 The 101 Greatest NASCAR Cup Series Drivers by Car Number: 50-59
Sportscasting names the greatest NASCAR Cup Series drivers to race car numbers 50-59.
Welcome to the sixth installment of Sportscasting's 10-part series, "The 101 Greatest NASCAR Cup Series Drivers by Car Number."
If you're only just now joining us, what we're doing here is exactly what we did in the past with our "101 Greatest NFL Players by Uniform Number" series. Simply substitute drivers for football players and car numbers for uniform numbers, and that's where we are.
If you've missed out on the first five installments or want a reminder of our choices for Nos. 00-49, head on over to the series hub page, where we're housing each piece for easy review.
And let's now roll on to the greatest NASCAR Cup Series drivers to helm Nos. 50-59.
No. 50: Geoff Bodine
The No. 50 hasn't been used all that much in the NASCAR Cup Series, and only eight drivers have reached double-digit starts in it, the most being Ricky Craven's 36. And of the 74 to use the No. 50 at least once, not one of them took it to Victory Lane.
The best season the number ever had was Geoff Bodine's 1982 Rookie of the Year campaign, during which he ran 24 races in the number and earned two poles, four top-fives, and 10 top-10s. As all of those stats are either records on their own or tied for a record with the number, he's our choice in this slot.
No. 51: Gober Sosebee
While the No. 51 has been used more than the No. 50, it's also never had a driver use it for more than 100 starts, the most being Cody Ware's 81.
But our choice here is Gober Sosebee, the only driver to take a checkered flag with the No. 51. Sosebee won twice in the number, once in 1952 and again in 1954, both wins coming in his home state of Georgia. He had the third-most starts in the number with 56 and, in addition to the two wins, recorded the most top-fives (16) and the most top-10s (26).
No. 52: Earl Ross
Most might go with Jimmy Means here, given his longtime connection to the No. 52. He's the only driver with more than 100 Cup Series starts in the number with 446 and is still connected to it as he fields a No. 52 car as a team owner in the Xfinity Series.
But in those 446 Cup Series starts, he never took a pole, never finished in the top five, had just 17 top-10s, and led only 51 of 112,799 laps while driving the No. 52. Means' best finish was a seventh-place run at Talladega in 1983.
Earl Ross, on the other hand, ran just 25 races in the number but recorded a victory, five top-fives, 10 top-10s (40%), and led 127 of 6,223 laps.
No. 53: Bob Burdick
As I'm guessing you're starting to notice, most of the numbers on this portion of this list haven't been the most widely used in the NASCAR Cup Series over the years. And the No. 53 is no different. While 65 different drivers have used it, only six started more than 10 races in it, the most being Jimmy Helms with 60.
But of those six, none recorded a win or a top-five, and only two earned a top-10. So our choice in the No. 53 slot is just below that double-digit line. Bob Burdick made just nine starts in the number from 1960 to 1962 but remains the only driver to take the No. 53 to Victory Lane in the NASCAR Cup Series, doing so in Atlanta in '61.
Burdick, to this day still the only Nebraska-born driver to ever win a Cup Series race, also recorded an additional top-five and five top-10s.
No. 54: Lennie Pond
This was a tough call. Just 39 drivers have started at least one NASCAR Cup Series race in the No. 54, and only two have more than 100, Jimmy Pardue (178) and Lennie Pond (141).
While Pardue has the edge in victories, two to one, we're still going to with Pond here. For one, he won 1973 Rookie of the Year using the number. And secondly, his victory was a big one as he took the checkered flag at the 1978 Talladega 500, at the time the fastest 500-mile race in NASCAR history at 174.7 miles per hour. Pond also holds the edge in top-five finishes, 37 to 27.
No. 55: Junior Johnson
Making his second appearance on the overall list is NASCAR Hall of Famer Junior Johnson in the No. 55 slot.
One of just six drivers to make double-digit Cup Series starts in the number with 42, Johnson recorded five of his 50 career victories in the double-nickel with 11 top-fives and 17 top-10s.
The only other driver in contention for this slot was Tiny Lund, who recorded four victories in the number in 119 starts, including the 1963 Daytona 500.
No. 56: Martin Truex Jr.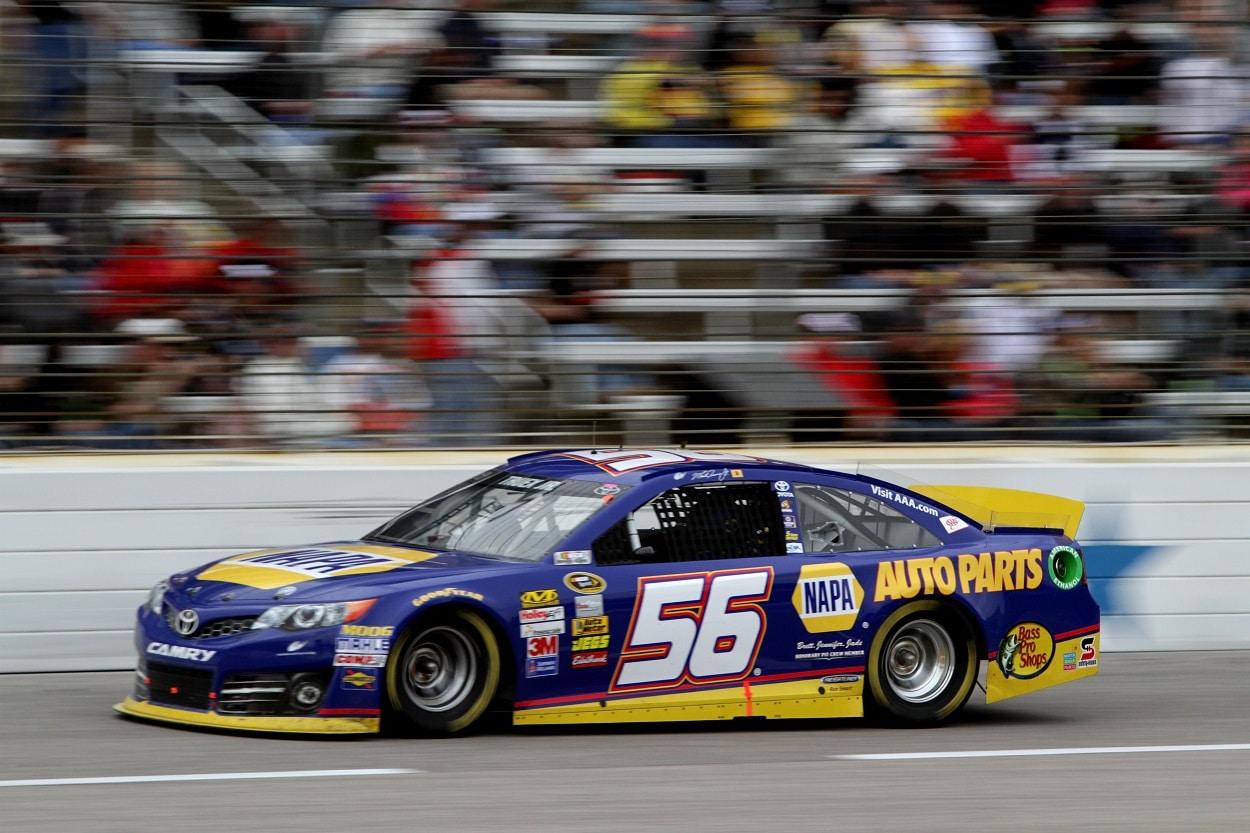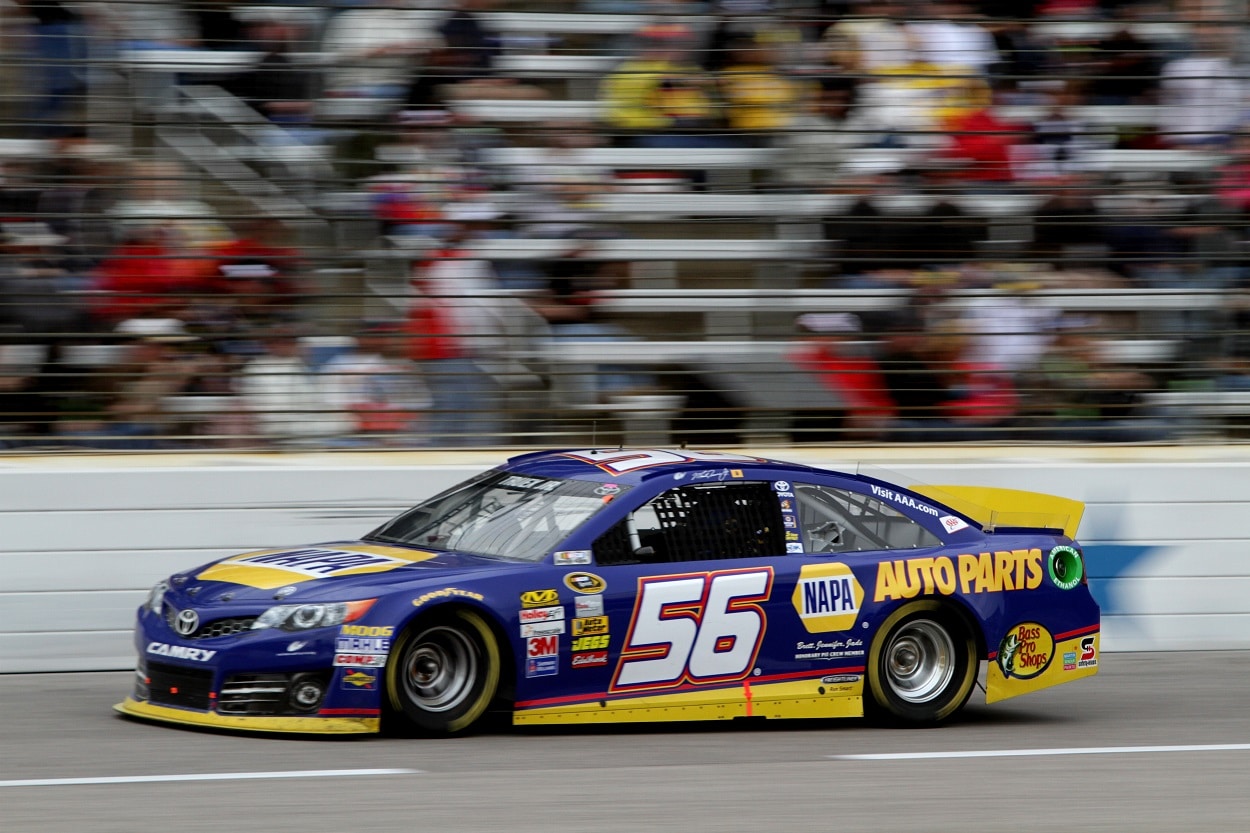 One of just two drivers to take the No. 56 to Victory Lane in the NASCAR Cup Series and the only one with more than 100 starts in it, Martin Truex Jr. is our choice here.
After driving the No. 1 for the first six years of his career, Truex spent four years in the No. 56 for Michael Waltrip Racing from 2010 to 2013. In 144 starts during that stretch, the New Jersey native recorded the number's second-ever Cup Series victory in 2013 at Sonoma Raceway, the only win since Jim Hurtubise took the checkered flag in Atlanta in 1966.
Truex leads all statistical categories in the No. 56 with 18 top-fives, 53 top-10s, 1,028 laps led, and three poles.
No. 57: Jimmy Pardue
The sparingly-used theme continues as just 10 drivers have made double-digit NASCAR Cup Series starts in the No. 57, with Johnny Halford in the lead with 33. Only 32 drivers have made at least one start in the number, and none took it to Victory Lane.
So, once again, we've got a bit of a default winner. With victories taken out of the equation, we next looked at top-five finishes, and Jimmy Pardue owns the most with three. And as Pardue made just seven starts in the No. 57, we like the percentage, so he gets the nod here.
No. 58: Johnny Allen
One of the five least-used numbers in NASCAR Cup Series history, the No. 58 hasn't been used more than 20 times by any driver in history. Johnny Patterson had exactly 20 starts in the number from 1952 to 1954 and recorded four top-fives and an additional top-10.
But we're going to roll with Johnny Allen here. The South Carolina native made just three starts in the No. 58, all in 1962, and earned the number's only win with a narrow six-inch victory at Bowman Gray Stadium in Winston-Salem, North Carolina. Allen finished fourth in each of his other two starts in the number.
No. 59: Tom Pistone
Nicknamed "Tiger" long before Eldrick Woods was even born, Tom Pistone is the easy call at No. 59.
One of just three drivers to make more than 10 starts in it, Pistone ran 95 of his 130 career Cup Series races in the No. 59, recording a pair of victories, 23 top-fives, and 41 top-10s.
Lloyd Moore was the only other driver to take the number to Victory Lane with a 1950 win at Winchester.
Stats courtesy of Racing Reference
Like Sportscasting on Facebook. Follow us on Twitter @sportscasting19 and subscribe to our YouTube channel.