16th Hole TPC Scottsdale Capacity: The Loudest Hole in Golf Can Hold More Fans Than Madison Square Garden
If you roll up to the 16th hole at TPC Scottsdale Stadium Course in the summer, you won't see what all the fuss is about. Sure, the picturesque view overlooking the Arizona mountains is unique, but there's nothing else particularly special about the short par 3 itself.
But every February, the 16th transforms from a serene desert hole to the rowdiest party in golf. Two large sections of bleachers and hundreds of skyboxes envelop the par 3 to create an outdoor stadium unlike anything else on the PGA Tour.
So, what is the capacity of the iconic 16th hole at TPC Scottsdale, and how does the size compare to other stadiums around the country?
How many fans does the 16th hole at TPC Scottsdale hold?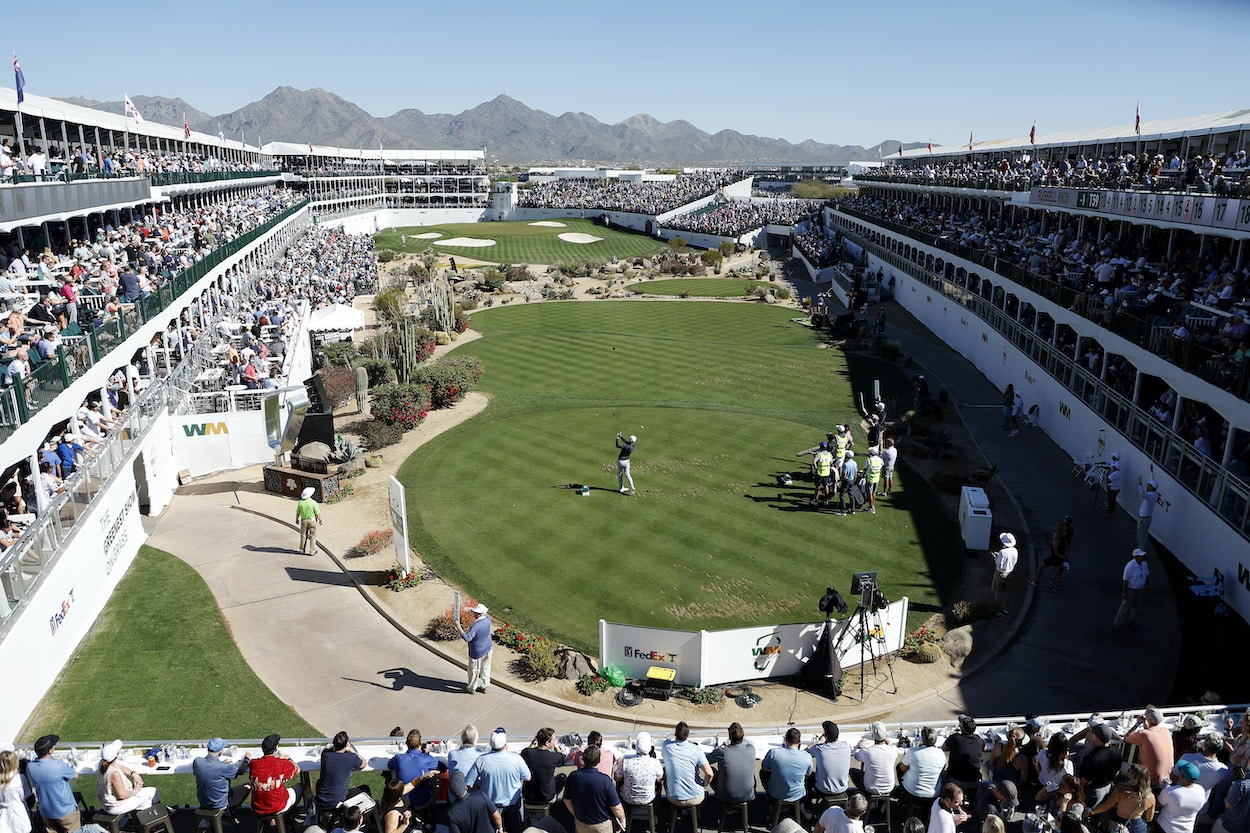 The Waste Management Phoenix Open is a refreshing breath of fresh air for young golf fans everywhere. It's one of the only events on the PGA Tour schedule where the written and unwritten rules of golf fandom don't exist. At TPC Scottsdale, the louder the better.
This is especially true at the par-3 16th hole, otherwise known as the loudest hole in golf. According to AZCentral, nearly 20,000 fans pack the stands and skyboxes surrounding the 16th hole every year. Incredibly, that only accounts for 6-10% of the tournament attendance on most Saturdays, as hundreds of thousands of spectators pack the grounds of TPC Scottsdale every year.
How does the capacity at the 16th hole compare to actual stadiums, though?
Well, if the 16th hole grandstands were a college football stadium, it would be larger than two stadiums at the Division 1 level, per BetMGM: Jerry Richardson Stadium (UNC Charlotte) and Warren McGuirk Alumni Stadium (UMass).
The comparison to basketball arenas is even more impressive. The 16th hole at TPC Scottsdale would be the fifth-largest arena in terms of capacity in the NBA (if assuming a capacity of 20,000). Madison Square Garden, for reference, holds 19,812 fans, per BetMGM.
Attending the WM Phoenix Open should be a bucket-list item for every golf fan out there.