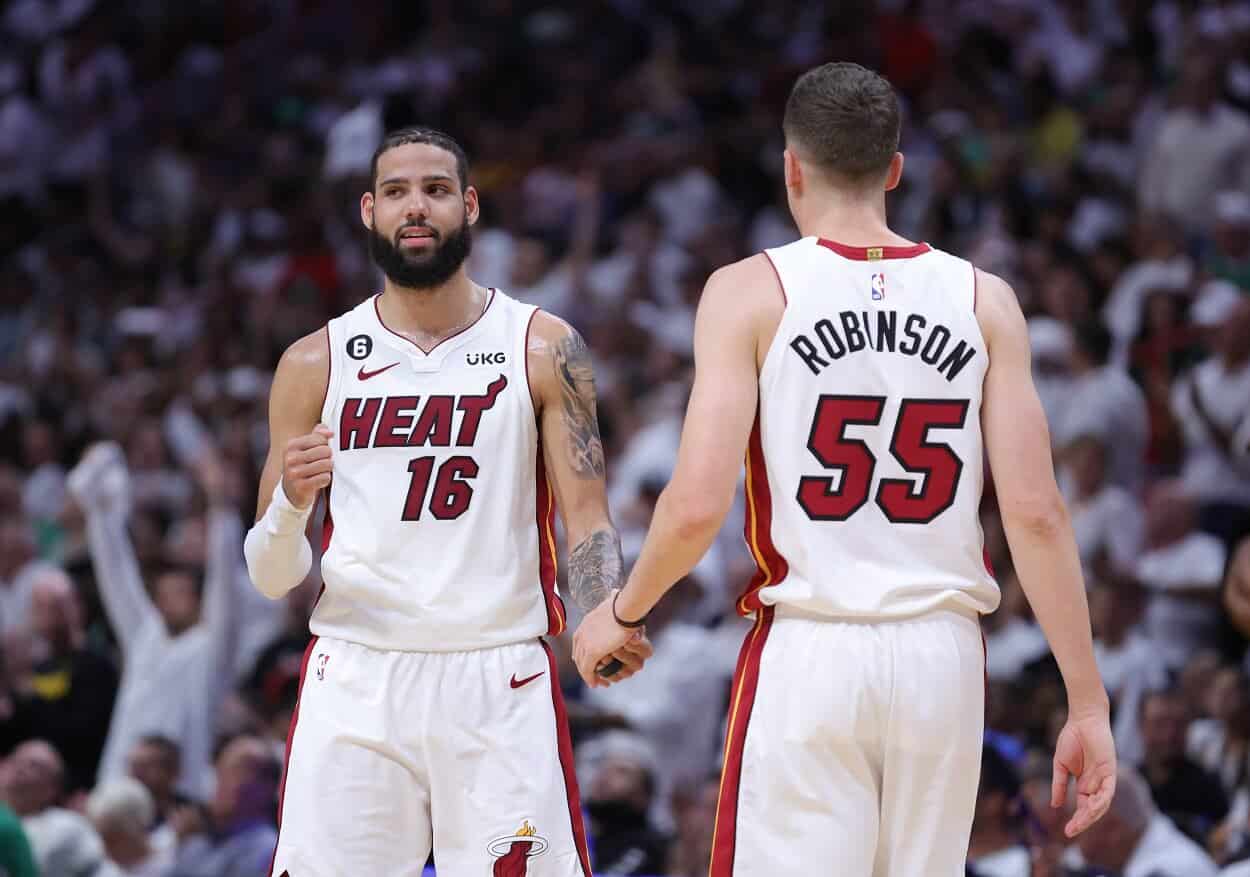 2023 NBA Finals: How Many Undrafted Players Do the Miami Heat Have on Their Roster?
A look at the undrafted players on the Miami Heat roster for the 2023 NBA Finals.
After winning a decisive Game 7 against the Boston Celtics in the Eastern Conference Finals, the Miami Heat find themselves back in the NBA Finals for the first time since losing to LeBron James and the LA Lakers in the Orlando bubble in 2020.
This year's matchup against two-time NBA MVP Nikola Jokic and the top-seeded Denver Nuggets marks the seventh Finals appearance for the Heat, who've gone 3-3 in their previous six.
But this roster is nothing like we've ever seen from Miami. Truth be told, this is one of the more unique rosters in NBA Finals history. Sure, they've got plenty of star power and notable names in Jimmy Butler, Bam Adebayo, Tyler Herro, Kyle Lowry, and Kevin Love. (We'd certainly include Victor Oladipo if he were healthy for this series.)
However, the Heat also have plenty of names the casual NBA fan wouldn't recognize at all. In fact, Miami has seven players on their Finals roster that went undrafted. That's certainly not typical for any NBA team — let alone one that's competing for the richest prize in the game. It should also be noted that there were another two (Jamal Cain, Orlando Robinson) who helped the Heat get to this point but weren't eligible to play in the postseason as they played on two-way contracts this year.
Here's a quick look at those (in alphabetical order) who never heard their name called on NBA Draft night and how they made their way to South Beach.
Udonis Haslem
Easily the most notable name on this list, Udonis Haslem has been on the Miami Heat roster for every single one of their NBA Finals appearances, which obviously means he's won three titles.
Undrafted out of Florida in 2002, the four-time All-SEC selection took his talents to France for a year before signing with the Heat on August 6, 2003. And he's been with Miami ever since. Haslem signed a one-year deal prior to this season, his 20th, and averaged 3.9 points in seven regular-season appearances.
Haywood Highsmith
Undrafted out of what was then known as Wheeling Jesuit University (now just Wheeling University) in 2018, forward Haywood Highsmith began his professional career in the NBA G League with the Delaware Blue Coats. He appeared in five games with the Philadelphia 76ers in 2019 on a two-way contract.
After a season in Germany, the Division II All-American returned to the U.S. in 2021 for a third run with the Blue Coats. Highsmith signed his first 10-day contract with the Miami Heat in December of that year and earned a standard NBA contract in March 2022. The Baltimore native appeared in 54 games for Miami during the 2022-23 regular season, starting 11, and averaged 4.4 points and 3.5 rebounds.
Caleb Martin
Undrafted in 2019 out of Nevada, Caleb Martin began his NBA career on a 10-day contract with the Charlotte Hornets, where he teamed with twin brother Cody, who was taken in the second round of that year's draft.
During his two seasons in Charlotte, Martin also spent time in the G League with the Greensboro Swarm.
Ahead of the 2021-22 season, the two-time All-Mountain West selection signed a two-way contract with the Miami Heat. Like his time with the Hornets, Martin has spent time in the G League while with the Heat, splitting time with the Sioux Falls Skyforce.
He had his contract converted to a standard deal in February 2022 and signed a new contract with Miami this past offseason. Martin appeared in 71 regular-season games during the 2022-23 campaign, starting 49, and averaged 9.6 points and 4.8 rebounds.
Duncan Robinson
Undrafted out of Michigan in 2018, Duncan Robinson soon after inked a Summer League Deal with the Miami Heat and averaged 12.4 points on 58% shooting, which earned him a two-way contract with the franchise.
As the team had multiple players injured heading into the 2018-19 season, Robinson made the opening-day roster but was eventually assigned to the G League, where he set multiple Sioux Falls Skyforce records.
He signed a standard NBA contract in April 2019 and averaged double-digit points in each of the following three seasons. Robinson dropped a bit in the Heat's rotation during the 2022-23 regular season but has taken on a bigger role during these NBA Playoffs.
Max Strus
Of the seven players on this list, Max Strus averaged the most points for the Miami Heat this season, putting up 11.5 per game, good for the fourth-most on the team.
Undrafted out of DePaul in 2019, the Illinois native played in the Summer League that year with the Boston Celtics. He ultimately signed a two-way contract with the team but was waived before ever appearing in an NBA game. He then signed a two-way deal with the Chicago Bulls, splitting time with the Windy City Bulls of the G League.
Prior to the late-starting 2020-21 season, Strus joined the Miami Heat for training camp and eventually signed a two-way deal. After joining the Heat for the Summer League in 2021, he signed a standard NBA contract in August 2021.
Strus appeared in 80 regular-season games this year, starting 33, and has continued to play well throughout the postseason.
Gabe Vincent
Undrafted out of UC Santa Barbara in 2018, Gabe Vincent signed an Exhibit 10 contract with the Sacramento Kings that October but was waived just a few days later, at which point he joined the Stockton Kings of the G League.
In January 2020, he signed a two-way contract with the Miami Heat, splitting time between Miami and Sioux Falls. Vincent played sparingly during Miami's run to the Finals in 2020 but has seen increased minutes over the last three seasons.
During the 2022-23 regular season, he averaged 25.9 minutes per game in 68 appearances, exactly half of which were starts. Vincent has upped his production even further in the postseason and has also become a full-time starter. In 17 games prior to these NBA Finals, the California native has averaged 13.1 points and 3.9 assists in 31.2 minutes.
Omer Yurtseven
Undrafted out of Georgetown in 2020, Omer Yurtseven signed an Exhibit 10 deal with the Oklahoma City Thunder but spent all of his playing time with that franchise in the G League with the Oklahoma City Blue.
The Uzbekistan native joined the Miami Heat for the Summer League in 2021 and signed a new deal with the franchise shortly after. While he appeared in 56 games in 2021-22, starting a dozen of them, Yurtseven appeared in only nine games for the Heat in 2022-23, averaging 4.4 points in 9.2 minutes.