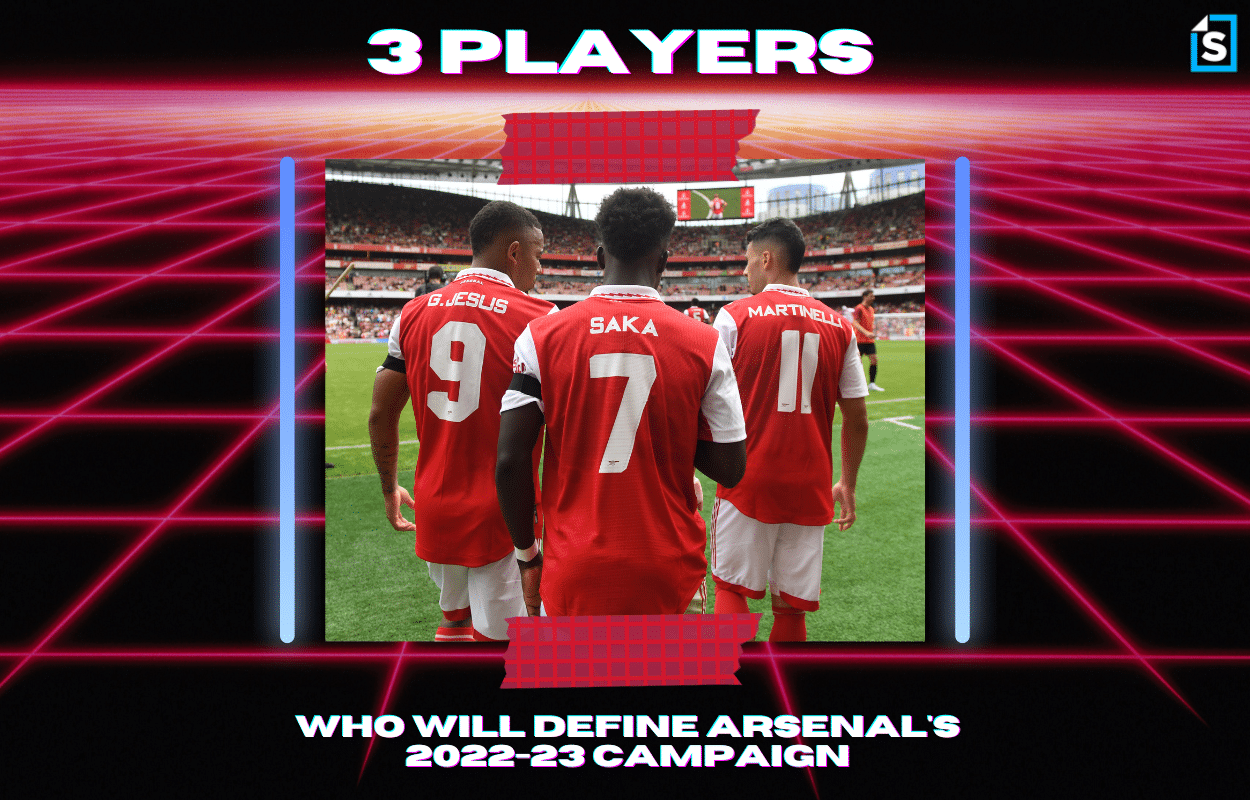 3 Players Who Will Define Arsenal's 2022-23 Campaign
With Mikel Arteta's men chasing a trip back to the Champions League, which players will make or break Arsenal's 2022-23 campaign?
While the 2021-22 Premier League season ended in disappointing fashion, Arsenal showed the clearest signs of growth in quite some time. Under Mikel Arteta, the Gunners cleared the decks, built around their young core, and started to improve. Now, with a new striker in the fold, it's time to prove they're actually moving in the right direction.
With the new season on the horizon, let's take a look at the squad and select one player from the defense, midfield, and forwards who will play a crucial role in the upcoming Arsenal campaign (Aaron Ramsdale would get the nod for goalkeepers, so we don't really need to discuss him).
Is the elusive 'fourth place trophy' back on the menu? Let's break it down.
Defenders: William Saliba finally returns to Arsenal
In fairness to the rest of this position group, there were plenty of other contenders for this place. Can Kieran Tierney and Takehiro Tomiyasu, for example, remain healthy enough to make a significant impact? William Saliba, however, is simply too much of a potential game-changer to ignore.
When Arsenal signed the young Frenchman, it looked like a major coup. Here was a bright young talent, the type of players that late-era Arsene Wenger would chase and fail to land ala Kylian Mbappe, choosing the Gunners. Two years of loans took some shine off that transaction, though.
Now, it seems like Saliba has finally arrived. After a strong year in France, he looks strong, fast, and mature. He's immediately slotted into the right center-back role, sliding Ben White over to right-back, and seems set to begin the campaign in the starting lineup.
While there will undoubtedly be some growing pains and rotation — Arsenal are back in Europe, even if it's just the Europa League — but Saliba can be a game changer. His physical gifts, pace, and composure on the ball will further allow the club to play something of a 2-3-5 in possession which, if preseason indications and Manchester City parallels hold true, is where Arteta wants to get his team. That should help get the Gunners' offense firing, and if Saliba can keep the back door shut, the goal difference numbers will improve.
Midfield: Martin Odegaard will have to supply a new-look attack
Among the midfielders, things are a bit more cut and dry. Arsenal's chances of success will be tied pretty closely to Martin Odegaard.
Last year, the Norwegian midfielder put in a solid showing during his first full season in North London. He regularly pulled into the right half-space, combining with Bukayo Saka, and kept the attack ticking. With all due respect to Alexandre Lacazette and Pierre-Emerick Aubameyang, though, the playmaker wasn't working with the most prolific attack.
This season, though, things look different. Arsenal have, of course, signed Gabriel Jesus and, if the preseason is any indication, will be a much more dynamic squad. That places the onus on Odegaard, both as the new captain and the team's leading creator, to make things happen in and around the opposition's final third.
Arteta essentially confirmed that reality after a comfortable 6-0 preseason win over Sevilla. "Gaby [Jesus] makes Odegaard better," the manager said, according to an official Arsenal.com transcript. "We needed someone to make him look better."
As somewhat mentioned above, the main place Arsenal can improve is on offense; they simply didn't have enough firepower to reach the top four last season. With Gabriel Jesus, Gabriel Martinelli, and Saka leading the line, things are looking much more promising, but Odegaard will have to pull the strings to hold everything together.
Forwards: Gabriel Jesus has to step up and lead the Gunners' line
Similar to the defenders, Arsenal actually have a handful of game-changers here. Bukayo Saka has emerged as a star and carried the Gunners' attack for stretches of last season. Gabriel Martinelli hasn't really put it all together yet, but his potential is plain to see. The biggest factor, however, is undeniably Gabriel Jesus.
As any Arsenal supporter will tell you, the Gunners essentially played the 2021-22 campaign without a striker. Landing Jesus not only fills that void but gives Mikel Arteta the exact sort of forward he desires to lead the line.
If you look at his preseason performances (with the caveat of them only coming in friendlies), Gabriel Jesus' talents are plain to see. The center forward scores goals, but he also plays a key role in Arsenal's press. He's also more than capable of coming short or drifting wide to get involved in build-up play before sprinting into the box; last year, Lacazette would come short and then fail to make up the ground, leaving a gaping hole inside the opposition box.
With all of that being said, though, it remains to be seen if the Brazilian can remain a consistent scoring threat across the entire campaign. Based on his time at Manchester City, he seems to be a streaky confidence-based player, but it's tough to divorce that from the fact that he frequently bounced in and out of the lineup. While it's reasonable to assume that having Arteta's trust and an unquestioned grasp on the starting striker role will give him confidence, the proof will be in the pudding.
Last year, Arsenal came close to reaching the top four ahead of schedule. If we take director of football Edu Gaspar at his word, though, the 2022-23 campaign is when the Gunners are due to take a step forward (h/t The Athletic). At this point, though, we'll just have to wait and see what pans out.
Like Sportscasting on Facebook. Follow us on Twitter @sportscasting19 and subscribe to our YouTube channel.