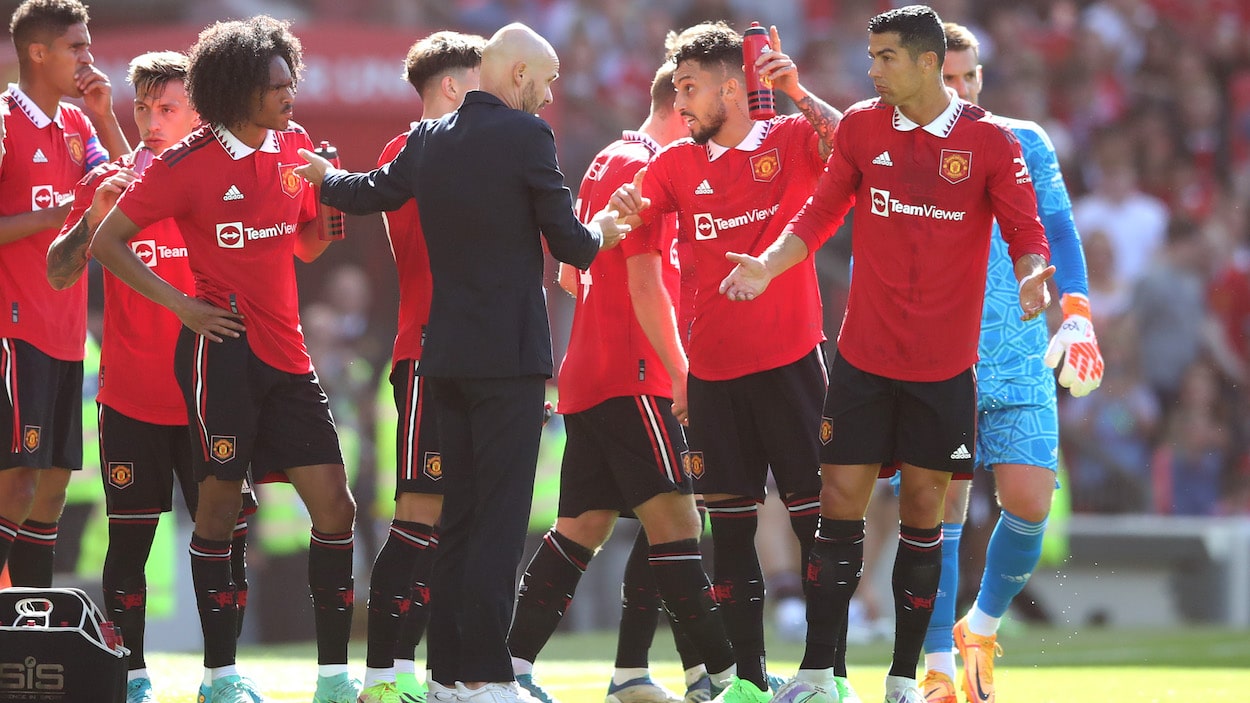 Manchester United Manager Erik ten Hag Blasts Cristiano Ronaldo and Diogo Dalot for Leaving Old Trafford Early
The Cristiano Ronaldo and Erik ten Hag relationship at Manchester United isn't off to a good start and it may have just gotten worse.
New Manchester United manager Erik ten Hag is still a few days away from coaching his first official match for the storied soccer club. However, his tenure with the Red Devils is already off to a rocky start. His biggest-name player, Cristiano Ronaldo, has already asked for a transfer, and now the manager and superstar are clashing over Ronaldo and his teammate, Diogo Dalot, leaving United's Old Trafford stadium before the team's friendly vs. Rayo Vallecano ended.
Manchester United manager Erik ten Hag is not happy with Cristiano Ronaldo and Diogo Dalot
After Ten Hag took over on the red side of Manchester, Ronaldo asked out of the team. Manchester United hasn't found any takers yet (outside of a massive Saudi Arabian offer), so Ronaldo is still part of the 2022-23 squad.
However, Ronaldo skipped the team's preseason tour to Thailand and Australia. He is now back training with the squad and played in his first preseason friendly at home against Spain's Rayo Vallecano at Old Trafford.
Ronaldo came off after the first half and promptly left the stadium before the game concluded. Teammate Diogo Dalot, who didn't play but was expected to watch the game from a suite, sources tell ESPN's Rob Dawson, also made an early getaway.
This caused Ten Hag to lash out at his veterans, chastising them for their lack of team cohesion.
"It is unacceptable for everyone. I am telling them it's unacceptable," Ten Hag told Dutch news outlet Viaplay Sports. "We are a team. A squad. Until the end we stay together."
Ronaldo has yet to respond. However, it's hard to imagine the global superstar is happy about getting called out by his new manager, who is coaching on one of the biggest stages in sports, the English Premier League, for the first time ever.
The new Man United skipper is dealing with players unlike ones he's coached in the past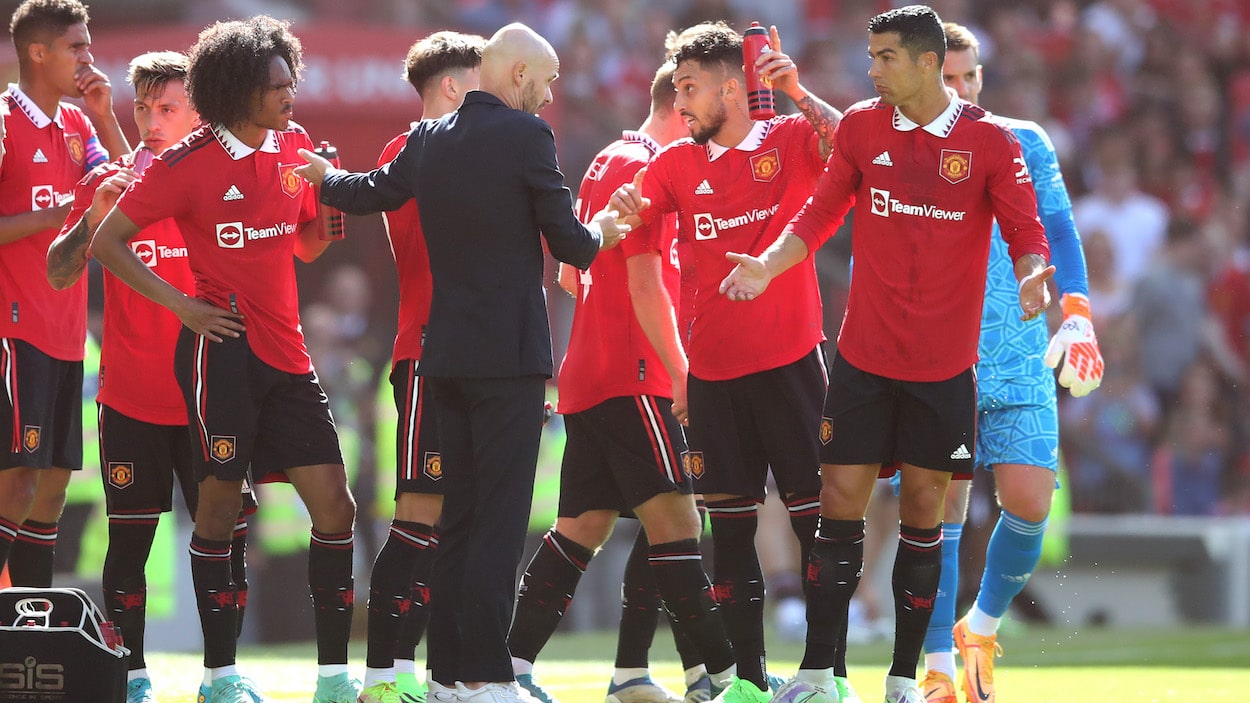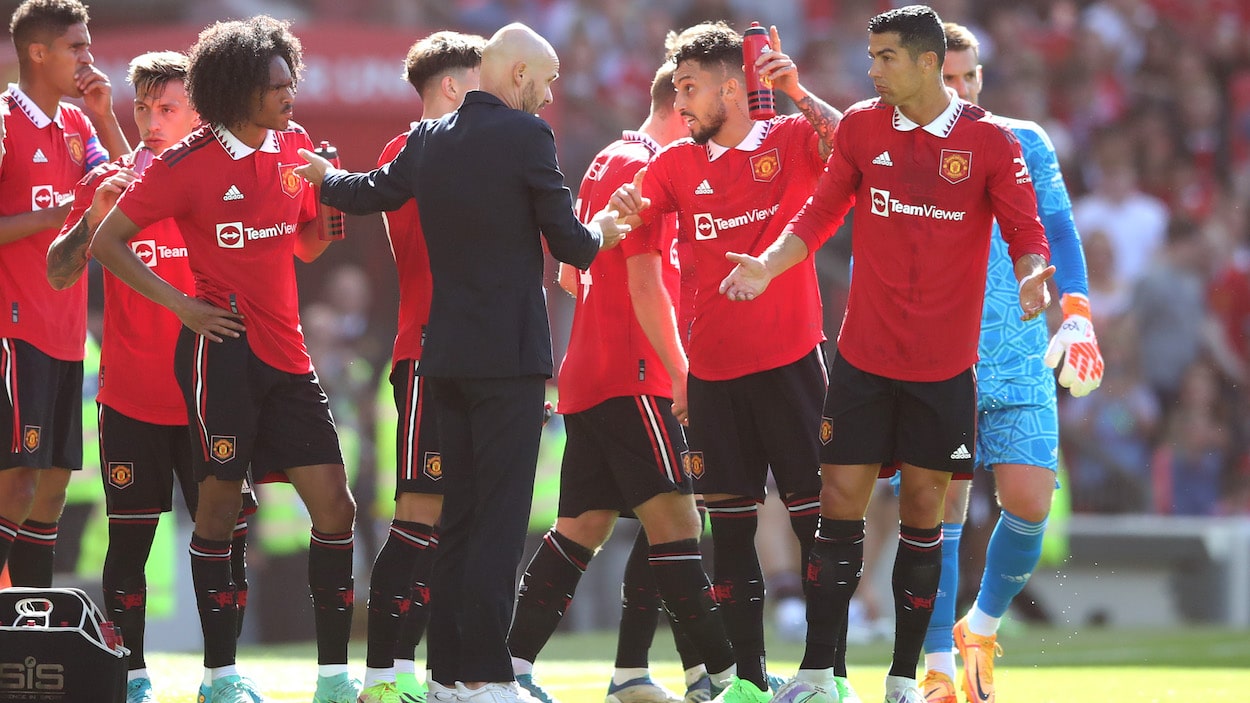 Erik ten Hag spent the last four-plus years coaching Ajax in the Netherlands. Ajax is the most prestigious team in the Eredivisie but is nowhere near as big a club (these days) as Manchester United.
Ten Hag coached plenty of well-known stars at Ajax like Daley Blind, Dušan Tadić, Klaas-Jan Huntelaar, and Maarten Stekelenburg. He also managed up-and-coming names like Frenkie de Jong, Donny van de Beek, and Matthijs de Ligt.
However, the 52-year-old skipper never had to deal with players on the level of Cristiano Ronaldo.
After the transfer request and the preseason-friendly incident, it seems as though the relationship isn't off to the best start.
This isn't necessarily a bad thing long-term. Soccer managers often clean house of big-name vets when they come in, and it turns out to be good for the club. Manchester City's Pep Guardiola famously did this at Barcelona, Bayern Munich, and City with positive results.
However, with Matchday 1 just days away (Sunday, August 7 vs. Brighton), Ten Hag and United better resolve the Ronaldo saga soon before it becomes a major distraction.
Like Sportscasting on Facebook. Follow us on Twitter @sportscasting19 and subscribe to our YouTube channel.