5 Potential NBA Trades That Could Shake up the Offseason
Free agency in 2019 was a feeding frenzy, but these five potential NBA trades could also shake up the offseason and change the landscape.
During the first week of the NBA offseason, we saw a major trade alter the landscape of the league. Kawhi Leonard wanted to a running mate to join him in Los Angeles, so the Clippers shook the NBA world by trading for MVP candidate Paul George. We don't expect that to be the only trade happening before the season starts, so today we will look at five other NBA trades that might shake up the offseason.

Steven Adams to the Hawks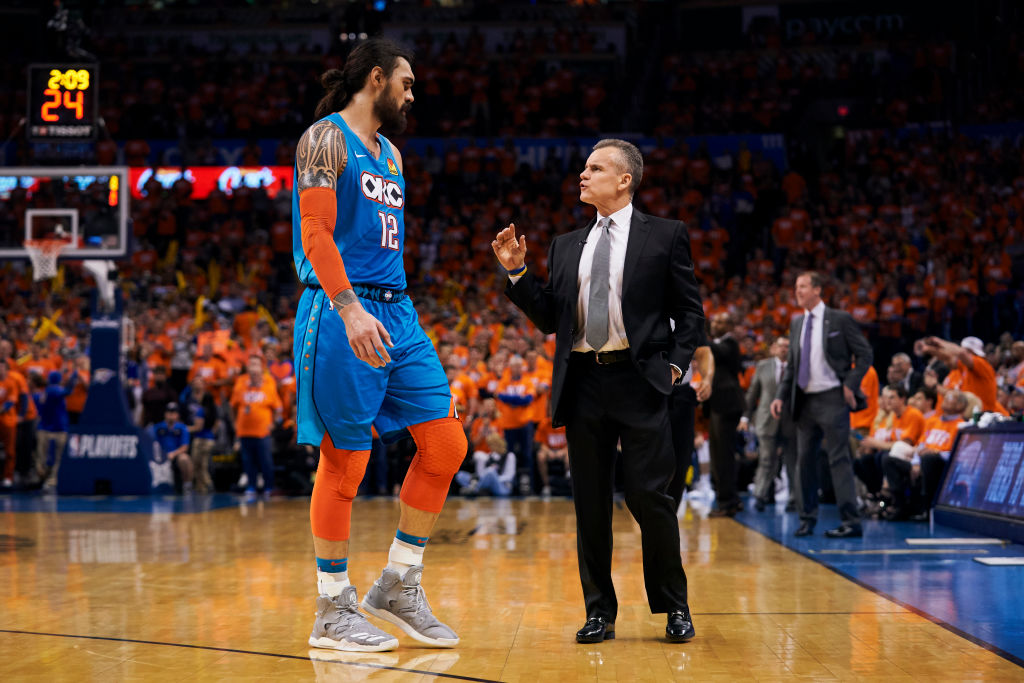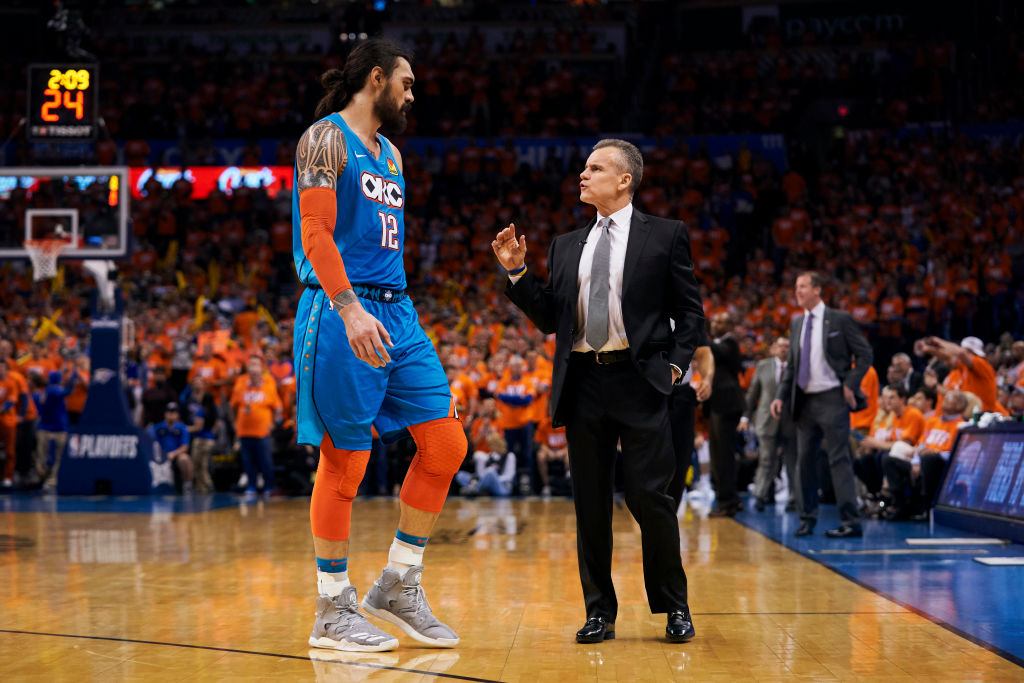 Atlanta Hawks receive: Steven Adams

Oklahoma City Thunder receive: Allen Crabbe, Jaylen Adams, Omari Spellman, 2021 second-round pick

Adams is one of the toughest big men in today's NBA, and he has grown into a very capable defender for the Thunder. However, OKC is in salary cap hell, even after trading away George, so expect GM Sam Presti to shed as much salary as possible to get under the luxury tax. The Thunder are getting younger by the minute, so Crabbe would be a welcome addition to the roster.

Russell Westbrook to the Hornets
Charlotte Hornets receive: Russell Westbrook

Oklahoma City Thunder receive: Nicolas Batum, Marvin Williams, a 2021 first-round pick (top-10 protected), unprotected 2022 first-round pick

All possible NBA trades in the 2019 offseason seem to involve the Thunder, and this one is no different. With George headed to the Clippers, former MVP Russell Westbrook also requested a trade out of OKC. One possible destination is Charlotte, who has the contracts to match up with Westbrook's salary. The Hornets can also offer draft picks that Miami and Detroit, two other likely Westbrook suitors, can't. This would be a good fit for Westbrook. As his athleticism declines on the tail end of his career, he can play off the ball with Terry Rozier at times.

The Spurs and Pacers swap rising young talents
Indiana Pacers receive: Derrick White, Chimezie Metu

San Antonio Spurs receive: Domantas Sabonis

Sabonis is a very good big man who was acquired by Indiana when it traded Paul George. He and Myles Turner have quickly become two of the best young big duos in the East, but a trade to San Antonio could help his career take off. LaMarcus Aldridge is playing out of position in the current San Antonio Spurs lineup, so slotting him back into his natural power forward position would improve his numbers as well.

White, who averaged 15-3-3 in limited minutes last season, would give the Pacers more backcourt depth while Victor Oladipo recovers from a broken leg.

Eric Gordon to the Grizzlies
Memphis Grizzlies receive: Eric Gordon, 2020 second-round pick (via Memphis)

Houston Rockets receive: Jae Crowder, Kyle Korver

After drafting Ja Morant with the No. 2 pick in the 2019 NBA draft, the Grizzlies would be smart to pair him with a catch-and-shoot veteran player such as Gordon. He averaged more than 16 points per game coming off the bench in Houston last season, and he could provide offensive consistency the team will need after trading Mike Conley Jr.

Houston picking up Jae Crowder brings a level of defensive toughness only matched by Chris Paul. Meanwhile, Kyle Korver adds another marksman on a cheap expiring contract to the team.

Andrew Wiggins to the Raptors
Toronto Raptors receive: Andrew Wiggins, 2020 first-round pick

Minnesota Timberwolves receive: Serge Ibaka
There was a time when Andrew Wiggins was viewed as a can't-miss prospect, and the Minnesota Timberwolves rewarded him with a five-year max deal to show their trust in the young player. Now, he's a candidate to be moved in any number of NBA trades, even if his salary doesn't match his production.

That contract looks horrible now as Wiggins has seemingly plateaued due to a lack of willingness to improve his game on both ends of the floor. He is still owed $124 million over the next four years, so it is a smart move by the T-wolves to land Ibaka and get that money off the books.

Which trade is most likely to happen?
Do you think any of these NBA trades will happen before the 2019-20 season starts? Our best bet is Westbrook heading to Charlotte, as it is clear he doesn't want to be stuck on a team that may fight for the seventh or eighth seed in the conference. And as long as Oklahoma City is clearing salary and stockpiling picks, it might as well ship Steven Adams to the East, too.