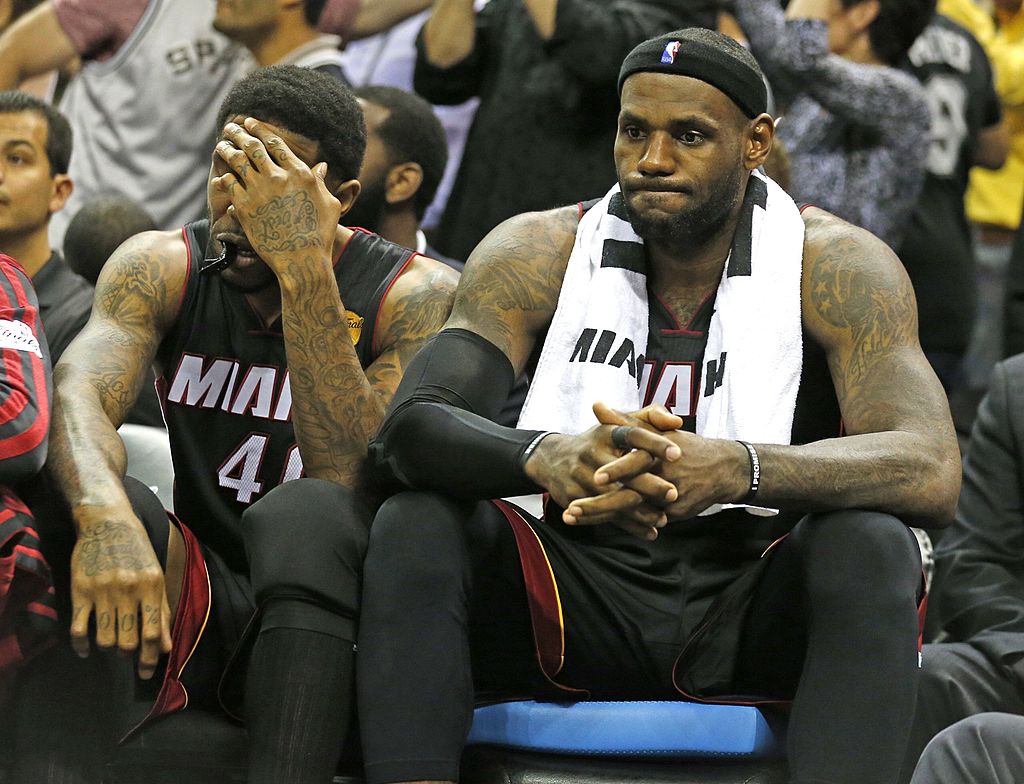 5 Times LeBron James Made NBA Players and Staff Miserable
Both former teammates and front offices have noticed that LeBron James has become the NBA's most dominant and polarizing figure.
Going from No. 1 overall pick to NBA champion, LeBron James is easily the most iconic basketball player since Michael Jordan and Kobe Bryant. But playing with James and being around him aren't always the easiest things. Teammates and front offices have noticed he's grown into the NBA's most dominant and polarizing figure.
Here, we look at five times LeBron made former NBA players and front-office staff miserable. How do you think the star player will affect the Lakers in 2019?
David Griffin
David Griffin recently spoke to Sports Illustrated about his time building a championship-caliber team in Cleveland with LeBron James. His comments were scathing. Griffin said: "Everything we did was so inorganic and unsustainable and, frankly, not fun. I was miserable … Literally the moment we won the championship, I knew I was gonna leave. There was no way I was gonna stay for any amount of money."
James didn't have much to say in response to Griffin's comments besides being shocked. He did tweet, "Alright alright. Enough is enough. The throne has been played with to much and I ain't for horseplay. Ether coming soon!"
Charles Barkley
LeBron and Charles Barkley have a history of beef that likely won't end until James retires. Barkley has routinely criticized his play, on-court demeanor, and commented negatively about aspects of his game. He also strongly feels LeBron isn't the best out there.
The former NBA star compared other players from James' generation (most notably Kobe Bryant and Tim Duncan) as having better careers due to their amount of championships. In response, James called Barkley a "hater" and just a "TV analyst." He believes Barkley places him in his crosshairs because he didn't achieve the same level of success during his career.
DeShawn Stevenson
Why do these athletes have beef with each other? DeShawn Stevenson's Wizards and James' Cavaliers had a heated rivalry from 2005 through 2008 seasons. King James was always a thorn in the Wizards' side during the playoffs.
Stevenson reportedly learned through Drew Gooden (both players' former teammate) of some off-hand comments James made about him. He wasn't happy with the self-proclaimed "King." This led to a long-standing feud between the two. Stevenson called a truce after finishing his NBA career in 2013.
Delonte West
Delonte West was a guard for the Cleveland Cavaliers during the 2010 NBA Playoffs. Allegedly, LeBron learned of relations between West and James' mother before Game 4 against the Boston Celtics. This led to chemistry issues for the team and Cleveland fans saying James quit in the elimination game. James left Cleveland for Miami at the start of the 2010 free agency period.
Lakers teammates
This one should be fresh in the minds of Lakers fans. Rumors swirled about Anthony Davis joining the Lakers, which reportedly would have involved trading a majority of the Lakers young core. This led to fans chanting "LeBron's gonna trade you" at numerous games afterward. It ultimately destroyed chemistry in the locker room.
James got his wish in the offseason. Los Angeles did secure a deal to land the NBA superstar.