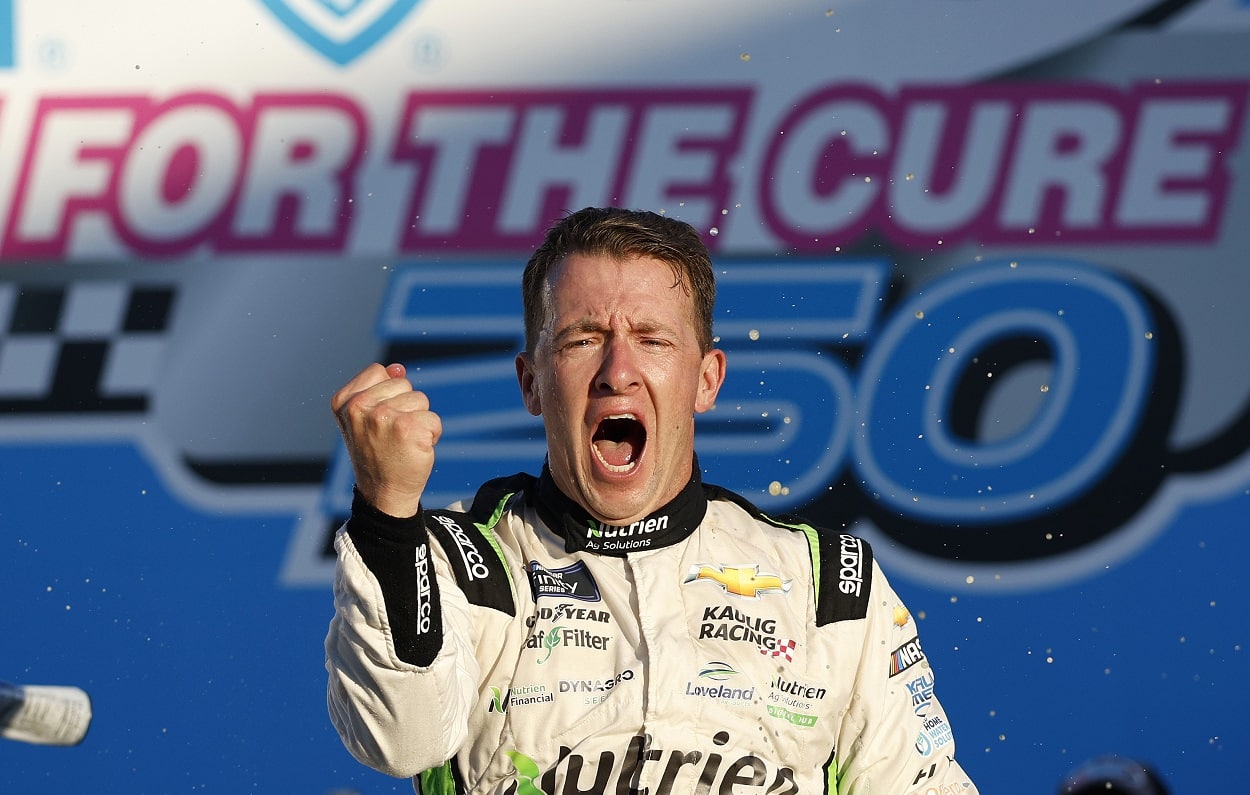 A.J. Allmendinger Just Made Kaulig Racing Look Like Absolute Geniuses
A.J. Allmendinger proved immediately that he deserved a full-time ride at Kaulig Racing.
A.J. Allmendinger had one of the most successful weeks of any driver in NASCAR this season as he prepared for the weekend at the Charlotte Roval and then delivered results that should validate his company's trust in him.
Kaulig Racing announced Wednesday that Allmendinger would be its full-time driver in the No. 16 car in the Cup Series next season after sharing that ride the last two years.
He then went out and won his fourth straight Xfinity Series race Saturday at the Roval to maintain his incredible perfect record in the series on that track. And he finished fourth Sunday in the Cup Series event, giving him a career-high two top-fives for the fifth time in his Cup Series career.
A.J. Allmendinger had middling success in his first full-time NASCAR stint
Now at age 40, Allmendinger has not been a full-time driver in the sport's top series since 2018, when he struggled to 22nd in the points standings in the No. 47 car for JTG Daugherty Racing. He spent five years in that car but had little to show for his effort aside from his first career win in 2014 at the Watkins Glen International road course in upstate New York.
His win came a little more than two years after his biggest career setback. 
Allmendinger made his first NASCAR starts in 2007 as a part-time driver in both the Xfinity and Cup series after years as an open-wheel racer, which helps explain his success on road courses since those are the bulk of open-wheel series schedules. 
He eventually worked his way to a full-time driver with Richard Petty Motorsports and seemingly got the break of his career when he signed with Team Penske in 2012 to drive the No. 22 car.
This was a full-time deal with one of the premier teams in the sport, and Allmendinger's career was set to take off. He finished second in the sixth race of the season at Martinsville Speedway and won his first pole award two weeks later at Kansas Speedway.
He had just managed his first consecutive top-10 finishes midway through the season at Sonoma Raceway and Kentucky Speedway when his season and career fell off track. NASCAR announced moments before the July 7 race at Daytona International Speedway that Allmendinger had tested positive for a banned substance. Allmendinger later told ESPN the substance in question was prescription Adderall, and he was suspended indefinitely.
He returned to the series for the October race at Charlotte Motor Speedway, but Team Penske had moved on with Sam Hornish Jr. in the No. 22 car, relegating Allmendinger to the No. 51 car for Phoenix Racing, an underfunded single-car operation.
He drove a part-time schedule for Phoenix and JTG Daugherty in 2013 before taking over the No. 47 car full-time a year later.
With little success beyond the 2014 triumph, Allmendinger retired from full-time racing after the 2018 campaign. He was not completely done, however, as he drove five Xfinity Series races for the burgeoning Kaulig Racing team. He won his fifth race with the organization at, fittingly, the Charlotte Roval.
Allmendinger's career has had a rebirth with Kaulig Racing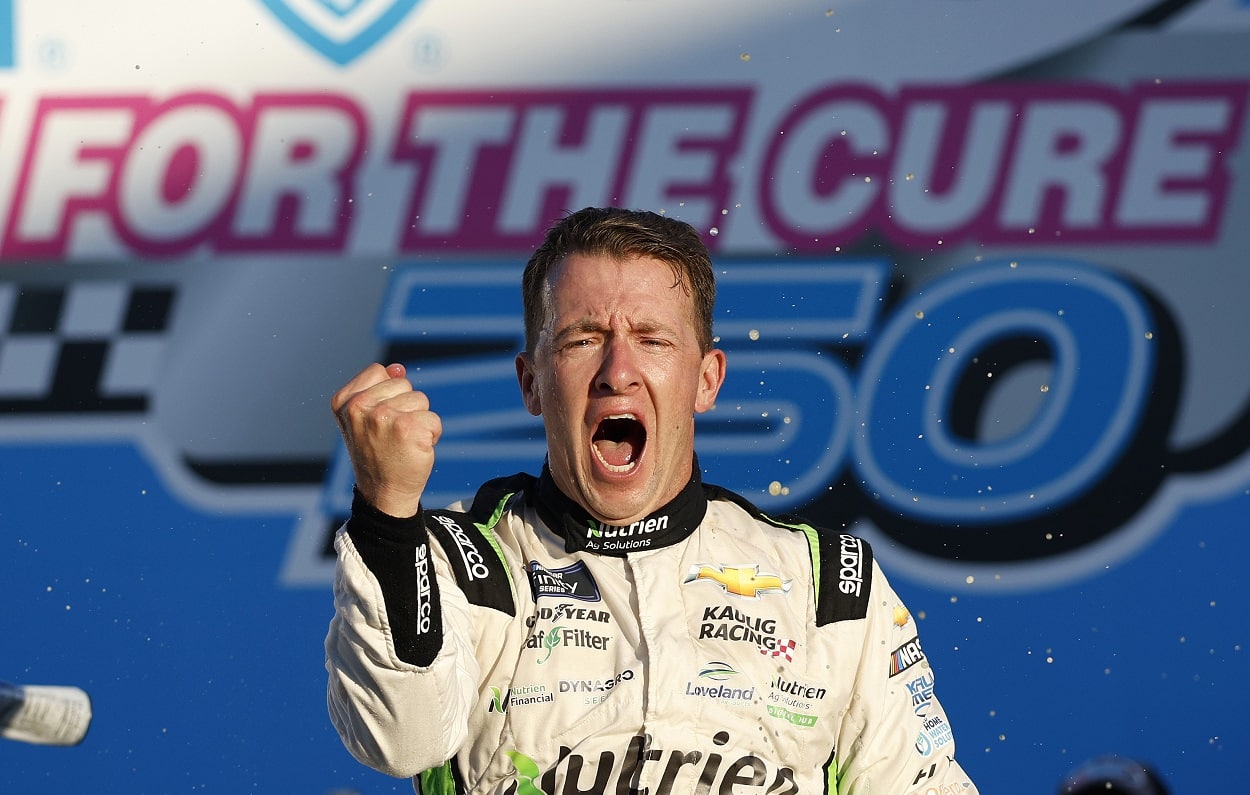 That relationship eventually turned into a full-time Xfinity Series deal and a part-time role in the Cup Series in 2021.
The fit between driver and team has been terrific. Allmendinger has won 13 of the 19 Xfinity Series victories in Kaulig Racing's relatively short history, and he has the team's only Cup Series win with his triumph in 2021 at the Indianapolis Motor Speedway road course.
He has won each of the last two Xfinity Series regular-season titles and is currently second in the playoff standings with four races left on the schedule.
On the Cup Series side, he shared the No. 16 ride with Kaz Grala in 2021 and split time with Noah Gragson and Daniel Hemric in that car this season. Allmendinger has managed a pair of top-fives and six top-10s in 14 races, while Gragson and Hemric combined for one top-10 in 18 events.
The 2023 schedule should set up well for Allmendinger. The regular season includes five road courses, which will give him five top-tier opportunities to gain the win that would qualify him for the NASCAR Playoffs.
He then would have to survive the three races in the Round of 16, but the Roval remains as the final race of the Round of 12. A Cup Series win at any specific track is a tall task, but there is a legitimate path for Allmendinger to reach the Round of 8 in the 2023 playoffs and compete to be part of the Championship 4.
That would be quite the journey for a driver who, at one point, never expected to race full-time in NASCAR again, but it is certainly a justified opportunity after the success he has found in his career's second life.
Stats courtesy of Racing Reference
Like Sportscasting on Facebook. Follow us on Twitter @sportscasting19 and subscribe to our YouTube channel.