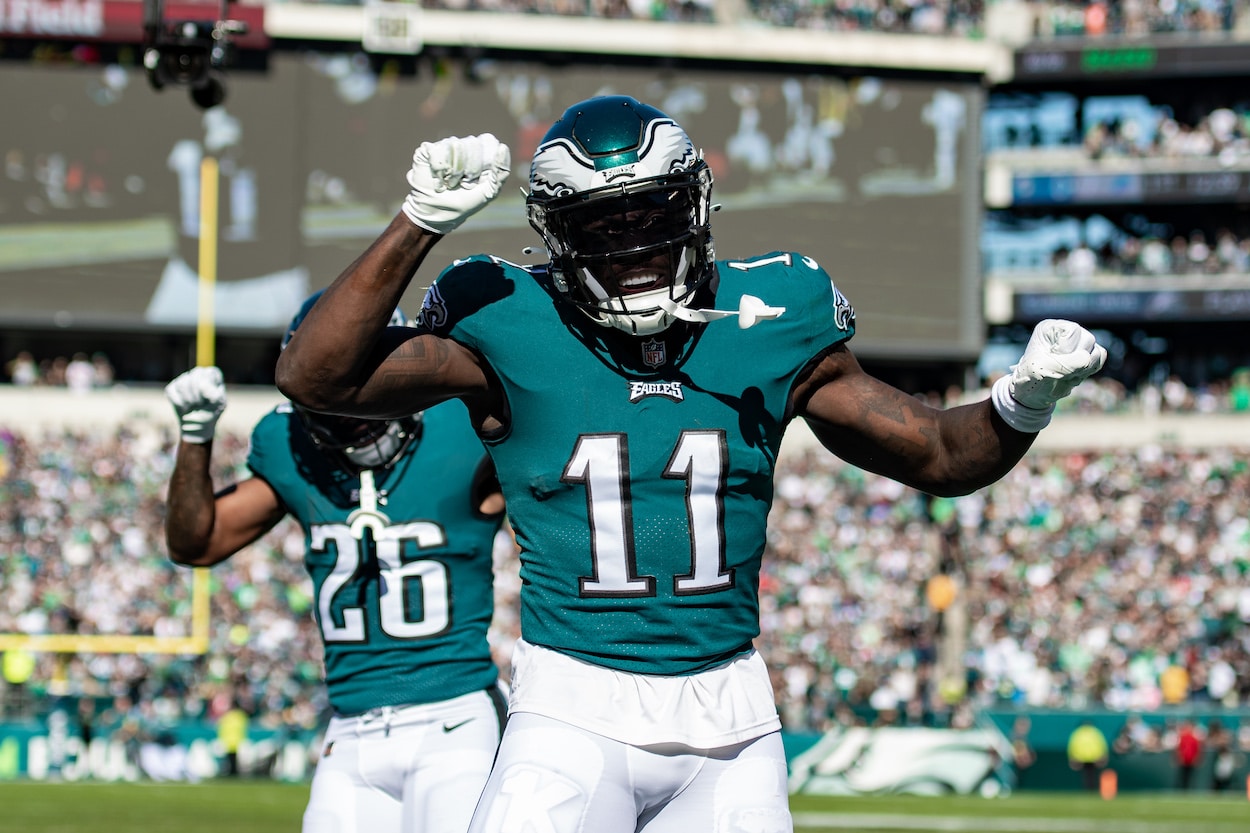 A.J. Brown Embarrassed the Steelers so Badly on Sunday That Roger Goodell Had Him Drug Tested
A.J. Brown was skeptical about his random drug test on Monday morning.
The Pittsburgh Steelers have a new father, and his name is A.J. Brown.
Brown torched the Steelers' secondary on Sunday with six catches, 156 yards, and three touchdowns. It didn't matter how many defenders Pittsburgh put on the star wide receiver. Jalen Hurts lofted it up to Brown in coverage over and over, and the Steelers still couldn't stop it.
Brown's dominant performance on Sunday turned a ton of heads around the NFL, and that includes the league office. After the Philadelphia Eagles' 35-13 win, Brown woke up to a not-so-random drug test from Roger Goodell.
A.J. Brown embarrassed the Steelers in Week 8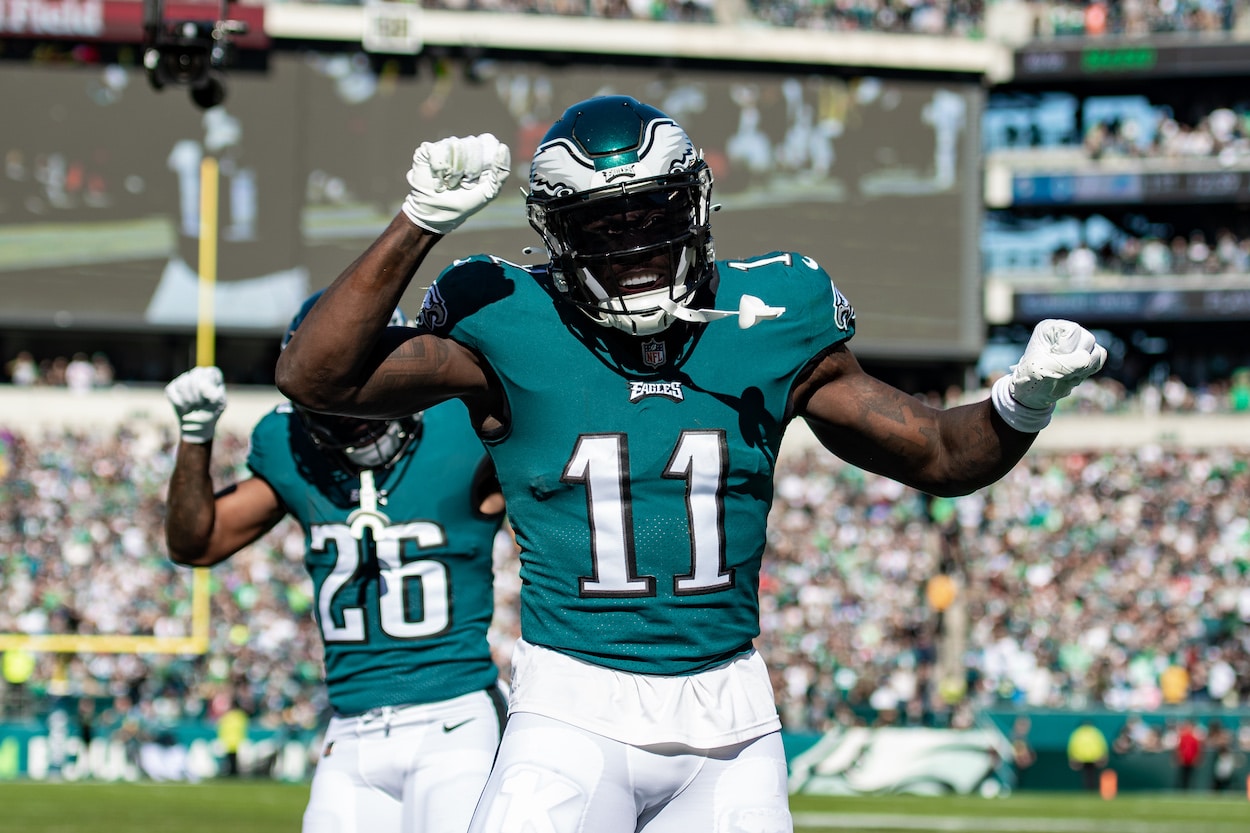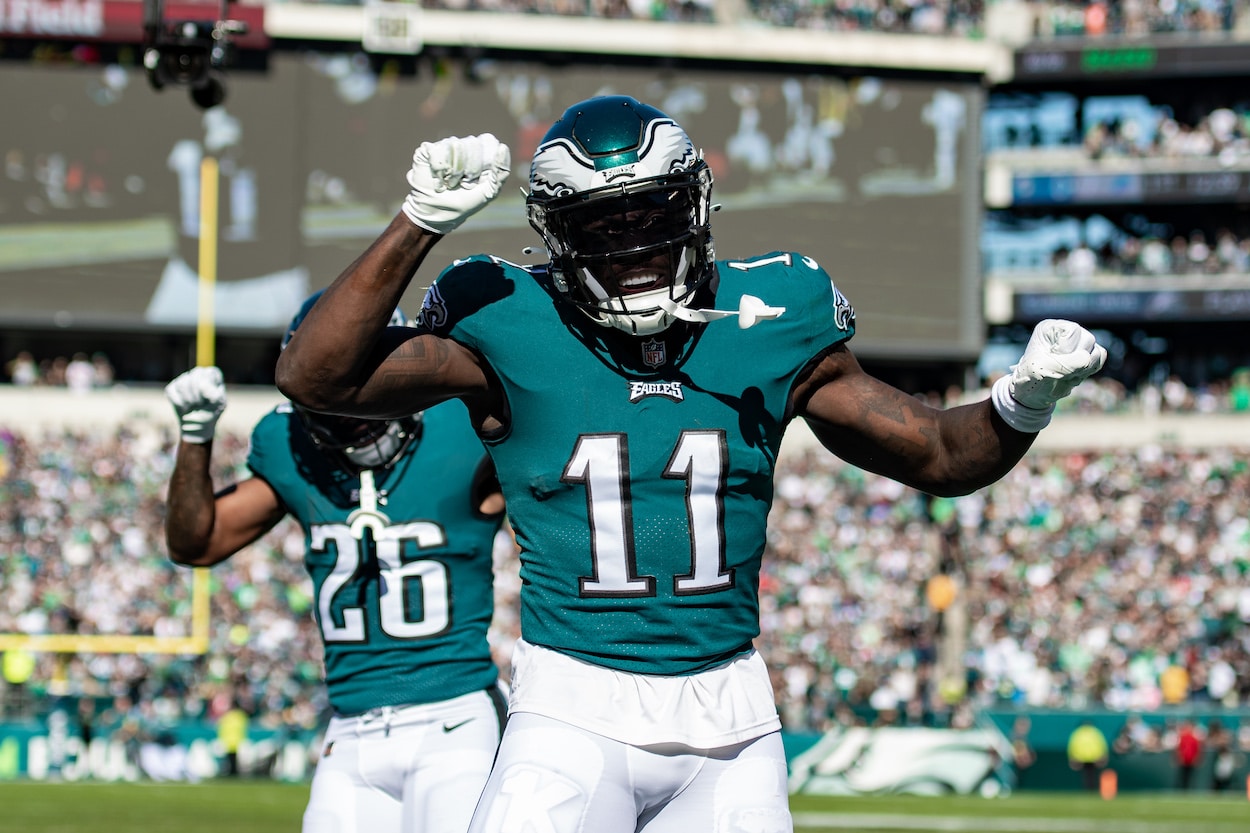 There seems to be a new MVP for the 7-0 Eagles after every win. Sometimes, Hurts runs the show and puts up 350 yards of offense. Sometimes, Miles Sanders looks unstoppable in the run game. And other times, the defense suffocates the opposing quarterback and forces three turnovers.
In Week 8, it was Brown's turn to shine.
Brown started out hot by leaping over two Steelers defenders and catching a 39-yard touchdown pass on Philadelphia's first drive of the game. The next time the Eagles got the ball, Hurts hit Brown once again on a deep shot for a 27-yard touchdown. Brown caught his third touchdown pass on an identical play later in the second quarter, causing two Steelers defenders to fall down in the process.
After his third touchdown grab of the half, Brown pointed at Minkah Fitzpatrick and Ahkello Witherspoon on the ground as if to say, "None of you can guard me."
Brown finished the game with six catches for 156 yards and three touchdowns. He would've had an even bigger statistical day if not for an uncharacteristic drop, and he nearly scored a fourth touchdown in the second half before he was tripped up from behind at the 10-yard line.
It was almost unfair how badly Brown dominated an outmatched Pittsburgh secondary, and the NFL league office took notice.
Roger Goodell issued A.J. Brown a not-so-random drug test the next morning
Brown was excited to get to work Monday morning and keep the momentum going from Sunday's dominant win, but there was a surprise waiting for him there.
On Monday morning, Brown revealed in a tweet that he was selected for a random drug test. "Rogerrrrr this is not random," he wrote in the tweet while tagging the NFL's official account.
Now, the NFL has the right to randomly drug test any player at any point during the season, but choosing Brown as a recipient this week can't be a coincidence after his monster performance on Sunday. Brown doesn't seem too happy about the decision, but he should take it as a compliment from the commissioner.
Have thoughts on this topic? Keep the conversation rolling in our comments section below.