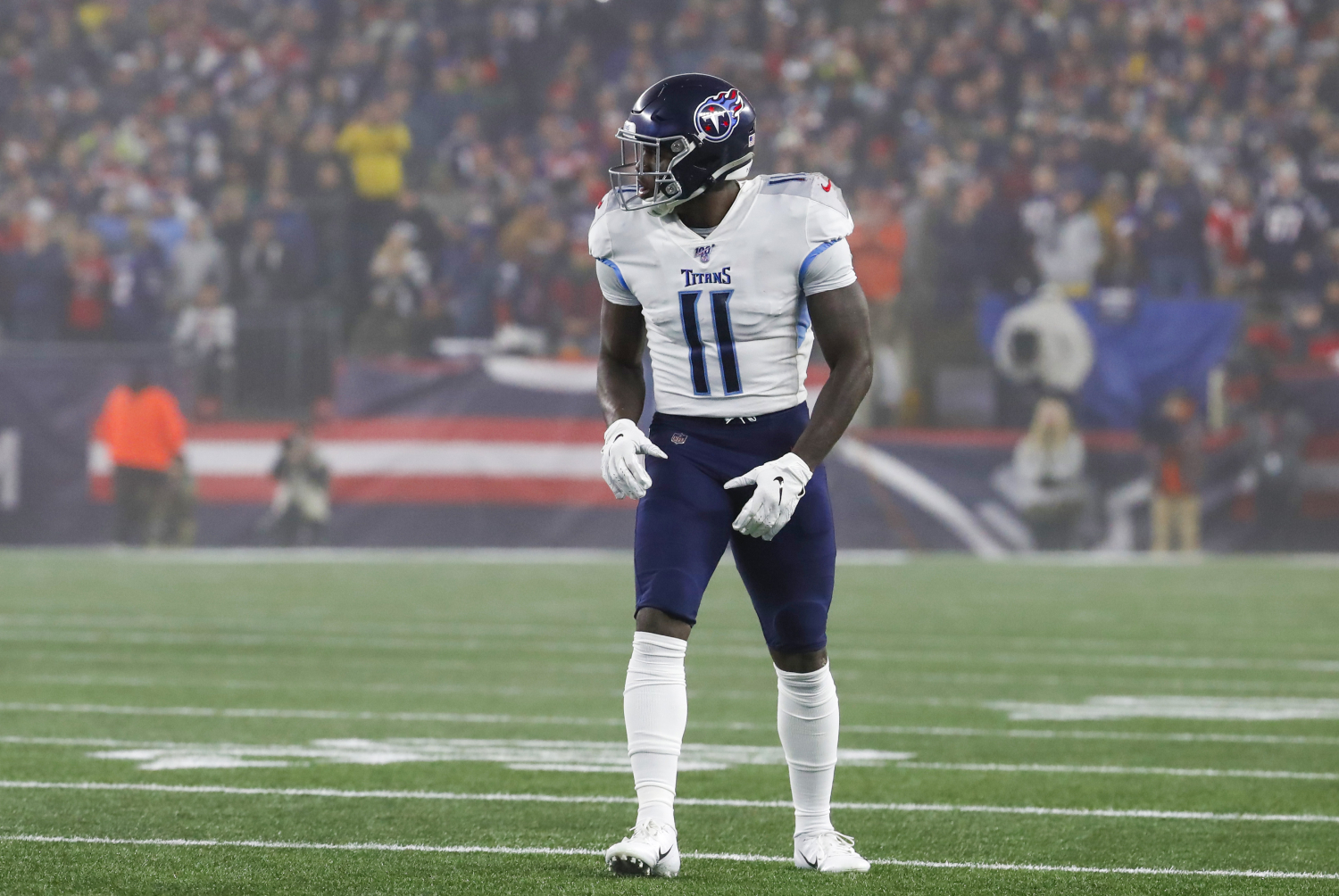 A.J. Brown Revealed Why the NFL Was Never in His Plans
Tennessee Titans standout wide receiver A.J. Brown revealed why the NFL was never in his future plans when he was younger.
Wide receiver A.J. Brown wasn't one of those guys who always dreamed of becoming an NFL star. The Tennessee Titans second-year wideout was more of a baseball player growing up and never put too much thought into ever making a career out of football. When he was at college, Brown revealed another reason why the NFL wasn't always in his plans.
A.J. Brown emerged into a top WR during his rookie season
A.J. Brown played his college football at Mississippi and was a second-round pick in the 2019 NFL draft. The Tennessee Titans selected the 6-foot wide receiver with the 51st overall pick. Brown made an impact in his first year in the NFL, playing in all 16 regular-season games and starting 11 of them.
As the season wore on, Brown became more of a focal point in Tennessee's passing game. He was targeted 84 times in the regular season and finished the year with 52 catches. Brown wound up having a very strong rookie season with 1,051 receiving yards to go along with eight touchdowns. Brown averaged better than 20 yards per reception.
Brown's biggest game of his rookie season came during Week 14 in a 42-21 win over the Oakland Raiders. Brown finished with five catches for 153 yards and two touchdowns. Brown had 100-plus receiving yards in three of the last four games of the regular season.
A.J. Brown has had an injury-plagued 2020 season
A.J. Brown has missed the last two games for the 3-0 Titans after suffering a bone bruise on his knee during a Week 1 win against the Denver Broncos. In that game, he was shut out early before finishing with five catches for 39 yards. He missed the next two games and is expected to play when the Titans host the Buffalo Bills on Tuesday.
The Titans have had a rough season despite their 3-0 record. The team has suffered an outbreak of positive coronavirus (COVID-19) cases. Their Week 4 game scheduled against the Pittsburgh Steelers had to be rescheduled to Week 7.
The Titans have had 24 positive cases since Sept. 24. The cases have involved a mix of players and team personnel. Their game against the Buffalo Bills was originally scheduled for Sunday, Oct.11, but was pushed back to Tuesday, Oct. 13, because of recent positive tests.
Brown reveals he was 'scared' to play football
A.J. Brown wanted to be a baseball player. Football was a second thought to him. He signed a contract with the San Diego Padres after being drafted in the 19th round in 2016. While in high school, however, Brown emerged as one of the nation's top football players. According to The Clarion-Ledger, Brown was the No. 5 wideout and 38th overall recruit in the nation.
Brown had played pee wee football and then gave it up. He returned to the sport in the eighth grade and was a kicker and a third-string wide receiver. According to The Clarion-Ledger, he wasn't crazy about the sport. "I wasn't too fond of it because, I'm not going to lie, I was kind of scared," Brown said during his college days at Mississippi.
During his college football days, Brown still reported to the Padres one weekend a month to work out. He wanted to play both sports but knew football would be the best decision for him. Back in high school, however, he was just ho-hum about the sport. "I was like, 'It's not that bad,'" Brown said, "so I just went with it."