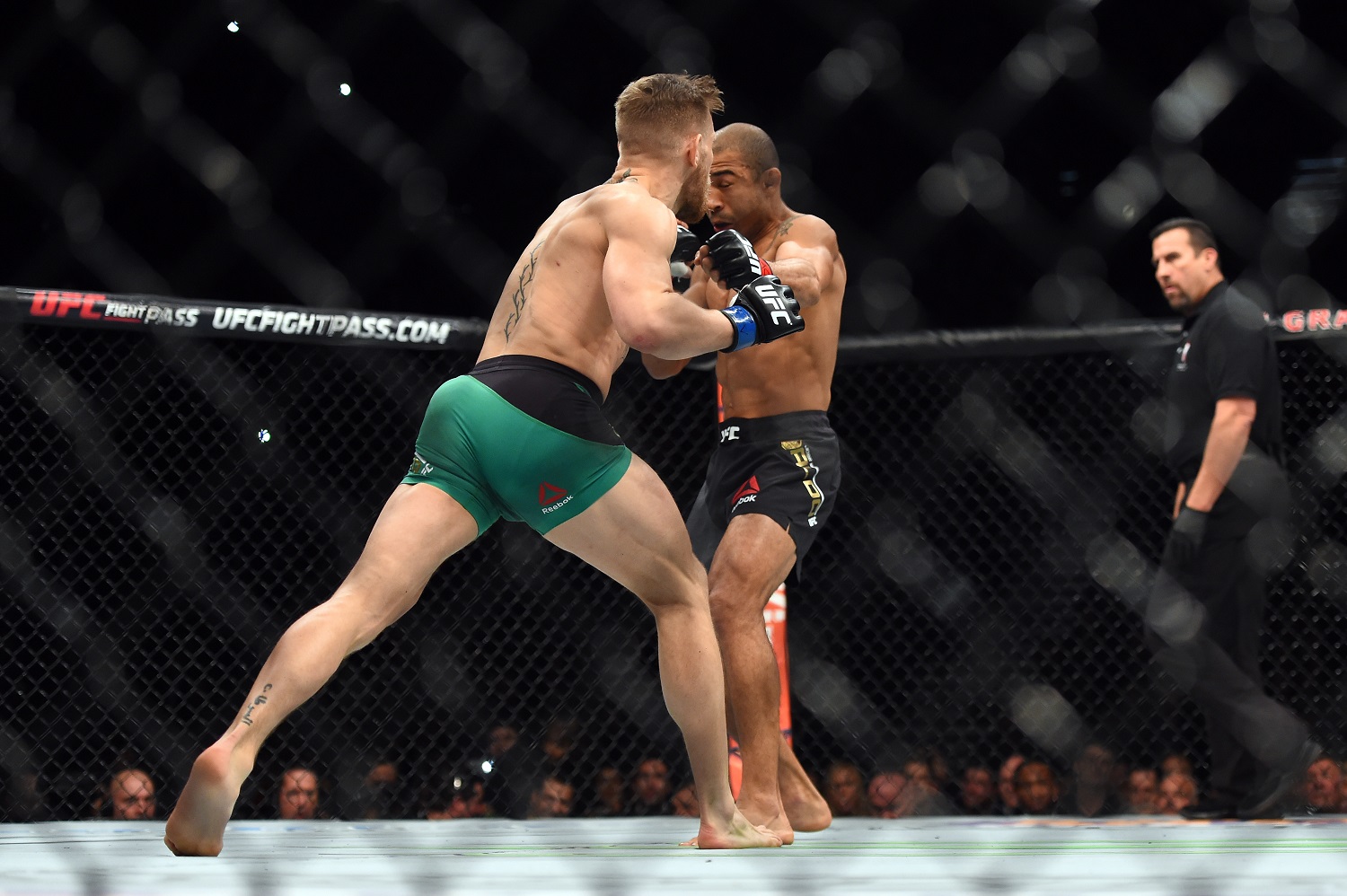 A Look Back on When Jose Aldo Was Destroyed By Conor McGregor in 13 Seconds at UFC 194
A look back on when Conor McGregor knocked out Jose Aldo in their UFC Featherweight Championship bout at UFC 194.
There's no question that Jose Aldo is one of the best featherweights in the history of mixed martial arts. But when he matched up with Conor McGregor at UFC 194 in 2015, Aldo looked like a second-rate fighter as he got dropped 13 seconds into the first round of one of the most highly-anticipated fights in history.
Jose Aldo came into the Conor McGregor bout with an 18-fight winning streak
Coming into the UFC 194 bout with Conor McGregor on December 12, 2015, Jose Aldo had reeled off 18 straight victories over the course of a decade. At the time, his November 2005 loss to Luciano Azevedo was the only defeat of his career and he'd successfully defended his UFC Featherweight Championship (previously known as the WEC Featherweight Championship before the two companies merged in 2011) nine times.
The Aldo-McGregor fight was initially scheduled to take place in July 2015 at UFC 189. The fight became one of the most highly-promoted bouts in UFC history as the two embarked on a 12-city global tour but Aldo was forced to back out of the fight with a fractured rib. Conor McGregor remained on the card and won the UFC Interim Featherweight Championship by knocking out Chad Mendes in the second round, setting up a title unification bout.
Conor McGregor destroyed Jose Aldo in 13 seconds at UFC 194
There was certainly no love lost between Conor McGregor and Jose Aldo as both claimed to be the top fighter in the division and the two nearly came to blows at the weigh-in as Aldo mocked McGregor's stance. The atmosphere was electric when the two hit the ring that night at the MGM Grand in Las Vegas as fans were expecting a great back-and-forth battle between two phenomenal fighters. But what they saw instead was the fastest finish in UFC championship fight history.
As the opening bell rang, Conor McGregor and Jose Aldo refused to touch gloves as both just wanted to get to the action. Both threw a couple of quick punches that had no real impact and McGregor threw a short little kick that didn't land cleanly either. Aldo then attacked but ran right into a McGregor left hand that floored him immediately.
McGregor pounced and started pounding on Aldo with more lefts and referee John McCarthy had no choice but to step in and stop it after just 13 seconds, a new record for a title fight. McGregor's knockout was one second shorter than Ronda Rousey's 14-second submission of Cat Zingano at UFC 184. Jose Aldo was clearly dazed following the knockout and he certainly hasn't been the same fighter since.
The former featherweight champ has lost four of his last seven fights
As Conor McGregor moved up in class following the win, Jose Aldo won the interim UFC Featherweight Championship in July 2016 by defeating Frankie Edgar. He was later named the undisputed champ when McGregor was stripped of his title after winning the Lightweight Championship that November. But Jose Aldo lost the title in his next fight with Max Holloway and lost the rematch as well. He did score impressive wins over Jeremy Stephens and Renato Moicano, both of which earned Performance of the Night honors, but he's lost his last two fights.
In May 2019, he lost to current UFC Featherweight Champion Alexander Volkanovski and then lost to Marlon Moraes in a very controversial split decision last December at UFC 245 in his bantamweight debut, giving him four losses in seven fights. Nonetheless, he takes his first shot at the UFC Bantamweight Championship this Saturday night at UFC 251 against Petr Yan.
Let's hope this highly-anticipated title bout doesn't look anything like the Conor McGregor fight.