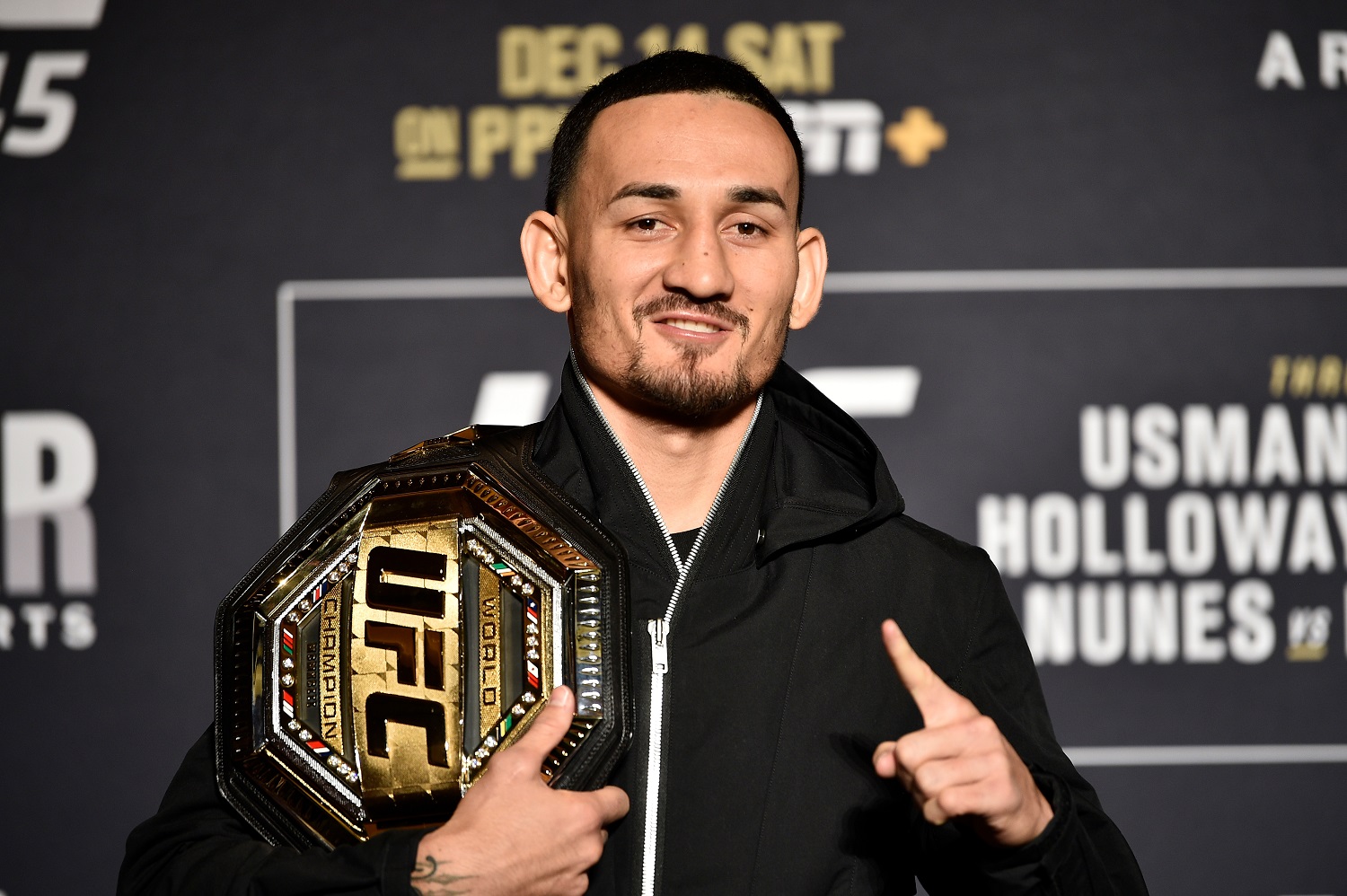 UFC Star Max Holloway's Net Worth Got an Assist From the Toronto Raptors
Max Holloway will be looking to regain the featherweight championship from Australian star Alexander Volkanovski at UFC 251.
Max Holloway is in a pretty good spot for a guy who has lost two of his last three fights, relinquishing his featherweight championship in the process. As one of the hardest-working competitors in the sport, he enjoys name recognition by fans and respect from the brass for toughness in the octagon ahead of UFC 251.
Max Holloway has earned his place on the UFC 251 card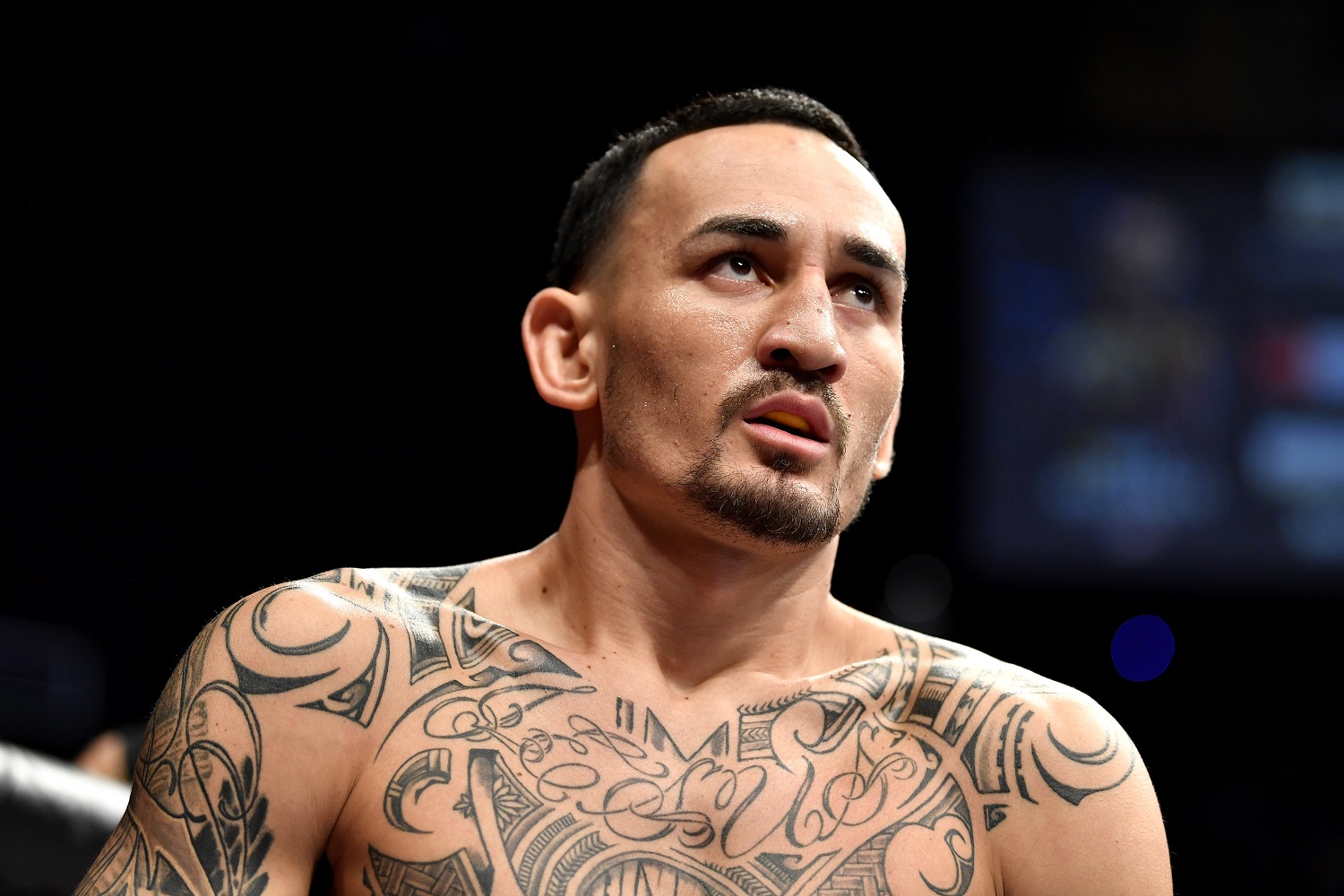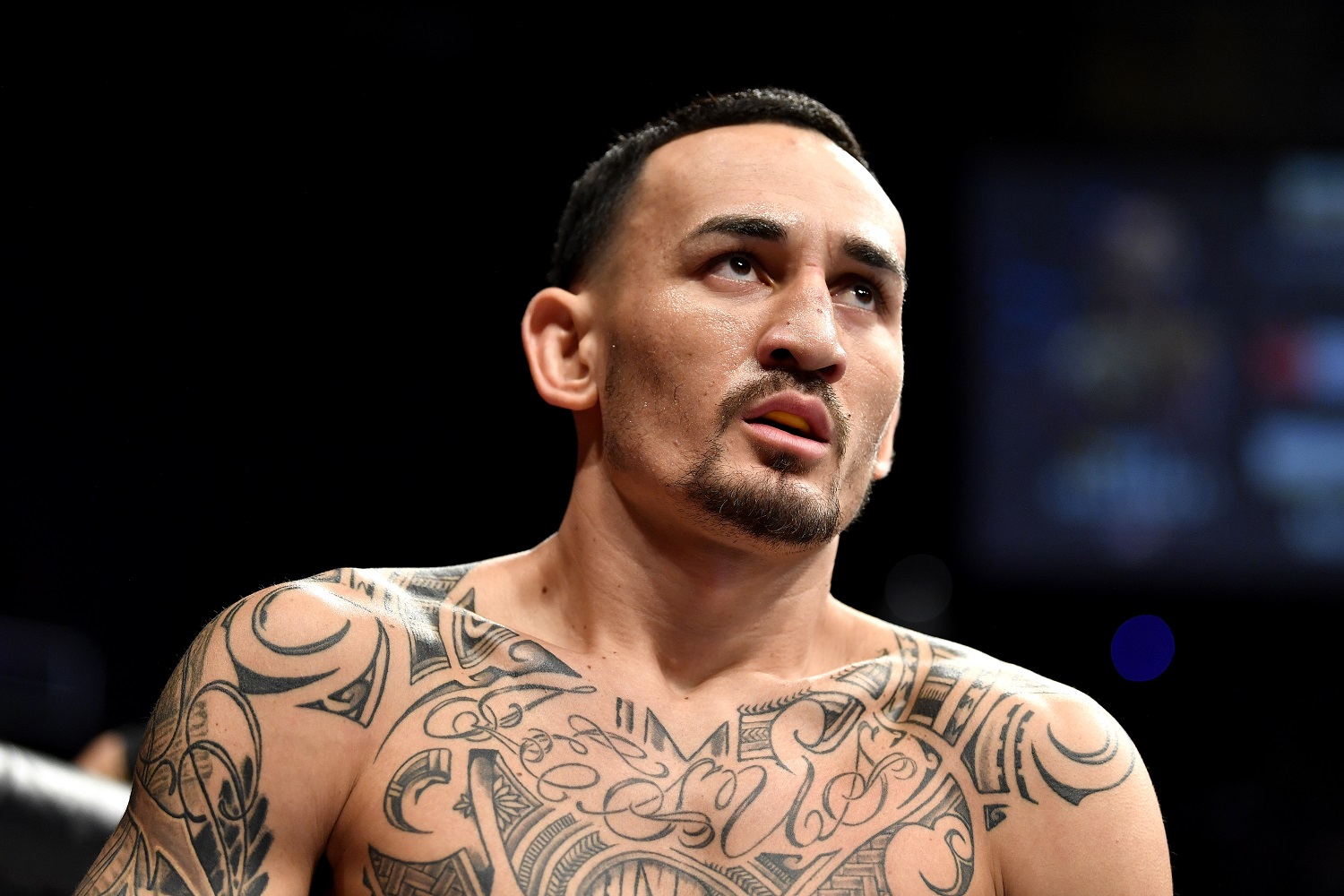 UFC star Max Holloway is about to take part in his fifth title bout in 19 months, which qualifies him as one of the most industrious athletes in the sport — and can't hurt his net worth. With a little luck, the man with the most victories in UFC featherweight history could walk out of UFC 251 with the label of "two-time champion."
Holloway TKO'd Anthony Pettis for the interim UFC featherweight title in December 2016 and followed with a pair of third-round TKO's of Jose Aldo in 2017 to unify the title. That earned him a year off – his July 2018 fight was postponed at the last minute by Holloway's camp — before stepping back in the octagon in December 2018 for a win over Brian Ortega as the doctor stopped the bout at the end of the fourth round. Holloway set records with 134 strikes in one round and 290 for the match.
Holloway had made his UFC debut in 2012 against Dustin Poirier in a featherweight match. When they met again at UFC 236 in April 2019 with the interim lightweight championship on the line, Poirier beat him for a second time.
Surrendering a 13-bout winning streak while going the distance against a top-tier talent did nothing to hurt Holloway's reputation. He rebounded last July with a unanimous decision over Frankie Edgar to retain the featherweight championship.
A rematch at UFC 251 for the featherweight championship
Max Holloway could not have picked a tougher opponent for his fourth title defense back in December. Australian star Alexander Volkanovski is shorter than Holloway but has a longer reach and a better-than-most repertoire of wrestling moves, which changes the complexion of the bout. Volkanovski won by unanimous decision to raise his record to 21-1 and earn the belt.
Holloway (21-5) was gracious in defeat, crediting Volkanovski for a willingness to fight anybody in order to earn his shot. Of course, knowing that a rematch was virtually guaranteed after the way fans talked up their first fight cushioned the blow.
That rematch will be one of three title contests on the UFC 251 Fight Island card that will kick off at 6 a.m. local time to maximize the North American audience. In the main event, Jorge Masvidal meets welterweight champion Kamaru Usman on six days' notice after Gilbert Burns tested positive for COVID-19. The vacant bantamweight championship will be up for grabs between Jose Aldo and Petr Yan.
Max Holloway has built a plan for success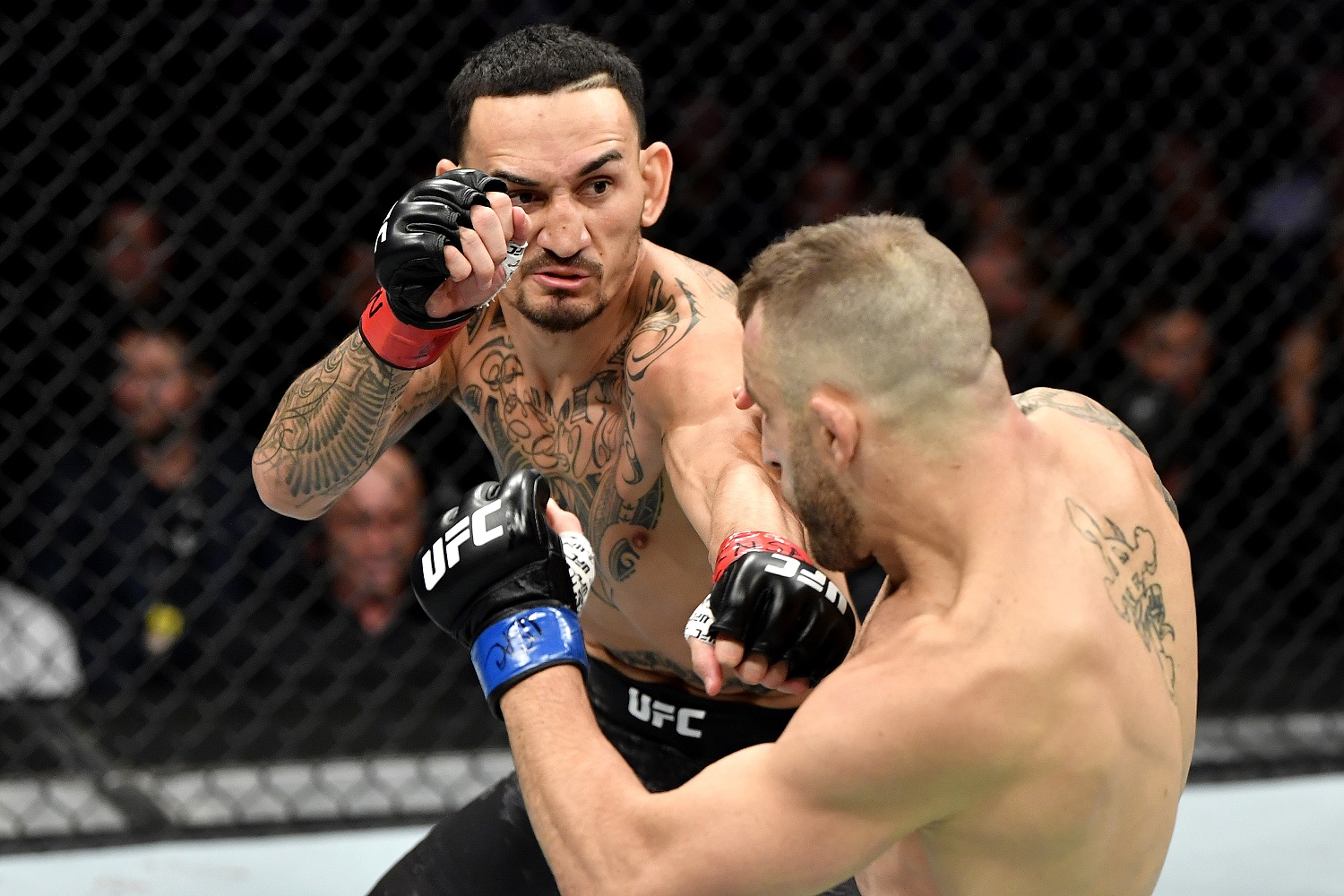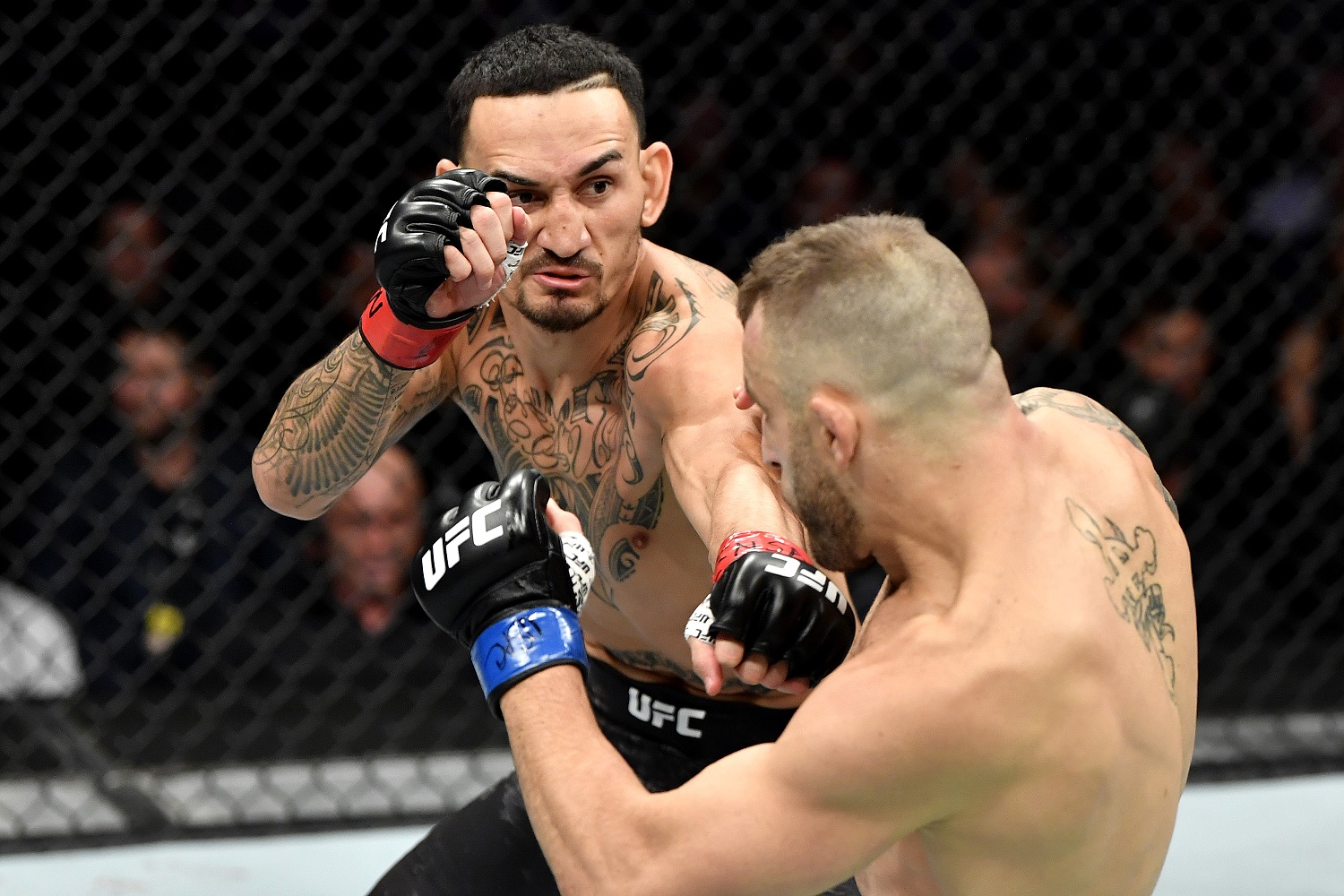 Max Holloway is not overemphasizing the title ramifications of his rematch with Alexander Volkanovski at UFC 251.
"It's just another fight," Holloway said. "Title, no title. As long as my contract is nice, a couple of zeroes at the end of those numbers, I'm doing alright."
One of the reasons his net worth is doing alright is because of a plan fashioned early last year by Christopher Daggett, Holloway's manager. Daggett and the fighter's coaches spent six hours visiting with executives of the NBA Toronto Raptors.
The idea was to take a team approach to the UFC, just like pro sports franchises are organized. They picked the minds of Raptors general manager Bobby Webster, training staff, the team nutritionist, and operations and media personnel.
They developed a plan to update everything in how Holloway went about his business, from eating right to putting financial decisions into the hands of experts. It had the effect of giving Holloway more time to train for big bouts like at UFC 251 – and to do so without distractions.
"Before, I was the CEO, the CFO, the broker," Holloway told ESPN. "Whatever you want to name it as a role in the franchise, I was it. And the player. Now, I'm just the player. They're not taking anything away from me. They didn't demote me in any way. I just get to focus on fighting now.
"(Daggett is) really running this like a sports franchise. Holloway Inc. is in business, and it's booming right now, even in this pandemic."
Max Holloway has a solid net worth
One of the most interesting aspects of the corporate approach that Max Holloway has taken is that he has veto power over all decisions but gets paid like an employee. His "salary" is deposited into his checking account every two weeks. The excess from his fight purses, investments, and endorsements goes toward his retirement strategy.
Holloway recently signed an endorsement deal with men's grooming company Manscaped. A victory in his rematch with Alexander Volkanovski at UFC 251 would all but assure more sponsorship opportunities that would pad what CelebrityNetWorth.com estimates is a $2 million net worth.