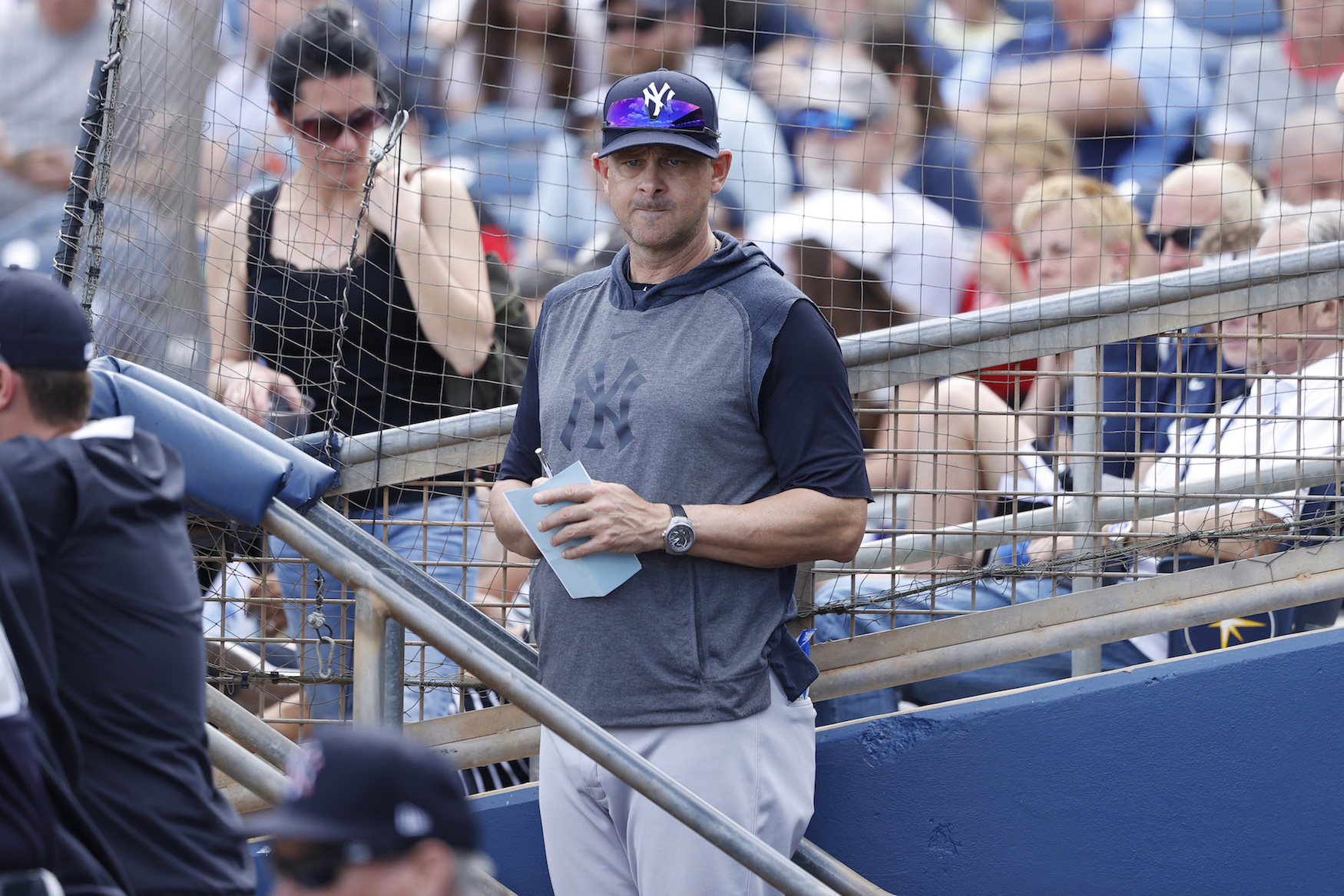 Aaron Boone Makes Way Less Money Than You'd Think as New York Yankees Manager
While the New York Yankees are no stranger to spending money, manager Aaron Boone has a surprisingly small salary.
For better or worse, the New York Yankees are no stranger to spending money. While things are a little bit different from when George Steinbrenner was at the helm, the Bronx Bombers have no problem breaking out their checkbook and signing a big-name free agent. Manager Aaron Boone, however, isn't exactly reaping the rewards.
While the New York Yankees always have a sizable payroll, Boone's salary is the exception rather than the rule. Despite his early managerial success, Boone makes way less money than you'd probably think.
Aaron Boone's time as a Major League Baseball player
Based on his family's history, Aaron Boone didn't have have much of a choice when it came to his career. He was destined to be a professional baseball player.
After playing his college ball at USC, Boone landed his first professional job with the Cincinnati Reds. While his numbers never set the world on fire, the infielder developed into a solid pro; in 2003, however, everything would change.
In addition to playing some of his best baseball—Boone made his only career All-Star Game that season—the infielder joined the New York Yankees via a trade. That October, he hit an iconic eleventh inning walk-off home run to defeat the Boston Red Sox in Game 7 of the ALCS.
While that moment made Boone a household name, he never played another game for the Yankees. During the offseason, he tore his ACL playing basketball; he was promptly replaced by Alex Rodriguez. After spending a season on the sidelines, Boone returned to baseball, spending time in Cleveland, Florida, Washington, and Houston before calling it a career.
In total, Boone spent 12 seasons in the major leagues. He retired with a career .263 batting average, 1,017 base hits, and 555 RBIs; while the infielder was never a star, neither Yankees nor Red Sox fans will ever forget his name.
Heading to the broadcast booth and becoming a manager
After barely playing in 2009, Aaron Boone retired from Major League Baseball. His relationship with America's pastime, however, would simply enter a new stage.
That fall, Boone joined to MLB Network's coverage of the Yankees' playoff push. The following season, he became a part of ESPN's broadcast team; eventually, he earned a promotion, getting called up to Sunday Night Baseball.
In December 2017, Boone made another change, leaving television behind to take over the New York Yankees managerial job. He promptly led the club to a 100-win season during his first year in the dugout; in 2019, he improved by three games and claimed his first AL East title.
Aaron Boone makes a little more than $1 million per season
While Aaron Boone wasn't the biggest star during his playing career, he still earned more than $16 million during his time in the big leagues. During his first few seasons as a manager, he hasn't come close to eclipsing that total.
Although the New York Yankees had to pay Boone more than other rookie managers—they were apparently conscious of his ESPN salary and the challenges of working in the Big Apple—he's not exactly taking home Mookie Betts money. As reported by Joe Giglio of NJ Advance Media, the manager apparently earns roughly $1.15 million per season; for reference, the top bench bosses earned $6 million during the 2019 campaign.
It might sound like the Yankees are trying to pinch pennies on Aaron Boone's salary, but few managers, let alone those on their first contract, can command a sizable salary. If Boone continues the success he's had in his first two seasons, though, he'll be in line for a substantial raise before long.
All stats and playing salaries courtesy of Baseball-Reference