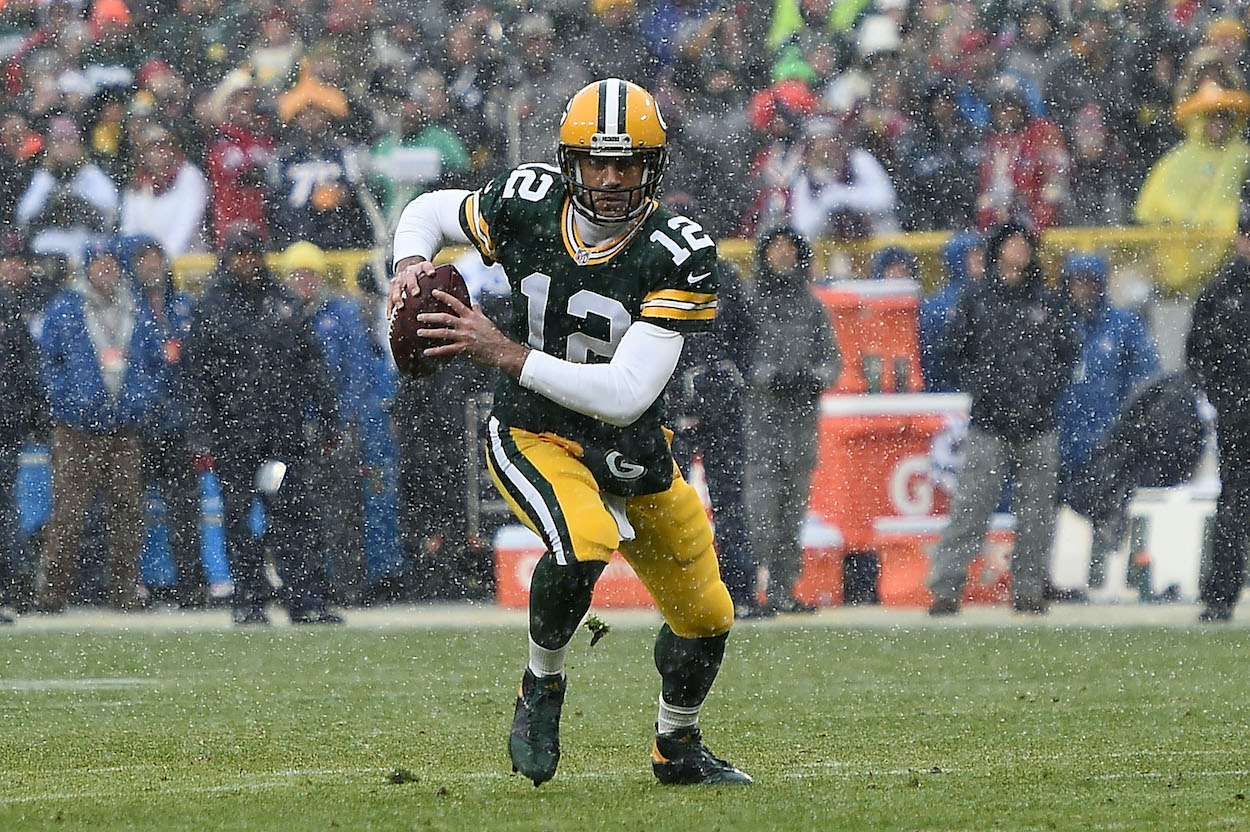 Aaron Rodgers Explains Why He's a Great Cold Weather QB and How You Can Tell He's Feeling the Chill: 'You Know It's on When That Thing is On'
Green Bay Packers QB Aaron Rodgers seems to get better in the cold and he explained why that is and the piece of clothing he wears when he's 'that cold.'
The quarterback of the Green Bay Packers needs to be good in cold weather, and Aaron Rodgers certainly is. He recently discussed his success when the mercury drops with Pat McAfee and explained why he throws well in adverse conditions. He also explained to fans how you'll know when it's just normal cold at game-time versus when it's "that cold."
Aaron Rodgers is good in the cold
Some NFL quarterbacks are cold weather QBs, and others are not. As Tom Brady recently explained, it is even possible to no longer be a cold-weather QB after moving from Massachusetts to Florida.
Aaron Rodgers is a cold-weather QB.
During the football season in Green Bay, Wisconsin, the average temperature is a just above freezing 33.3 degrees. In January, during the NFL playoffs, the average temp drops to 11.5 degrees, according to Climate-Data.org.
They don't call Lambeau Field the "Frozen Tundra" for nothin'.
Luckily for Packers fans, Rodgers has more success than most signal-callers when the weather outside gets frightful.
When temperatures drop below freezing, Rodgers turns it on. Heading into last year's playoffs, his record in these conditions was an impressive 28-6, per Spectrum 1 News. He's thrown 76 touchdowns in these games with just 13 interceptions and has an average passer rating of 108.3. The Pack win these games by an average margin of victory of 15.5 points.
In the 2020 NFC Championship Game, Rodgers lost a 28-degree shootout to Brady and the Bucs but still had a good game. He was 33-of-48 for 346 yards with three TDs and an INT in the 31-26 loss.
Rodgers explained his success in the cold and how you know when he's truly feeling it
Aaron Rodgers joined former NFL punter Pat McAfee on the Pat McAfee Show on Tuesday as he does every week and discussed being a cold-weather quarterback. Rodgers first explained why he wore long sleeves during last week's game against the Seattle Seahawks.
The California native said he has "some strict policies" about wearing long sleeves when the game-time temperature is under 50 degrees. He said the thermometer at game-time read 36 degrees on Sunday, so long sleeves it was.
He also said that he believes one of the keys to his success in cold weather is his big hands, or "massive ham hocks," as McAfee called them. Rodgers explained that "you gotta have big hands to throw in the cold" and that it's often the rain and the wind — not necessarily the temperature or the snow — that make cold-weather games tough to navigate.
Rodgers also told McAfee that the temperature for the Seahawks game "wasn't that cold." He explained how fans will know when he feels it's that cold:
When it gets below 20, that's real cold. And you'll know if it feels cold to me if I'm wearing my turtleneck. I wasn't wearing that, and you know it's on when that thing is on.

Aaron Rodgers on playing in the cold
The next chance for Rodgers to wear his turtleneck and dominate the competition with his big hands won't come for a few weeks.
Will it be cold on Sunday when the Green Bay Packers take on the Minnesota Vikings?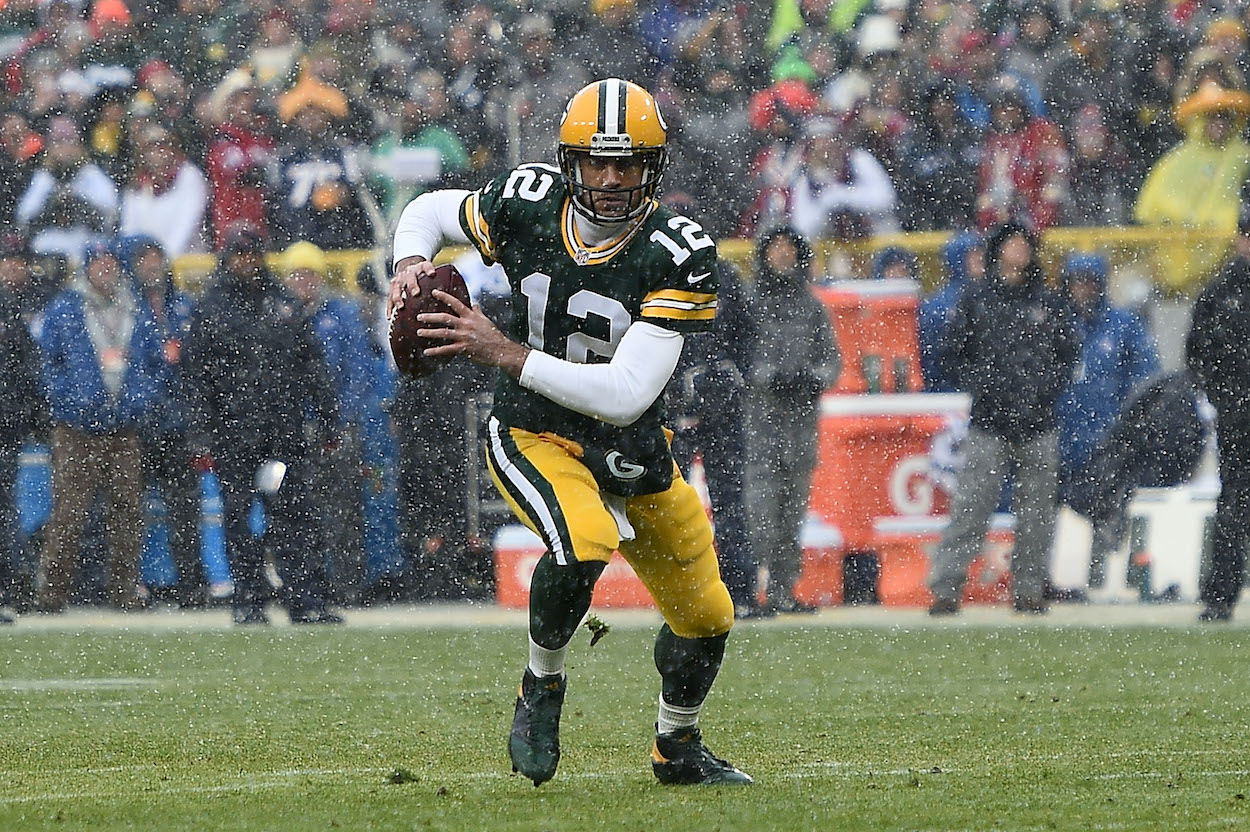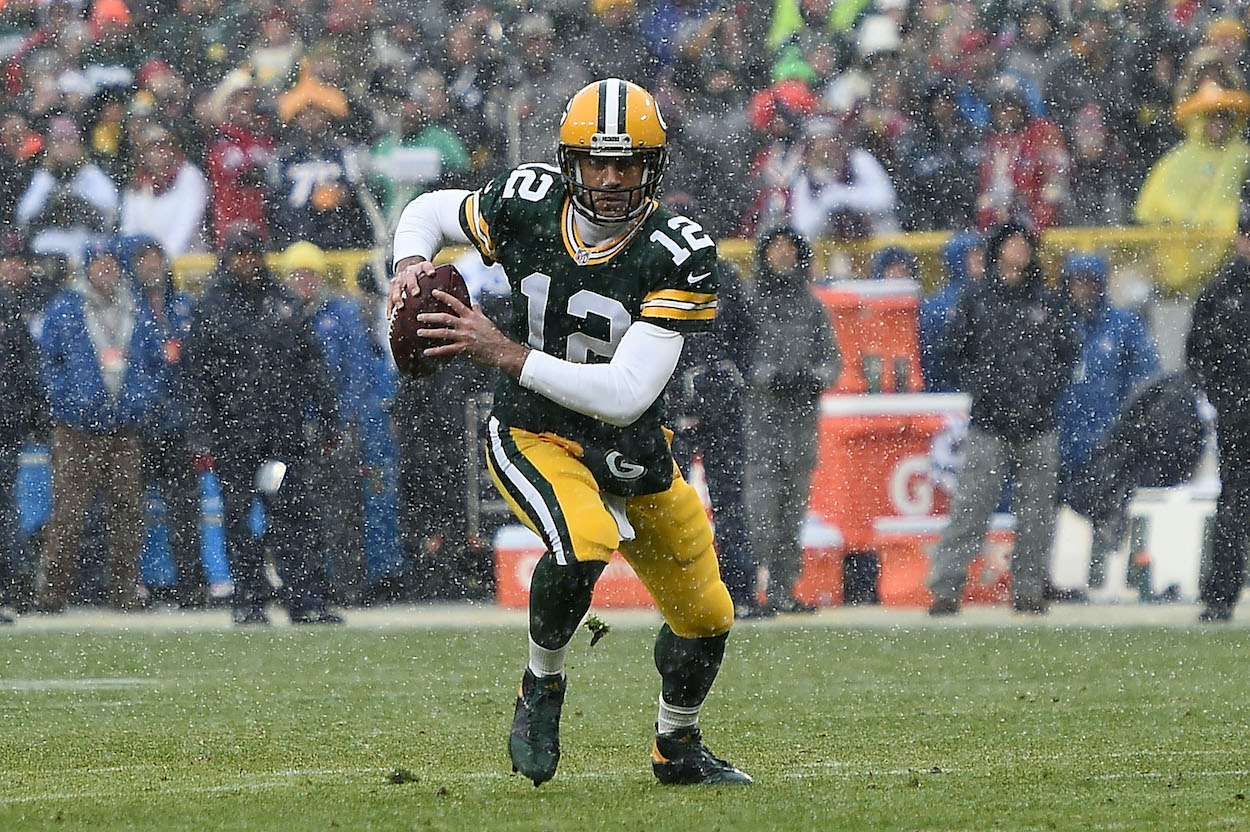 This Sunday, the Green Bay Packers travel to Minnesota to take on the Vikings. The weather will be a cold, but not frigid 36-degrees and rainy. The weather won't have any impact on the game, however, as the Vikings' U.S. Bank Stadium is an enclosed venue.
The game does present challenges for Rodgers and the Packers, however.
The Vikings are coming off a big win against the Los Angeles Chargers that got their record to 4-5 and put them squarely in contention for the NFL playoffs, just a half-game behind the team currently in the No. 7 spot, the 5-5 Carolina Panthers.
Dangerous Vikings wideout Justin Jefferson — who recently made history by reaching 2,000 yards in just 24 career games — had a breakout performance against the Chargers. He recorded a season-high-tying nine catches for a season-high 145 yards.
The Packers D has given up the fifth-least passing yards this season (2,027), but a hot Jefferson could challenge that supremacy. At the very least, it may force Rodgers to step up even more after his rusty-yet-effective 292 yards, zero touchdowns, one interception performance against the Seattle Seahawks last week.
Rodgers' next opportunity to improve his cold-weather record could come in Week 12, though, as Green Bay welcomes the warm-weather Los Angeles Rams to Wisconsin. The long-range forecast currently has that weekend in the low-to-mid 30's.
All stats courtesy of Pro Football Reference