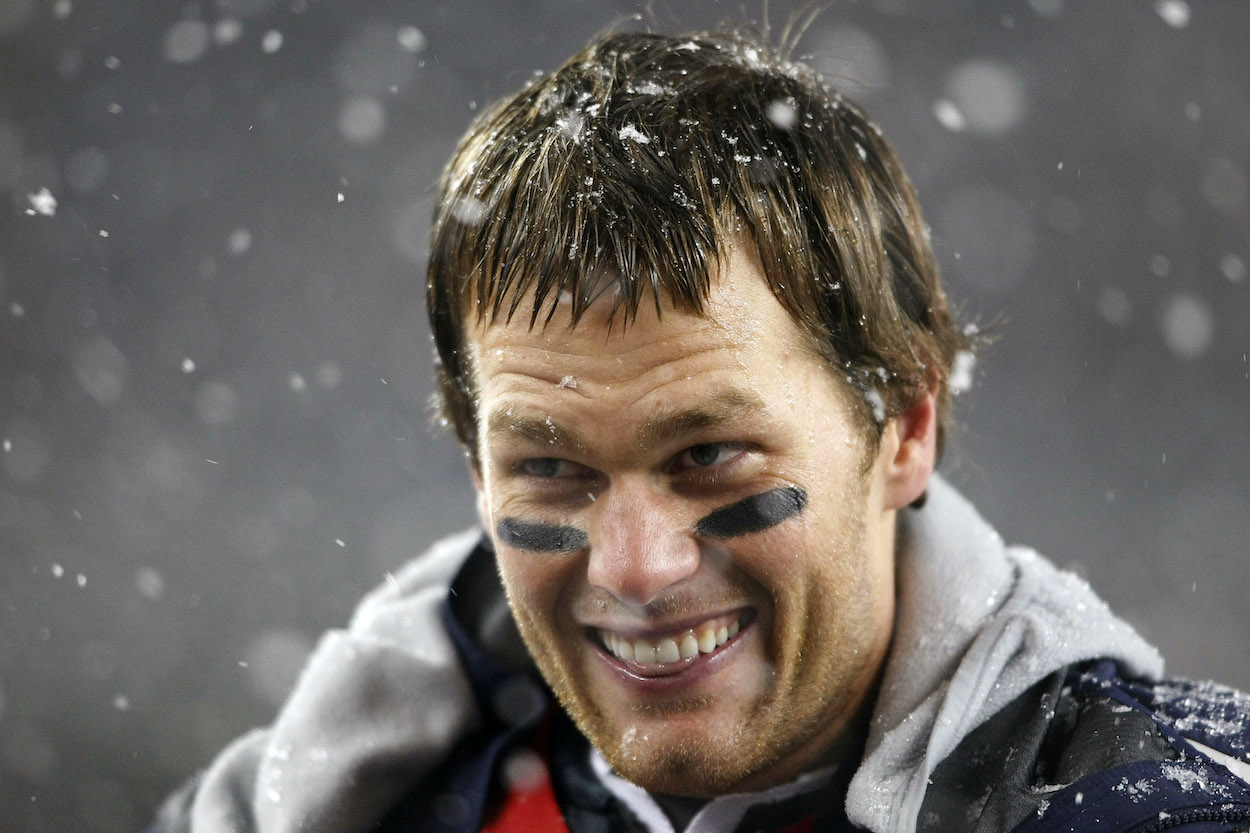 Tom Brady Admits He's Gotten Soft Since Becoming a Tampa Bay Buccaneer: 'Screw That, I Never Want to Deal With That Again'
Like many Northeasterners of retirement age, Tom Brady moved to Florida and he admits it has made him soft when it comes to cold weather.
When Tom Brady plied his trade for the New England Patriots, he was one of the best cold-weather quarterbacks of all time. Now that the QB resides in Florida, he's not as enthralled with chilly kickoff temperatures. In fact, Brady has adapted so well to life in sunny Tampa Bay that he told Eli and Peyton Manning he's become soft as he nears retirement age.
Tom Brady was a cold-weather quarterback in New England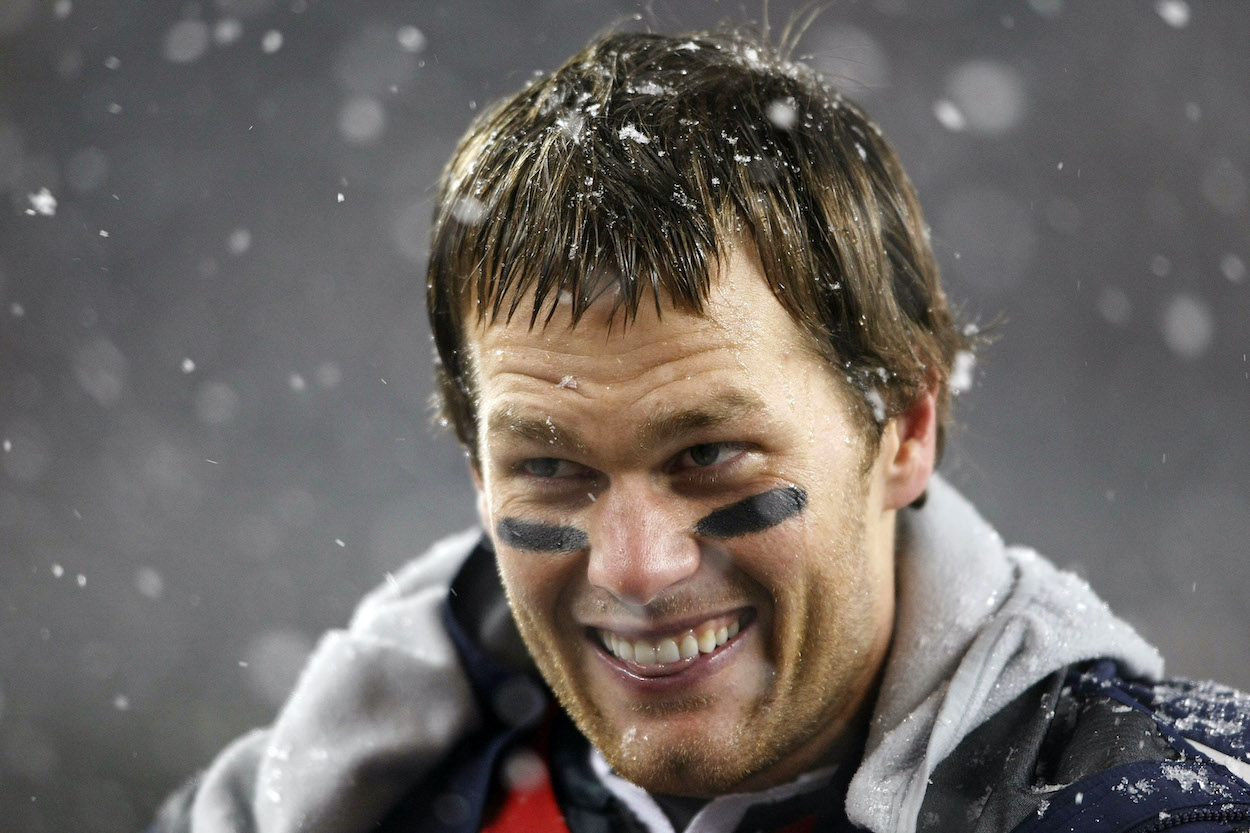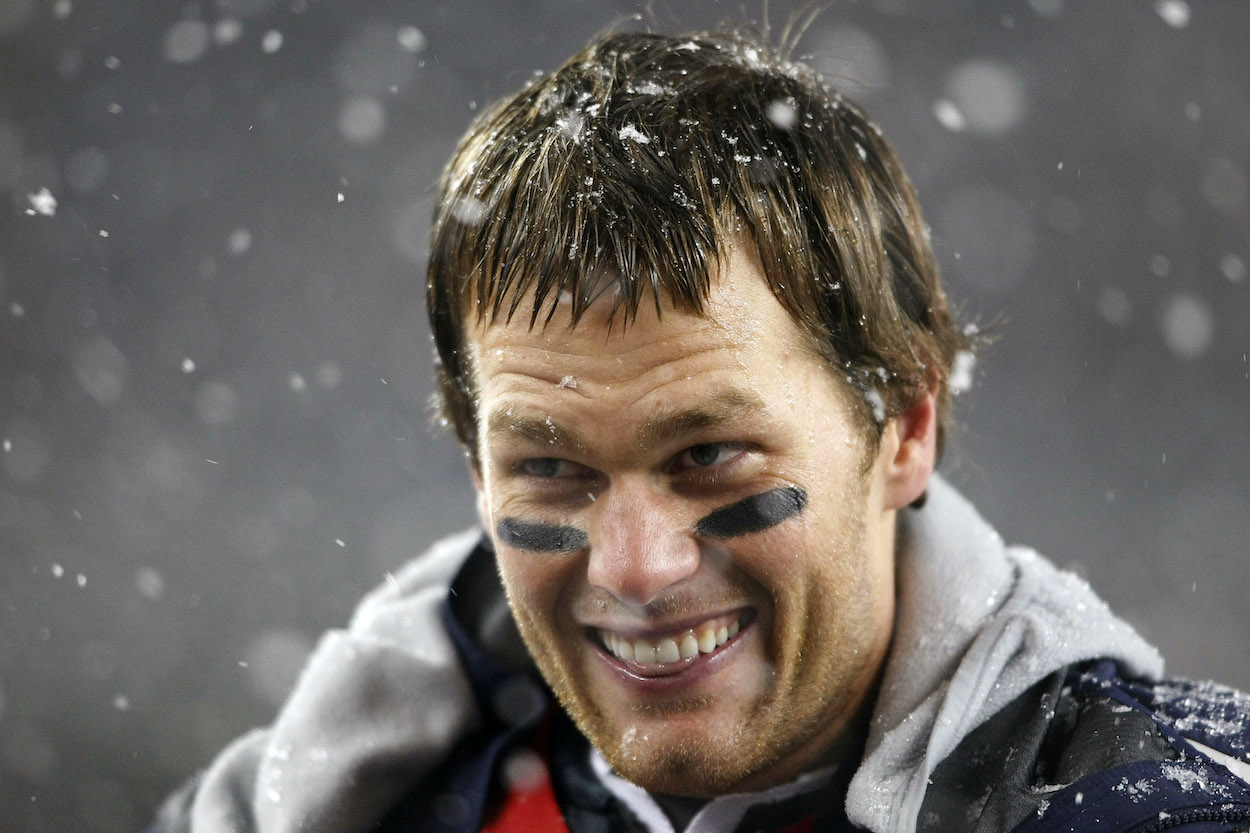 When the weather got cold in the Northeast U.S. for the last two decades, there were two certainties: snow and Tom Brady.
In his 20 seasons as the quarterback for the New England Patriots, Brady was the king of cold-weather games.
The California native played in 24 home playoff games in Massachusetts during his time in New England and played games on the road in places like Pittsburgh and Denver. All in all, Brady played in 29 games during which the temperature at kickoff was 29 degrees or colder.
In these games, Brady and the Patriots had an incredible 24-5 record, per the Boston Globe. And three of those four losses came in the regular season, so Brady was even better when the weather turned and the chips were down.
One of Brady's most iconic games came in a snowstorm as well. In the AFC Divisional Round of the 2001 NFL Playoffs, Brady played in what is now known simply as "The Tuck Rule Game" against the then-Oakland Raiders.  
Raiders Hall of Fame defensive back Charles Woodson blindside-sacked Brady late in the fourth quarter, up by three. What Woodson and company thought was a game-winning fumble turned out to be an incomplete pass thanks to a now-changed "tuck rule."
Brady completed the drive, and kicker Adam Vinatieri capped off the contest with a game-tying field goal in regulation and a game-winning kick in overtime.
That was the signal-caller's first season as a starting QB, and the legend of Tom Brady in cold weather was born.
Brady admitted he's soft now that he lives in Tampa Bay, Florida
Tom Brady no longer spends his falls and winters outside of Boston. Like many Northeasterners who reach retirement age, he now resides in Florida during the cold-weather months.
The 44-year-old future first-ballot Hall of Famer admitted this move has made him soft in his "old" age.
Brady joined fellow Super Bowl-winning QBs Eli and Peyton Manning on their ESPN2 Monday Night Football alternate "ManningCast" broadcast for Week 7's New Orleans Saints vs. Seattle Seahawks game.  
The weather in Seattle for the game was cold and rainy. As such, Peyton and Eli asked Brady to share his thoughts about playing in inclement weather.
The Buccaneers QB shared with the Manning brothers that while he used to enjoy it, that's no longer the case:
I always considered myself a cold-weather quarterback, but being in here now, down in South [Florida], I'm a warm-weather quarterback. I mean, screw that, I never want to deal with that ever again. We play Washington after — so we play the Saints next week, and then we have a bye, then we have Washington. I'm already checking the weather forecast in Washington in November. So, it tells you how much I've softened up in my very short period of time down here in South Florida.

Tom Brady on playing in cold weather
Luckily for Brady, the 2021 schedule shouldn't put him in many cold-weather situations over the next few months. However, there could be an exceedingly cold matchup ahead at the end of January if the Buccaneers can't win the NFC.
The Tampa Bay Buccaneers don't have many frigid games coming up 
In addition to the possibility that the Buccaneers' Week 10 game in Washington D.C. will be cold, there will only be one more possibly chilly game during which temperatures could drop to Massachusetts-level numbers for the former Patriots QB.
That game is in Week 17 in New Jersey against the New York Jets. Luckily for Brady, the team shouldn't need him all that much to beat the lowly Jets. If he wants, he could probably spend most of the second half standing on the sidelines next to the portable heater.
The other road games during the back end of the season include contests at the Indianapolis Colts (dome), at the Atlanta Falcons (warm-weather city/dome), and at the Carolina Panthers (warm-weather city). They do dodge a snowy bullet in Week 14 when they host the Buffalo Bills instead of having to visit a potentially freezing-cold Orchard Park.
The only other problem for Brady and his thin-blooded teammates could come in the playoffs. Right now, the NFC playoff picture almost assuredly includes the Dallas Cowboys, Arizona Cardinals, and Los Angeles Rams.
Even if Brady does have to visit any of these teams, the conditions should be hospitable, even in January.
The issue comes if the Green Bay Packers win the NFC and end up hosting the NFC title game. If Brady thinks he's soft now for worrying about D.C. in November, wait until he has to start checking the weather forecast for Wisconsin on Jan. 30, 2022.
All stats courtesy of Pro Football Reference